It is fine Monday morning; you are working on your computer, everything was going smoothly and then suddenly your computer stops working. You take your PC to the repair shop and says that they can repair it but you will lose your data. If you are a business official or a writer who saves all his/her data on a single device, then they should remember to take a backup of those files; otherwise, they can lose crucial data. To prevent this from happening, you should back up your data once in a while. They're a bunch of software available online that can for creating backup files. With this software, you can create a backup of a folder or the whole drive; you can also create an image of the entire folder on another hard drive.
Here is the list of 10 Best software for creating back-up.
1. Acronis Backup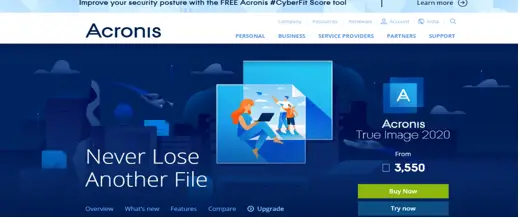 Acronis is a powerful and featureful backup software. It is a useful backup software that can create a complete image of the disk drives with scheduling. You can also select the drives that you want to create a backup. You can also take a backup of individual folders. Acronis also provides AI integrated Data Protection and Cybersecurity. Acronis is a fast and reliable software for data backup and recovery. It also offers next-gen full-stack protection against malware with AI-based ransomware and crypto mining detection. Acronis delivers fast and consistent data backup and recovery solutions for personal and business. You can completely protect your data, whether it is stored on systems in the same building or at a remote location, on a cloud, or mobile devices. Acronis True Image 2020 subscription costs Rs.3,550 for one year with full image data backup, active disk cloning, quick recovery, and universal restore and ransomware, and crypto mining blocker. The advanced subscription costs Rs.4970 with all the features in essential and up to 500GB cloud storage and Microsoft 365 backup.
2. O&O Diskimage Backup

O&O Diskimage is a backup software that lets you take the backup of your whole computer. You can also take the backup of individual files and folders. You can restore your data quickly with just a few clicks even if the windows are not able to boot and also clone the entire hard drive. O&O Diskimage also supports SSDs and UEFI system. The backup software lets you restore the complete data on a different machine with different specifications. The whole software is redesigned in such a way that more functions and enhancements can be added frequently by the developer. In this software, you get options for both automatic and manual backup settings. You can also backup your data to an external hard drive. Just plug the external hard drive into your computer and select the files and folders that you want to backup. There are a bunch of other features in O&O Diskimage, such as direct creation of VHDs, monitoring, and warning of security risks, incremental/ decremental backup, create a windows boot system directly from them within a program with driver integration. O&O Diskimage only supports Windows OS. The subscription costs Rs.3500 for a single PC and Rs.4900 for 5PCs.
3. Microsoft System restore
Microsoft system restore is a tool that is responsible to protect and repair your computer software. The 'system restore' tool records data of some system files and the windows registry and saves them as restore points. Whenever your computer malfunctions, you can repair your computer with this tool and also recover some data.
4. Nakivo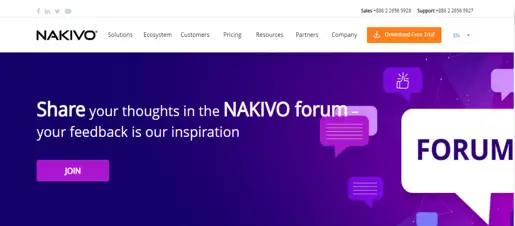 Nakivo is a backup and recovery software that provides data protection for virtual, physical, cloud, and SaaS environments. Nakivo offers an integrated approach for the protection of your critical data and applications. Nakivo provides features like data backup, data replication, failover, backup to the cloud, backup to tape, backup copy, backup size reduction, instant verification, granular restore, etc. Nakivo also protects your Microsoft 365 Data. It creates a backup for all your mailbox folders, or individual mails quickly and safely. For Office 365 data protection, you have to pay Rs.53 every month. Nakivo can protect and replicate data on Windows and Linux-based servers and workstations. It performs an incremental, application-aware backup, which saves time and guarantees data consistency. The 'basic' subscription of Nakivo costs Rs.7000/computer for one year. The pro-essential subscription costs Rs.14000/computer for one year. You can request a demo and download a free trial from the website.
5. Synology Backup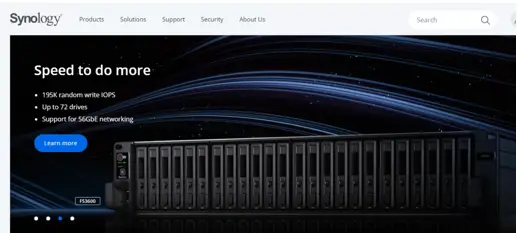 Synology Backup is the backup suit developed by Synology. Synology active-backup centralizes backup tasks for VMware, Hyper-V, Windows endpoints, Office 365, and G-Suite to sinology NAS, and you can manage all your data from there. It is a fast and reliable service that keeps, which makes data available instantly. You can protect data on Windows PC and Server, with multiple restore methods including backup and restore the entire computer. Synology reduces backup time and makes it more efficient with incremental backup and global deduplication technology. You can get a sinology backup system from amazon.
6. EaseUS Todo

EaseUS Todo is a data backup and recovery software for windows. You can protect your data with disk imaging technology. You can set schedules for backup, automatically makes copies and restore everything instantly. You can backup your complete data or can backup individual files and folders. EaseUS provides features like automatic backup with backup scheduling, disaster recovery; you can restore your data and system after any malfunction, four backup modes which includes full system backup, incremental backup, differential backup, and scheduled backup, you can keep informed of every stage with real-time backup reports. EaseUS ToDo backup software is also available for macOS. There is a free version available for personal use. You can get a free trial for home use and business users. The home user version costs Rs.2100/year.
7. Storage craft

StorageCraft is a data protection and recovery software. Storage craft is a converged data protection platform that unified enterprise-class data protection. The data protection is simplified by integrating the complete storage management and data protection stack into a single data infrastructure. StorageCraft provides services like the elimination of operational complexity, Reduction of ownership cost, enable powerful data protection, deliver scale-out storage on the go, and Provide total business continuity (DRaaS). You can request for a demo on the official website.
8. NovaBackup

NovaBackup is a data protection software developed by NovaStor for SMB users to backup their crucial data. It reduces the complexity and risk-related with data protection against ransomware, cyber-attacks, disaster, and regulatory compliance breaches. NovaBackup is fast and easy to install, secure, and reliable, simple to use. The cloud backup software protects your data with military-grade 256-bit AES encryption. NovaBackup provides backup for PCs, servers, and cloud. The subscription costs Rs.3500, with cloud storage, local and off-site backups, completely secure, Automatic backups, full disaster recovery protection, bare metal restore, and many more.
9. Genie Timeline Backup

Genie timeline is a powerful yet easy to use backup software. It can backup all your essential data. It can search for files and folders present on your computer, server, and cloud. You can back up your document, images, music, and videos; it can detect changes and back up new files and modified files, protect mobile data, view your backup in its natural and encrypted form. Other features provided by Genie timeline are backup monitor with email notifications and alert directly sent to your mobile, seamless system recovery, fast and lightweight, automatic backup with scheduling, secure and safe. Single license costs Rs.4200 for one year, and the pack of three costs Rs.6300/year.
10. Paragon Backup

Paragon backup is a data backup and recovery software. You can download it for free for Windows. You can completely backup and recover data very quickly. The features provided by Paragon backup is backup schedules, disk space management, version control, etc. You can boot the operating system from a USB stick to restore your computer. You can set a backup schedule to backup your files automatically. You can get more information from the website.