Tomtom
Tomtom is not just yet another GPS tracker for you but is more efficient since it uses real life traffic and speed indicators which help to guide a user in a better and faster way. The app is available for both Android and iOS users and does the excellent job when it comes to saving our time from the hustle of traffic.
Waze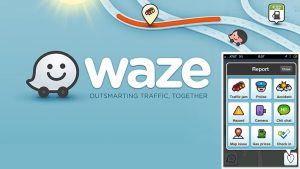 Waze is a helpful application it allows you to manage how you will reach at your destination; it gives you ways on Google Maps so that you never miss out any details. It is a simple app with a nice UI and knows how to work effectively.
Camcorder
Nowadays people use dash cams with their smartphones so that they never run out of evidence in a case of an accident; all one need is a camera and a smartphone mount. Combine both of them and you get a Camcorder. It comes with different resolution options and also keeps an eye on your location.
Ionroad
The best app that helps us to avoid traffic, it uses our phone's location and camera and tracks the time when the vehicle in front of you applied brakes and accordingly calculates the time you have to avoid a collision. One just needs to pay attention to his phone's screen to receive optimum results.
ICarMode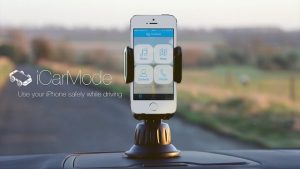 ICarMode offers its users with a huge display and allows a user to perform multiple operations while you are driving like calling a friend or starting the music player. Some inbuilt shortcuts are present in the app for Spotify, Tune In radio and Audible. It is a simple and eases your time throughout the journey.
Dash droid
The best dashboard for cars available to all Android users. It comes with current weather status, the current speed of the car and does operate with our voice commands. It ensures that the driver need not take his hands off the wheel for anything. It provides a clean UI but the look can be upgraded.
Automate
Automate connects your car with your smartphone. The connection is established via Bluetooth or Wi-Fi. It automatically retrieves your data from Google Maps, messages and music and voice control apps and ensures a secure connection is established. It also allows us to control the power on and off operation while we are in the car.
Beat the traffic
The app which helps you to avoid traffic in your area. When you get in the car just sync it with your phone and enter your destination, Beat the traffic suggest you the best possible way in which you can avoid the traffic and reach to your place on time.
GasBuddy
If you are driving your car and suddenly you see that you are running out of gas, Gas Buddy solves this problem for you, it scans your area and gives you details regarding the near gas station where you can go and refill your tank.
Spotify
If you are a music freak, the app is perfect for you. It searches for music according to your taste and does know how to do it flawlessly. It consists of different genres which allows user to get variety of choices and does its work smoothly.