The email server is a server that manages outgoing as well as incoming emails received or sent by an organization. Many times, email servers and web servers are combined to give efficiency. For sending and receiving emails, email servers use protocols. For instance, the SMTP protocol is used to send emails, and the IMAP $ POP3 protocols handle receiving emails. For any computer system, you need to install email server software tools. There are several email server software tools available. The following are the top ten email server software tools, along with their peculiarities.
Kolab Groupware:

Kolab Groupware is an open-source best email server software tool. This software consists of a Kolab server with multiple Kolab clients, such as Roundcube, KDE Suite, Mozilla Thunderbird, and Mozilla Lightning. This software tool is compatible to install on Unix-like operating systems. It includes multiple advanced features. The Kolab Groupware email server software tool seamlessly supports mixed clients' environments, supports client-side for ActiveSync, supports calendar, email, address books, tasks, and file-cloud, supports KDE with Kontact, supports Microsoft Outlook, shared calendar, supports server-side resources, and many other features. It comes with three versions, Individual, Group, and Enterprise.
Zimbra: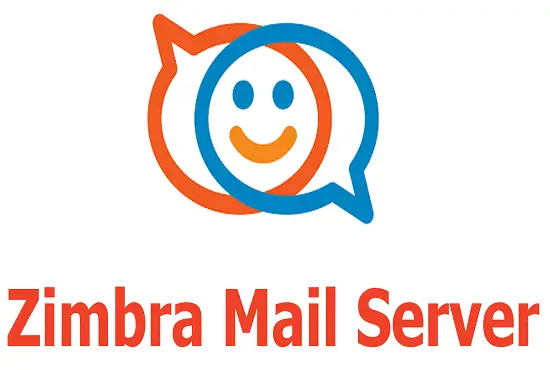 Zimra email server software tool is yet another popular and fully-featured software. It incorporates multiple revolutionary features, like a task management system, document management system, and many other management systems. Additionally, users can share mail, document, calendar, and address books with internal as well as external users in a secure manner. Zimra email server software is lightweight, easy to use, and has a user-friendly interface. This tool has anti-spam and anti-virus capabilities. It supports multi-server architecture with a single point and simple administration. This application comes in two distinct versions. One is a free version, and the other is a paid version. The paid version is specially designed for the commercial user.
iRedMail:
One of the most trusted and powerful email server software tools is iRedMail. This software is an open-source tool with multiple revolutionary features. iRedMail email server software is compatible with seven distinct versions of Linux. They are Red Hat Enterprise Linux, CentOS, Scientific Linux, Debian, Ubuntu, FreeBSD, and OpenBSD. It has multiple layers of anti-spam and threat protection. Additionally, it can manage emails, folders, sieve filters, manage calendars, manage address books, tasks, vacation directly, and has an easy to use interface. Users are provided with a provision of creating as many accounts as per needs.
Modoboa:

Modoboa is yet another free and open-source email server software tool. This software tool enables users to create an email server within less time. There are multiple features incorporated in this software tool. The features include webmail, calendars management, address book management, creating filter rules to organize emails, auto-responder, creating unlimited domains, mailboxes, and aliases, administrator tools, statistics tools, etc. This software can record more than 800,000 mailboxes but requires higher maintenance. Additionally, it has an administration panel, built-in monitoring, reputation organizations, timetable management, etc.
Java Apache Main Enterprise Server:


Java Apache Main Enterprise Server is another most-used software tool that is available freely. As its name suggests, this software tool is a 100% Java server that is specially designed for enterprise email solutions. This tool is highly portable and is based on the Java 2 platform and the JavaMail 1.1 API. Java Apache is an All-in-One solution to an enterprise as an email engine solution. It does not require any other application or server. It supports the Apache Mailet API. Java Apache Main Enterprise Server has got highly secure, security-oriented, and multi-threaded design for higher performance and scalability.
Courier Mail Transfer Agent: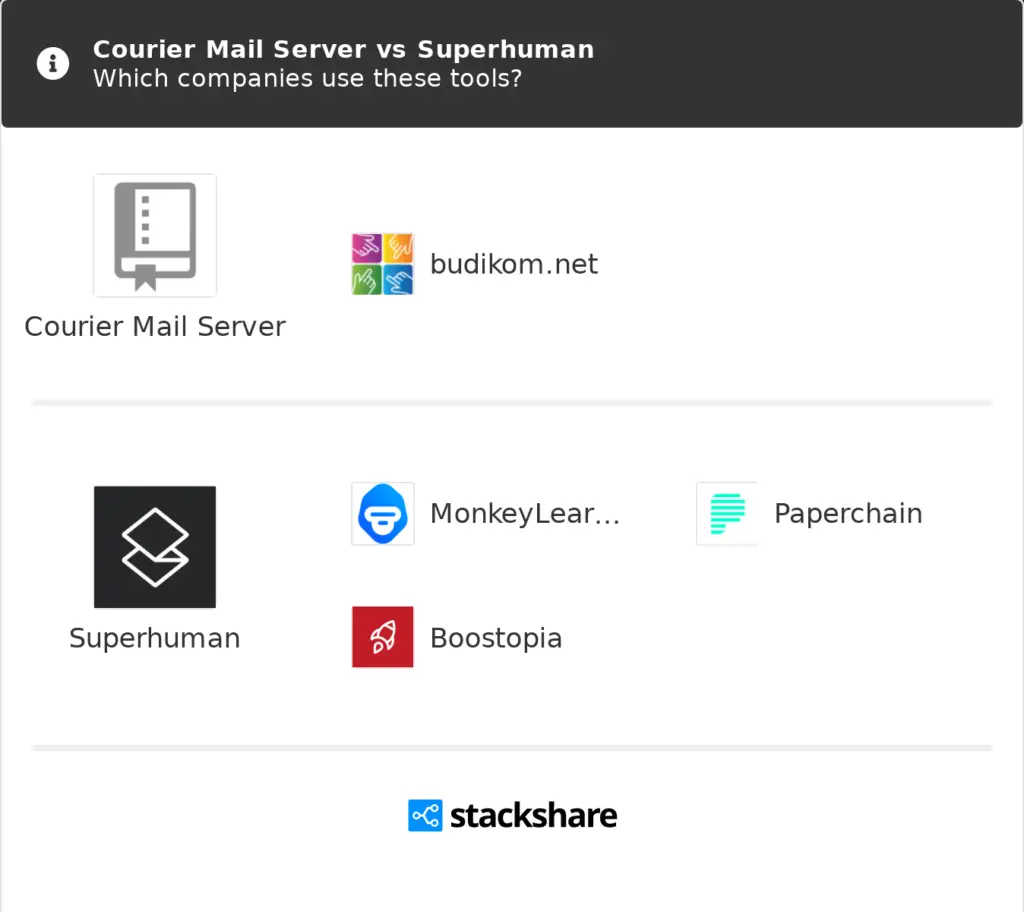 Courier Mail Transfer Agent (MTA) is one of the leading email server software tools that offer multiple revolutionary services, like ESMTP, IMAP, POP3, SMAP, webmail, and mailing lists. This software is compatible to install on all POSIX operating systems, including Linux, macOS, FreeBSD, and Solaris operating systems. In this application, the courier works as an interface between LAN and the internet. The features of this tool incorporate web-based administration and configuration tools, supports integrated POP3 server, supports integrated IMAP server, has a built-in IMAP/POP3 aggregator proxy, personal event calendar, supports IPv6, and many others.
Dwarf Mail Server: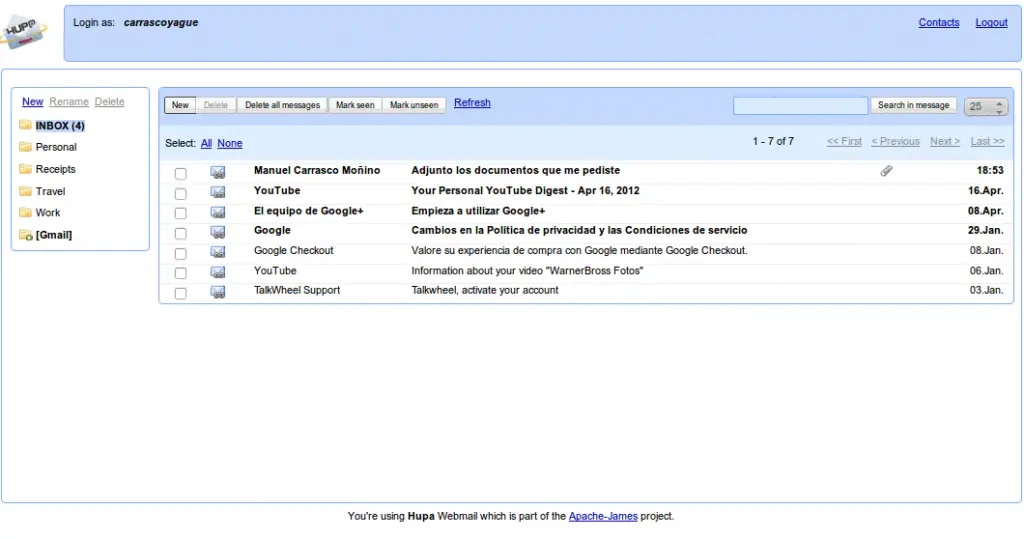 Dwarf Mail Server is another open-source, fully-featured software tool developed on the Java platform. This tool implements SMTP, POP3, and IMAP4rev1 protocols. It offers multiple advanced features and has a simple design. It has virtual mail hosts in the SMTP/POP3/IMAP4 server. Dwarf mail server software is very easy to use, simple and has a webmail interface. This application is independent and does not require any other server or application to work. The Dwarf mail server application is compatible to install on Microsoft Windows, macOS, Linux, and UNIX/BSD operating systems. Additionally, it supports multiple domains, it is highly secured, and robust.
MailEnable: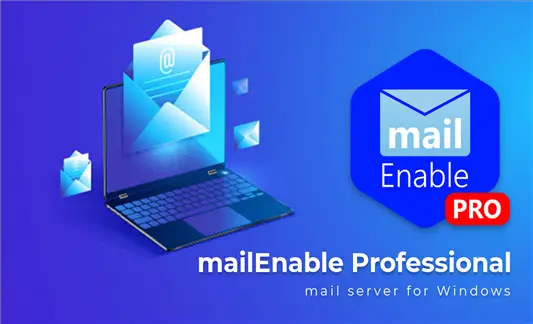 One of the most trusted and powerful email server software tools is MailEnable. This software is used by a large number of companies across the globe. This application comprises multiple advanced features, like mobile connectivity, outlook collaboration, webmail, anti-spam and security, and administration. This tool has got three editions, Free, Professional, and Enterprise. It has more powerful anti-spam security features that enable users to keep data protected and secured. Web administration feature is not available in the free edition. It is incorporated in Professional and Enterprise editions. The main function of web administration is to reduce the administration load of companies or organizations.
Axigen:

Axigen is yet another free-source email server software tool. It has a powerful mail server technology to provide the transmission, processing, and delivery of emails faster and quicker. It manages address book, supports index-based search, allows users to import & export contacts, has multiple advanced rules and filters, and many others. This application also works as a calendaring and collaboration tool for users. The features include scheduling meetings, assigning tasks, sharing calendars, sending mails, etc. The interface of Axigen's webmail is very powerful and offers a seamless experience to users. It offers multi-layer security, integrates anti-virus and anti-spam features, etc.
Zentyal:

Zentyal email server software tool is specially designed for Linux users to manage business emails. It has easy to use and a user-friendly interface. Zentyal software comprises dedicated mail servers, like webmail, ActiveSync, virtual mail domains, etc. It has SMTP and POP3/IMAP servers and single sign-on authentication. Additionally, it has anti-spam and anti-virus mail filters. This application is licensed under the GNU Public License. This tool also offers Windows server features. There are two versions, free and paid. The free version has basic features. But, the paid version has advanced features.