Concept of connecting devices to the Internet and other connected devices is known as Internet of Things (IoT). It is a giant network of connected devices that collect and share information about the way they work and about the environment in which they work. IoT network includes an extraordinary number of devices of all sizes and shapes, from microwaves that automatically cook food for the required time to self-driving cars whose sensors detect the path, objects in the way, etc. Some applications of IoT are mentioned below.
1. Smart Homes
Smart Home is the most practical and one of the best applications of IoT. The vision of smart homes is to control and monitor home appliances like lights, water flow from taps, curtains, AC, washing machines, etc. through intelligent devices (mobiles, laptops, etc.). These home appliances can be turned on or off with a single click whenever we are at home or even when we are outside. Security cameras under IoT facilities can keep track of movements taking place at home, which can be helpful to avoid theft and accidents. Convenience and security are taken to the next level by intelligent homes.
2. Smart Cars
The vision of Smart Cars is to have a computer on board that can program all our preferences, communicate with integrated sensors to alert mechanical assistance, and even drives the car by itself. Nowadays, computers are installed in vehicles that receive data from sensors installed in various components of the car to determine engine oil level, radiator water temperature, to determine whether any mechanical assistance is required, to provide autopilot feature, etc. Also, vehicle owners can monitor their car's condition and state through various apps installed on their mobiles. Tesla is extensively using IoT to level up their vehicles.
3. Health and Fitness
IoT devices like fitness trackers are used to track daily activities like sleeping patterns, calories burned, heart rate, statistics of workout, etc. These devices help people to set a fitness goal and keep track of it. Devices like Fitbit have become a part of the human body. People extensively use Fitbit nowadays to keep track of their fitness goals. These goals can also be set and monitored from different apps on the smartphone.
4. Smart Retail
The retail sector's IoT potential is vast. IoT will enable retailers to connect with customers to improve their in-store experience. Distributors can stay linked to their customers through smartphones. By using smartphones and Beacon Technology, retailers can serve their customers better. Retailers can also monitor consumer paths within the shop and put premium products in high-traffic regions.
5. Tracking and Monitoring
IoT technologies are used by companies to track assets and investments. IoT asset tracking system uses radiofrequency or GPS to track and monitor assets. Devices like mobiles and laptops are used to track assets over long distances.
6. Farming
IoT can be used by farmers to optimize many distinct operations like determining the best time to harvest, soil nutrients and moisture concentration, etc. Sensors or microchips placed in an animal's ear can be helpful to keep track of the livestock. These microchips can also be used to get the vaccination status of the livestock. These IoT devices can predict weather conditions which could be beneficial for the farmer. This innovative farming concept can revolutionize the farming industry.
7. Factories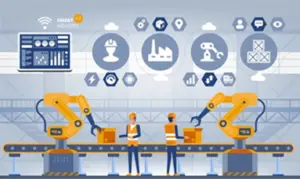 The new buzz in the industrial sector is the Industrial Internet of Things (IIoT).  It had led to the development of machines with sensors, software, and big data analytics. Goods tracking applications, real-time exchange of inventory between suppliers and retailers, automated delivery, etc. will help increase the efficiency of the supply chain.
8. Smart City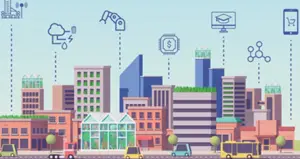 Smart City is a concept wherein technology improves urban infrastructure to make urban centers efficient, cheaper, and a better place to stay. Various sectors are under development to achieve this dream. Energy, health care, water, waste management, agriculture, etc. are some of these sectors. The use of technology in these sectors will improve efficiency, reduce human efforts, help eliminate some day-to-day problems.
9. Smart Grid
Intelligent grid is another industrial IoT implementation. Surveillance of energy supply and demand information is enabled by the grid. The grid uses computer intelligence to manage resources efficiently. An intelligent network is suitable for the manufacturing of energy, transmission, distribution, and consumption of the electricity network, which conveys data about the state of the network to users, automated devices, and operates, enabling them to react.
10. Internet of Nano Things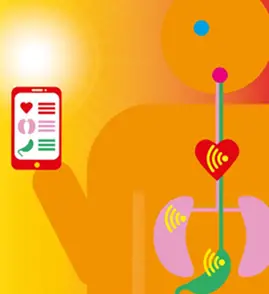 The Internet of Nano Things (IoNT) comprises of linked nanodevices through the current network and telecommunication systems. It defines how the Internet will grow in the future as nanodevices and nanosensors are connected to physical resources or consumer devices to collect, process, and share information. Military, aerospace, smart cities, health are some applications of IoNT.