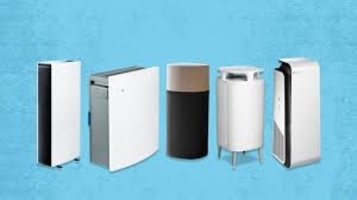 Air pollution is improving day by day, and the air we breathe is unhealthy and contains viruses. This unhealthy air is one of the reasons behind poor or weak health. Our body requires clean and healthy oxygen, which is getting polluted due to several reasons. We all are worried about our health and well-being. So, to have a healthy surrounding and purified air we can opt for an Air purifier. Here we have listed the best and the most convenient ones that will clean the air. These machines use fans and filters to remove particles and circulate the purified air.
1. Phillips High-Efficiency Air Purifier with VitaShield Intelligent Purification – 3000 Series
It's one of the best air purifiers that can remove 99.97% of the allergens. It can automatically detect bacteria or viruses and provides superior particle clean air. The exceptional condition is that it can purify the air in just 10 minutes. The IAI display shows your indoor allergens and their risk on a scale of 1 to 12 and keeps you aware of the air quality at your home. There are three auto modes: General, Allergen, and Sleep, that provide purified air 24/7. At night, it's very silent and does not produce any sound.
Blue Pure 211+ Air Purifier
The purifier comes with filters that are experts in removing dust and other pollutants. They can be kept in big or small rooms. It catches all kinds of smoke, bacteria, and viruses, and does not release them back into the air, even if the filter is loaded fully. Blue Pure 211+ Air Purifier comes with advanced filters that can automatically kill infectious and mold growth. It has a low noise level so that you aren't disturbed while sleeping.
Honeywell Air Touch A5 53-Watt
It's a Room Air Purifier that has a three-stage advanced filtration system, which comprises- Pre-filter, HEPA, and Stimulated Carbon, that will provide you with purified air. It comes with a 3-Dimensional airflow design system that ensures pure air at every corner of your room. It's ozone-free and destroys less power that won't load your bills. Also, it has a special technique that protects the machine and is safe for children.
My Air Purifier 3 with True HEPA Filter
The Mi Air Purifier 3 from Xiaomi can cover up to 484 sq ft with 3-layer filtration that catches dust and other pollutants and provides clean environments. It contains an OLED touch display that shows real-time PM 2.5 concentration, temperature, and humidity. It can also work with Google Assistant and has smart controls that can easily be controlled.
Coway Air mega 400
It's one of the top naming productions in air purifiers. It cleans pollen, dust, smoke, pet hairs, and other unhealthy particles. It will not only improve air quality indoors but can also clear disagreeable odors. The purifier is appropriate for spaces up to 1,560 square feet and has a wide coverage. Your smart devices like Alexa can also assist it.
Austin Air HealthMate HM-400
It is consistently organized number one worldwide for filtration performance. It can clean almost every contaminant, including dust, pollen, dander, odors, chemical vapors, etc., and gives the best overall coverage. It draws air from every side and cleans the larger fragments first, then the smaller particles, resulting in a completely clean environment. The Air purifier has a 4-stage filtration process that can remove up to 99.97% of unhealthy particles.
Dyson Pure Cool Air Purifier Model DP04
It has an advanced multi-stage Hepa filtration process to ensure the best clean air delivery rate. It necessarily detects and reports, air quality levels in real-time on PM 2.5, PM 10, VOC, and NO2, so you can see the air quality and maintain it accordingly. The measuring device constantly monitors the temperature, humidity, and gases. The Dyson link app controls the Air Purifier, which can be installed on any device (mobile phones, computers, screens, etc.) from anywhere.
Coway Sleek Pro AP-1009
With the continuing increase of pollution and the coming of new viruses, Coway Sleek Pro AP-1009 ensures that you're breathing healthy and fresh air and indicates how clean the air is. The Air in this purifier throws through the vital stages:
1) Pre-filter (eliminates large particles)
2) Carbon filters (remove unpleasant odors, pet hair, and smoke)
3) Multi-layered thick HEPA filter (eliminates air pollutants).
Levite LV-H132
One of the best sellers on Amazon and a budget-friendly Air Purifier, Levoit LV-H132 is lightweight and convenient. If you're looking for a less expensive Air Purifier then you can go with this one, but three filters aren't washable. So, you will need to replace them. But don't worry, they are available at a lower price.
10.IQAir HealthPro Plus
If you're among the ones who catch allergies and viruses easily from the air, then this one's for you, as it gives high ratings by experts at Allergy Buyers Club. The purifier has HyperHEPA filters, which supposedly retain particles at a rate of 100 times higher than the standard HEPA filters, and also has a less important filter for odors. It also gives a 10-year guarantee, so you have to invest once towards a healthy environment.
Image Links-
https://www.amazon.in/Philips-AC3821-20-Purifier-Humidifier/dp/B07CR7TQZZ
https://www.indiamart.com/proddetail/blueair-blue-pure-211-air-purifier-20998695673.html
https://mahajanelectronics.com/products/honeywell-air-touch-a5-53-watt-room-air-purifier-champagne-gold-hac25m1201g
https://www.mi.com/global/mi-air-purifier-3H
https://www.slashgear.com/coway-airmega-400s-air-purifier-review-19554352/
https://www.amazon.com/Austin-Air-Standard-Healthmate-B400B1/dp/B0007Y830I
https://www.thepureair.in/shop/dyson-pure-cool-air-purifier-advanced-technology-wi-fi-bluetooth-enabled-model-dp04-white-silver/
https://www.croma.com/coway-sleek-pro-air-purifier-ap-1009-white-/p/218479
https://levoit.com/products/lv-h132-compact-hepa-air-purifier
https://economictimes.indiatimes.com/magazines/panache/dyson-honeywell-iqair-purifiers-that-will-improve-air-quality-at-home/iqair-healthpro-plus-air-purifier/slideshow/68006550.cms