If you already have an idea of developing a mobile app and want to learn some ways in which you can cut its cost while keeping the desired level of quality, Emerline, an experienced technology partner that turns client's boldest ideas into an advanced end-to-end solution for a decade already, has collected some useful tips for you to consider. Pieces of advice below cover different development stages, from your idea to QA and testing services.
Cutting Mobile App Development Cost in 5 Steps
While one of the most popular strategies for reducing costs associated with mobile app development is choosing a contractor whose fees go in line with your budget, sometimes such decisions raise a lot of concerns on your future app's quality. So, if a choice of a reliable and experienced technology partner is among your key priorities, but you still want (of course you do!) to develop an app without a need to break the bank. Then the crucial thing you have to do is to exercise the highest degree of responsibility for the following stages of project creation:
Creation of technical specification
To develop the right solution, contractors should know your need. So when it comes to the preparation of your tech specification, it would be great if you describe your company's vision and mission, background, problems the planned app is supposed to solve, your targeted audience, etc. It should be clearly mentioned in a short yet not missing a single important detail form. At this stage, market research and the analysis of your business performance can be beneficial. They will allow you to see all the pains your business faces and all the challenges it needs to overcome.
Choosing a platform and technology
Based on your business's analysis and the defined targeted audience, you'll have to make your choice upon a platform. We recommend our clients start with creating a native app for one platform, whether iOS or Android is a priority. Nevertheless, if your potential customers are evenly split between these markets, you can always consider cross-platform development. The tip here is to evaluate all the benefits and pitfalls of native vs. cross-platform apps and make a smart decision.
Hiring a tech partner
When you know what you need, it becomes easier for you to decide on a contractor. For sure, the first thing to consider here is a portfolio and fees set by a company for the provision of the services your project requires. For your first app, we recommend finding the golden mean between highly experienced, expensive contractors and IT startups with less than 5 years of experience in the market.
Besides, it's also essential to pay attention to aspects like the region a chosen company operates in, cultural differences, language issues, etc. For example, choosing Emerline as an outsourcing software development provider is a good option for English or Russian-speaking clients, whose time zone allows convenient hours of communication with GMT+3: From our experience, this is followed by all European countries, some parts of America, as well as the Middle East region.
Considerations for the process of development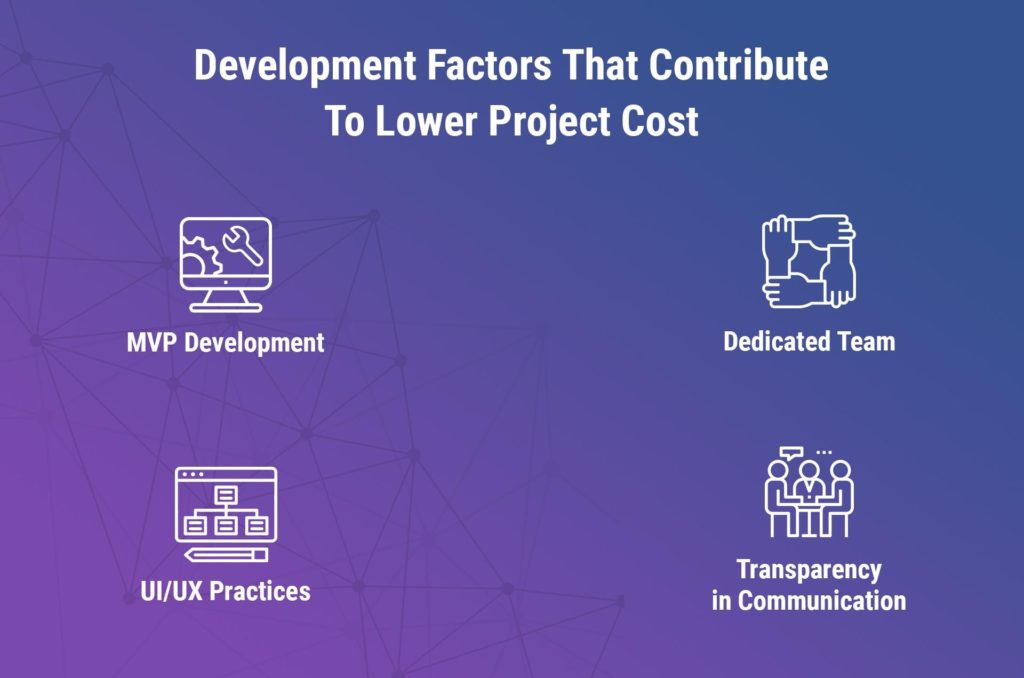 Start with MVP
Building an MVP means including only those features that are initial to your product. So, after the launch, you will see if there is a need for more features and, if it is, what exactly you need to include.
UI/UX design
Because your app's design takes about 20% of its total budget, make sure that specialists working for your contractor follow Apple's or Google's guidelines to avoid extra expenses. Also, learn about design strategies and practices the design team adheres to, in this way ensuring that you'll receive a long-lasting design that will pay for itself for decades to come.
Build your dedicated development team
By establishing a dedicated team for your project, you can better control the development, reduce costs on infrastructure, and enjoy transparency in communication.
 Communication
Establishing a well-thought-out communication schedule that does not impose a lot of pressure on your team not only contributes to a faster development process but also allows you to take better control of a project, minimizing chances for situations when something needs to be redone. Generally, it's ok when some new ideas arise during the development process; make sure that team members working on it are well-aware of the desired changes, so they won't have to do the same job twice and you'll not have to pay additional money for changes.
Addressing post-release issues
Remember that even though post-release support is not included in the initial development plan, it exists and is not free. Nevertheless, if you address all of the above-mentioned issues with a mind, you can significantly reduce its cost.
This is what we can advise you in a nutshell. Nevertheless, there are far more things you can consider. Because each project has its nuances, the best thing you can do when you decide to build a mobile app is to find a reliable contractor who'll guide you all the way through. Sometimes, it means choosing a bit more expensive service offerings that will pay for themselves later, sometimes doing a good research on a topic yourself and then applying it to your projects. Regardless of the path you choose, you can always contact us for a free consultation to learn if we can build fruitful cooperation and transform your ideas into tech solutions together.