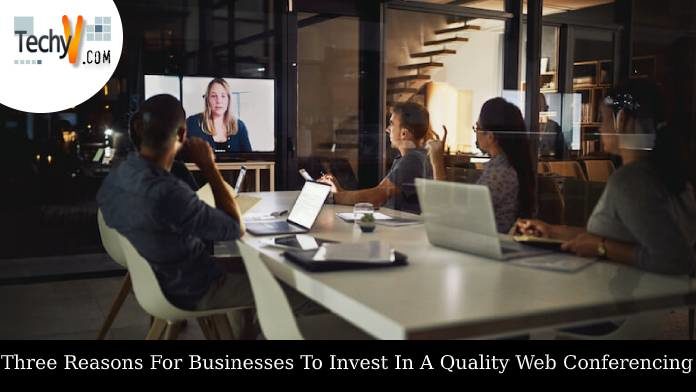 It is no secret that the Coronavirus pandemic has had severe effects on businesses across industry verticals. While many were forced to shut down their operations indefinitely, those that could still function were forced to adapt to working with distributed teams.
Sure, it is true that brands like Mozilla have been doing it for years. However, making the switch from having your employees in the office to collaborating with them virtually isn't easy. This statement is as true for employers as it is for employees.
However, as the saying goes, the show must go on and one tool that is helping businesses keep the curtains up is a web conferencing tool.
If you still haven't acquired one for your business, here are a few reasons you must invest in one pronto:
Collaborations Made Easy
Online collaborations are the need of the hour and the effectiveness of face-to-face collaborations cannot be overlooked.
Imagine being at an audio conference with a team of 10 members. Overlapping voices on an audio conference can quickly turn into noise and can easily hamper the outcome of the conference.
On the other hand, web conferencing tools offer the ability to mute certain participants when someone is speaking. Besides the ability to mute, web conferencing tools offer a number of other features that can help mitigate confusion during a conference call.
Some examples include the ability to virtually "raise hands" when someone wants to say something and instant messaging features that allow users to express their views about the subject in focus without interrupting the speaker. The messages sent through the instant messaging features can also be referred to ensure no questions or thoughts remain unaddressed during the virtual meeting.
Virtual Training For Employees
One of the first business functions that took a hit because of the Coronavirus pandemic was employee training.
Many businesses were already using elearning to deliver online training and thus found their training initiatives relatively less impacted. However, even among businesses that were delivering training online, many had employed blended training practices to maximise the results of their training initiatives.
With employees unable to gather inside a classroom for instructor led training, blended and completely instructor led training programs had to be discontinued.
Web conferencing software have emerged as a viable solution to this problem. When universities, schools, and other educational institutions can use web conferencing software to deliver instructor led training sessions in a virtual environment.
Even in the future, when social distancing is not a necessity, virtual instructor led sessions can help businesses save significantly on infrastructure and overhead costs of delivering instructor led training to their employees.
Team Scrums
Another pressing challenge that businesses that are employing the work from home policy are facing is keeping their employees engaged.
With the news filled with depressing reports, coupled with the isolation one feels while confined within their homes, employee productivity has taken a huge hit. To help employees overcome this feeling of isolation, businesses need to make conscious and innovative efforts to keep their employees engaged and connected.
One way to do this is to hold weekly company-wide scrums or meetings that are not work related. During these meetings, conduct employee engagement activities such as home-office tours of various employees. There are several similar ideas that you can find after a simple Google search.
However, in order to effectively execute many of these ideas, you will need a trusty web conferencing software that will help you and your employees stay connected.
Conclusion
These are just a few of the many advantages that web conferencing tools offer to businesses. In today's times, these tools have become an indispensable part of the technological arsenal of any business. Even the businesses that are not able to carry out their operations can continue with their employee training initiatives with a web conferencing tool.
The best part is, many of these tools are absolutely free to use. So what's stopping you from getting one for your business? Tell us in the comment section below.