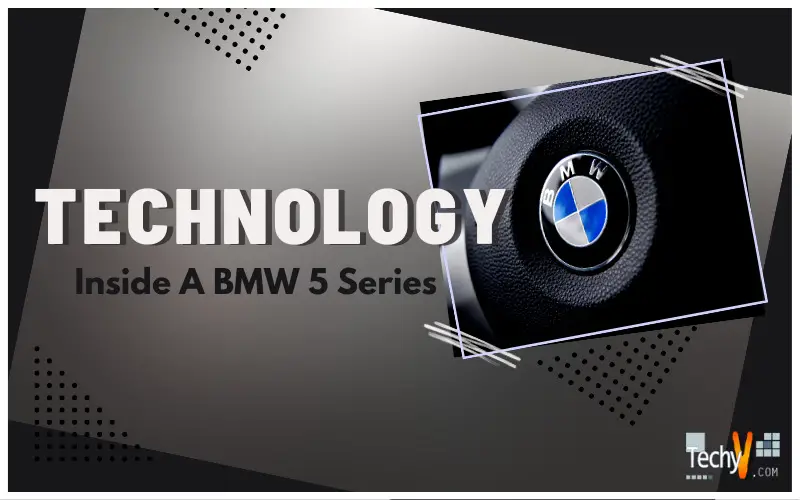 Of late, there are so many changes to the cars we drive it's hard to keep up with the latest and greatest. Technology is one of those things that is always changing for the better and the technology inside a BMW 5 series speaks loudly to that. In this article, we will be discussing the technology inside this luxurious car that makes it rank one of the tops of the luxury line of vehicles.
To start, it includes technology, iDrive. IDrive is an in-car communications and entertainment system.  This system's purpose is it is advanced enough to allow the driver to stay in control at all times. Focusing on safety, it was created to be a controlled system that allows the driver to change various settings without being distracted. It uses a rotary controller that moves clockwise and counterclockwise, can be moved forward or backward, left or right and presses down just like a computer mouse for selections. The iDrive control system works with the touchscreen infotainment system that most BMWs have. There are options to zoom in and out of cameras, select the camera to use, and other features without touching the touchscreen and getting it dirty. Basically, the car's audio, entertainment, and navigation features are all linked to the iDrive 6.0 system.
Additional technology features of this luxury car are gesture control, remote 3D view, and wifi hotspot. Gesture control is a feature much loved in this luxury car. It allows you to use specific hand motions and lets you control certain functions of your car. For example, if someone calls you and you want to answer the call, you can point your finger; otherwise, swipe your hand if you do not want to answer it. You can do other things with gesture control by selecting navigation, turning the volume up and down, and changing the rearview camera angle.
Another technical feature of this vehicle is the remote 3D view. It allows you to observe surrounding areas and capture images with apps right on your phone. The cameras are the same ones that help with the parking systems.  Basically, you can view your vehicle from a 3D perspective.
The latest technology inside a BMW 5 series is a high-speed internet connection inside the vehicle. For some people, having wifi capabilities has become a number one requirement when purchasing a new car.  It will allow up to ten devices to connect. It offers limitless surfing at LTE speeds.
While some features are added options to this luxury vehicle, there are some standard features as well. Navigation, apple car play, and android auto compatibility, to name a few. Also, standard pedestrian alert with emergency braking and blind-spot monitors are all a part of the package. It also has its own personal assistant and the infotainment system has the latest version, which is activated by saying "Hey BMW." Once it learns the driver's preference, it can be asked to do things like rolling up and down the windows, change seat temperature settings, or even change songs on the audio system. Like most assistants in cars or homes, you can set a long list of tasks that the assistant will understand and perform.
With such technological complexity comes a need for regular maintenance and repair. You'll want an extended auto warranty to take proper care of your BMW 5 Series 6th Generation. When looking for such services, getting a reputable provider with no waiting period is key. And just FYI:  Extended car warranties are actually either Mechanical Breakdown Insurance (in California) or a Vehicle Service contract (in the rest of the USA).
The technology in this luxury vehicle stands apart from a lot of its competitors, but some would argue that it is quite equivalent or maybe inferior to Mercedes Benz E class. To conclude, this vehicle's technology also includes top of the line driving assistance, with a touch screen for navigation and a truthfully unmatched degree of excellence. The things it does and can do are next level, especially in automation form. Being rated as one of the most luxurious cars to date, BMW already holds value for its sleek designs and safe driving. To top it off, the amount of technology put into this vehicle reflects the price it sells for. Overall, it is a definite example of you getting what you pay for.