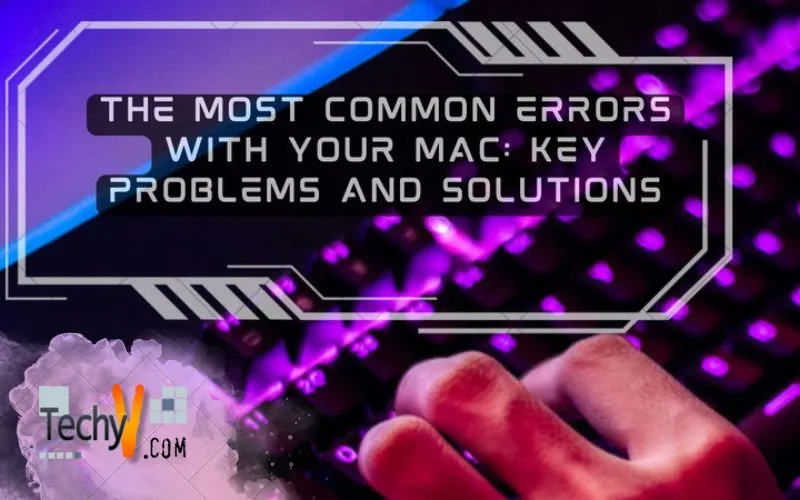 If you own a Mac, you may encounter various errors. It helps to know more about common errors and how to fix them. In many cases, you can troubleshoot and fix them on your own. Here are some of the most common errors and how to fix them.
https://www.freepik.com/premium-photo/beautiful-brunette-sits-couch-home-with-laptop-lap-video-chatting-webcam_29834839.htm
Slow Performance 
One of the most common problems Mac users experience is that the Mac starts running slow. This could happen for various reasons. You may have an outdated version of macOS running. Perhaps there are faulty or resource-heavy apps or processes that are active. Your RAM could be faulty, or you may have software issues.
If you are running an old version of macOS, you need to update it. You must clean out all unnecessary files. Go to Library and delete the log, temp, and cache files. You can uninstall apps you don't use anymore. Go to Finder>Applications and right-click on an app you want to delete so it goes to Trash. You should close any unused apps if you don't feel like deleting those and disable resource-heavy apps that run in the background.
A Disk Isn't Readable
When you have important files you need to connect to on an external drive, your Mac may show an error. It usually says, the disk you inserted was not readable by this computer printer. There are various reasons why it may not be readable. Your first step is to see whether the drive you are trying to connect to is the problem. Disconnect it and connect any other external drive to see if this makes a difference. If the file is encrypted, this could be the reason for the problem, and you will need to decrypt it. Another problem could be a disk failure. To handle this, try Disk Drill. It is a data recovery app, particularly designed for Mac, and it will enable you to save data on a failing disk.
The Mac Won't Simply Turn On
This is a more complex issue, and there are many possibilities why it happens. Perhaps it is the power source that isn't reliable, or your battery is not functioning. Your hard drive could be corrupt. You could have a problem with the bootloader, or system files could be damaged
Before you resort to any drastic measures, you need to first check that your power source is stable. Just see if the plug and the cord are damaged or are good. Make sure the battery is in good shape, and it is at 100% charge.
You may have to reset the System Management Controller (SMC). This special chip controls power and peripheral devices. Restart your Mac and press the Shift + Control + Option buttons. After a few seconds, press the Power button. Press all four of these buttons for another 10 seconds. Now let go and press the start button of your Mac.
Mac Sound Isn't Working
Mac sound may not be working due to speakers that aren't linked or a hardware or device issue. The problem could be with the drivers too either because they are not updated or completely missing. Or even an application could be faulty.
Needless to say, you need to make sure your earphones and speakers are in good condition. You can check the ports and hardware by trying them on another system. In most cases, you can fix the sound if you reset the sound controller. To do this, you go to Finder>Applications>Utility. From there, you can launch the Activity Monitor. Look for the 'coreaudiod' process in the list and forcefully close it.
Safari Not Working On Mac
Safari is Mac's default web browser, and some of the causes of it not working could be that you have not updated the version of Safari  and still using the old one, or maybe it is corrupted. Maybe there is not enough space on the disk or there is a clash with log or temp files. There may be too much load on the browser at the same time.
The easiest fix for problems with Safari is to re-launch it. Give it some time after closing it before you relaunch it. You can also force close the app by pressing Option + Command + Esc to access Force Quit. You may have to remove a faulty plugin that could be causing a problem with Safari. Removing website history and browsing data could also help.
Conclusion
It's important to regularly update your Mac and maintain good digital hygiene practices to minimize the risk of experiencing errors or issues. If you encounter errors such as those mentioned above, you can often troubleshoot and fix them yourself. You should try common fixes before calling in professional help.