• What is networking all about??
A network is an interconnection of independent computers communicating with each other using channels for the following purpose-
1. To share files and peripherals.
2. Make communication easy.
3. Cost efficiency.
4. Centralized administration.

Networking is possible only through communication channels which may be "guided media or unguided media."
• Types of networks
1. LAN (Local Area Network) – LAN's are networks usually confined over a short distance like a building or college campus.
2. MAN (Metropolitan Area Network) – It is a network that covers larger area than a LAN but smaller than a WAN like a city.
3. WAN (Wide Area Network) – It combines multiple LAN's that are geographically separated from one country to another.
4. VPN (Virtual Private Network) – It uses a technique known as subway to transfer data securely over the internet to the server on your workplace.
5. PAN (Personal Area Network) – A network that is organized around an individual which involve use of wireless technology through mobile phones, PDA, etc.

• Networking Devices
a) Modem (Modulator/Demodulator) – it acts as an interface between the computer & communication channel thus, converting digital signals into analog signals & vice versa.
b) Hub- it is a device that allows one computer to connect to other computers in a network.
c) Switch- it is a smarter hub that provides centralized connection i.e. traffic is diverted to the particular port rather than all ports.
d) Router- it is a special purpose device that helps to connect two computer networks & to route the traffic in the best possible way. It also acts as a firewall.
e) Repeater- sometimes the signals on the internet becomes weaker before reaching the destination. The Repeater is used to regenerate the signals.
f) Bridges- it is used to connect two Local Area Network which are physically separated but uses same protocols.
g) Gateway- it is used to connect the users of LAN with the Internet.
• Concept of Network Topology
The pattern which the devices use in a network to connect with each other is called topology. Its types are –
I. Bus Topology- in this all computers are connected in a linear fashion to a backbone.
II. Ring Topology- it is circular in shape & each computer is connected to one computer on its either side.
III. Star Topology- all computers & other network devices are connected to the centralized node acting as hub/switch.
IV. Mesh Topology- it is a unique design in which every computer is connected to each other on the network.
V. Tree Topology- it integrates multiple star topologies onto a bus.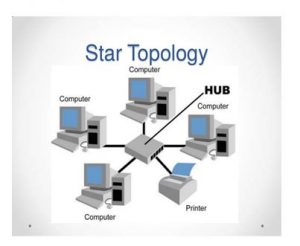 Top 10 companies that makes
Networking-a possible task
1. Cisco
It is the world's largest and leading networking company founded by Leonard Bosack and Sandy Lerner in1984. It is the master in network security, cloud computing, routers, switches, telecommunication equipments, and other high technology services. CISCO came to India in 1995, and since then it has been serving customers with its products & security services helping our nation to move towards digitalization.
CISCO is also the major promoter in "smart city project" of India.
2. IBM
International Business Machines Corporation founded in 1911 is considered second in computer networking solutions. Also known as Big Blue, it is the biggest provider of Storage Area Network, fiber channel switches converters, etc. It is also a research place for many business houses. Its services include- network consulting services, software-defined networking, cloud networking, etc.
3. Microsoft
Microsoft, an American company, was founded by Paul Allen & Bill Gates in 1975 is one of the oldest players in Indian market since 1990. It is famous for MS Windows, Internet explorer, ms-office, etc. It is also active in industries such as video game, mobile phones, and digital services.
The networking services include enterprise networking technologies, Windows server networking, cloud computing, etc.
4. Hp
The Hewlett-Packard Company founded in one car garage is popular in designing & manufacturing software, networking hardware and storage services.
While IT sector & startups are demanding more bandwidth, reliability, and security regarding transferring data and communication through the network, HP comes to their rescue by providing various solutions like blade switches, wireless product, tripping point security, network management, etc.
5. Dell
From unconventional PC startup to the global technology leader, Michael Dell was the pioneer in changing the scenario of designing and propagating technology. The company provides with many products like networking switches, wireless networking, Chassis switches, server network adapters, etc.
6. Intel
With its foundation laid in Silicon Valley by Gordon Moore and Robert Noyce, Intel is now worlds' largest semiconductor chip maker as well as the inventor of series of microprocessors. Intel provides India with its advanced networking services related to communications and computing along with products like flash memory, network interface controllers, and integrated circuits, motherboard chipsets, etc.
7. Verizon
Verizon is the biggest broadband telecommunication company founded by Bell Atlantic. They provide global internet protocol which is the backbone of networking. It has a vast network in India transforming how people & business connect thereby working on 4G & 5G wireless technology, changing the world of video & advertising, bringing more managed security and internet of things.
8. Symantec
It is one of the largest information managing network that produces software for security, storage, and backup and offers professional services to support its software. It is known for its Norton Antivirus product. Its other products under various categories are threat protection, information protection, blue coat products, website security (SSL Certificates), etc.
9. EMC
It is the largest data storage system provider in the world. Recently in 2015 it was acquired by Dell. In India, it has been providing economical storage, data protection and cloud solutions to businesses. EMC offers a range of other product like information storage, storage & content management, virtualization, etc.
10. At&t
At&t established in 1885 it is now master in data communication and networking services as it is the second largest provider of mobile telephony in the USA. In India, they provide fast & reliable internet services, VPN Services, and network security services.