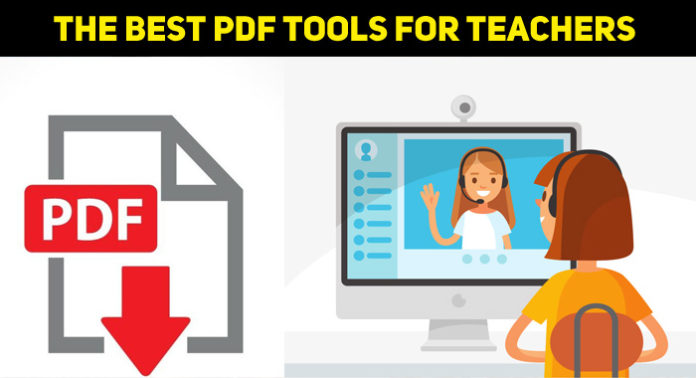 All the Best Apps for PDF Files 
Online teaching tools can help educators plan their lessons, share content with their students, and deliver lessons digitally. But, the most overlooked tools of all are PDF teacher tools. The PDF file format arose as the most convenient way to create, merge, and share large texts in a single file. The Portable Document Format lets anyone create single file documents that contain text, graphics, and multimedia, which is perfect for teachers who want to enliven otherwise staid texts for their students. Instead of giving their students reams of paper, which is a waste of resources, messy and unorganized, teachers can format a lot of text into a more easily shareable and presentable format.
Teachers could also download authorization letter samples of printable word templates which they could use whenever they will go on a vacation or an emergency leave and even share it with their close friends aside from these helpful pdf tools that they could use for work.
Online PDF Tools For Teachers 
PDF files may be associated with higher education, but they can also be used by tech-savvy students in lower grades, even in elementary or secondary school for a variety of subjects and disciplines. The tools listed here are largely free, but there are exceptions, which will be noted in their descriptions. The following PDF tools are some of the best that are available online and let teachers create, edit, merge and share PDFs with their students.
Adobe Reader – A Limitless, Easy-to-Use Tool for All Students 
Adobe Reader is the companion application to the PDF, as Adobe is the company that patented and introduced the PDF. Adobe Reader is a widely-used tool in all sectors, but it has particular usefulness in education. Students can open and read PDF files sent by their teachers on any device, be it a smartphone, Chromebook, or tablet. They can also circle and annotate text, although only premium versions allow for bookmarking. Teachers can create their lesson plans in PDF format, and annotate them whenever they make changes.
Other features of Adobe Reader:
 Near-universal compatibility across several devices
 The free version includes several important features like text highlighting, file sharing, and annotations
 A great introduction for students to other file reading programs and technology
The basic Adobe Reader tool is free, but some add-ons are premium and come at a price. Several educators have pointed out that the free version is more than sufficient for them and their students' needs and the program has received little to no complaints.
Kami – A PDF Reader/Editor with Endless Possibilities 
Kami is an open-ended, web-based tool that lets students and teachers interact with each other over various file formats, specifically PDF files. Kami also lets users manipulate PDF files any way they want, either annotating them, highlighting them, or merging and splitting texts into different sizes. The application has many different uses across several subjects from writing and art to history and science. Students can peer-review their documents and leave notes, while teachers can also give assessments via the Comments feature.
Other notable elements of Kami include:
 The multitude of editing and sharing features means that neither students nor teachers ever have to return to paper documents
 It makes reading, correcting, grading, and leaving notes on PDF worksheets and making much easier for teachers
 The seamless compatibility with other important virtual tools like Google Drive and Google Classrooms (only with premium version though)
Kami has a premium version available for teachers and school districts, while its most basic version is available as a free download. The premium versions open up more features and come with round-the-clock support.
Some teachers have expressed some reservations about the app like:
 Its performance in everyday settings can be glitchy
 Other applications have more features and are easier-to-use
Notability – A Versatile Editing, Writing and Reading App 
Notability is an iOS-based app that lets students create, edit, and read several file types – including PDFs. The app is available via the App Store, but it is not free. Students have an easy time using the app as it lets them photograph important paper texts, which then converts them to digital files that they can then manipulate via the app. The app also functions as a PDF editor and reader, as users can import PDF files from Google Drive, Dropbox, or any other online database and then edit, annotate, or highlight within the app itself. After being manipulated, students can then resend the altered file to other students or leave it in their shared database.
Other important features of Notability include:
 A variety of annotation methods from typing, freewriting, and using a stylus
 Editing features that both students and teachers can use to read and assess work done within the PDF itself
 Teachers can also share, view, and edit PDFs via the app with other teachers for professional development purposes
Notability has enjoyed widespread use and thanks to its compatibility with iOS devices like iPads, which make it even easier to use. Although the app is not free, it is reasonably priced, and there are in-app purchases that users can buy to increase its effectiveness.
Some drawbacks of the app include:
 Some features (like voice recording) do not sync up well with note-taking features because of delays
 It takes time for students, as well as teachers to familiarize themselves with all the features
Convertio – Online PDF Converter for Several Document Types 
Convertio is an online conversion site that lets users convert files into several different types including PDF. The program is available as a Google Chrome extension that users can install onto their browsers to more easily take different files and convert them to suit their purposes. Teachers and students can take other file formats, including audio and video files, to share them via cloud-based storage applications by compressing them into different file types. The extension can convert over 2500 different file types and hence teachers and students can choose which file type they need the most.
Other interesting features about Convertio include:
 The multiple file types that users can convert and share via the extension
 The conversion speed is much faster than other similar applications
 Easy-to-navigate user panel makes browsing and finding the right file type easier
Convertio does come free as a basic version. Other versions are premium but come with several features like unlimited conversions as well as several different file sizes.
Some cons other users have noticed about Convertio:
 The number of file types to convert can be overwhelming for new users
 No auto-save feature in case original file does not convert properly
Lumin PDF – An All-in-One PDF Tool for Teachers 
Lumin PDF is an online tool available for editing, highlighting, converting, storing, and sharing PDF files across multiple platforms. The add-on connects easily with cloud-based storage programs like Google Drive and Dropbox. Lumin lets teachers and students interact, often in real-time over a shared PDF file thanks to the auto-sync feature. Teachers can send links and files to their students who can then highlight important passages. While teachers can make annotations to completed worksheets directly into the file. Students can also edit documents with the tool while working out of class or to help them study.
Other pros of using Lumin PDF include:
 The tool auto-saves any important changes made to the document to prevent loss of work
 Annotation can take many forms as users can write, draw, or add graphics to any PDF
 Easy compatibility with teaching platforms like Google Classroom
Lumin is available for free in one format, but premium versions are also available on a sliding price scale. In-app purchases are also available and hence users can easily upgrade to features like Optical Character Recognition and unlimited storage plans. Special discounts are available for teachers and school districts.
Some drawbacks about Lumin PDF include:
 The tool experiences several delays when loading or converting files