Listening to music on your laptop or playing games on your computer can make for a great pastime. However, the experience you get is just as good as the speakers the audio is playing through. While both laptops and PCs come with built-in speakers, these are usually lousy and the sound quality is generally underwhelming.
Luckily, this is something you can fix by getting a set of fully-fledged computer speakers to offer you the kind of entertainment you deserve. This post looks at the best PC speakers 2020 to save you the trouble when you go shopping for a unit!
Audioengine HD3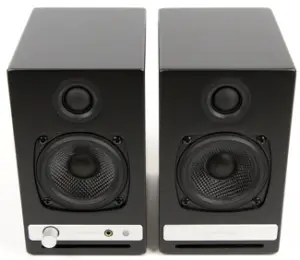 This audio system will be great for those who just want to have an easy time in the house while singing along to their favorite songs. This is because the speakers emphasize low notes while the mids sound exquisite. The overall quality of the audio is impressive, although it cannot be compared to the high-end studio monitors.
The HD3s can be connected directly to your PC and can be synced with other devices via Bluetooth with aptX, which enables fast and high-quality streaming. You'll have an easy time switching between playing music on your computer and your smartphone. The only thing that may make you cringe about these PC speakers is their price. Other than that, it is a great unit that will improve your listening experience!
Creative Pebble 2.0
If you're looking to squeeze your budget, the Creative Pebble 2.0s will be a nice option! But don't be fooled by the affordable price tag, this unit punches way above its weight. The speakers look as good as they sound. They have an elegant and futuristic spherical design with a compact size that won't take much of your space.
Despite their minute frame, you'll be blown away by the amount of sound they can produce. A volume control knob has been included on the front, just like in the more costly Bose Companion 2 Series III. These USB-powered speakers can be connected to your PC via 3.5mm cable. There's also another cable that links one speaker to the other.
Overall, you get a feature-rich computer audio system that will cost you less than $50. The only thing you'll have to put up with is the clutter of wires. You can easily trip on them as you walk around the living room. However, if you can find a way to get over the cables, the affordable cost and multiple functional features make these speakers worth your while.
Creative Labs GigaWorks T20 Series II
If you're "all about that bass" and cranking up the volume, then you might want to try out the GigaWorks T20 Series II from Creative Labs. The unit comes with a unique feature that you won't even find on some more expensive PC speaker models. On the front end of the speakers, you get a full set of controls to let you customize the experience by fully adjusting the sound to your liking.
Not even the BOSE Companion 2 Series III offers that! You also get a headphone output for whenever you want to keep things on the low. The design of the speakers blends black and yellow colors that will instantly catch your eye. While the T20 Series II speakers come to their own while being blasted at high volume, they can be a little disappointing at moderate volumes.
This is because they sound a little bit muffed and not even the tone controls can remedy the situation. The price is another factor that may not "pull" you, but it's generally a great acquisition to pair with your computer.
Logitech G560
Logitech is a renowned brand in the audio system industry and their G560 model will interest you with a one of a kind feature known as LIGHTSYNC. This enables you to sync the external light-up panels of the speaker with movie soundtracks, music, and in-game sounds, helping to enhance your experience when using them.
The positional lights can also be called into action when it comes to identifying in-game elements. This is a unique feature that you'll enjoy although some users have complained that it can be a distraction during gaming. The audio quality is another strong point on the G560s. They produce a detailed surround sound that will immerse you into the game you're playing or movie you're watching.
The G560s offer multiple connection options, ranging from USB, 3.5mm, and even Bluetooth. Another thing is that the speakers have a charming design with a tiny footprint that allows you to place them anywhere in the room. You can also use them as an item of décor to improve the outlook of your space.
Conclusion
With the right speaker models in mind, you shouldn't have a hard time when you finally go out shopping for a computer audio system. Above are just some of the best computer speakers 2020 that should keep in mind when making your buying decision!