Animated videos provide you with more creative freedom and audience engagement opportunities. They are so commonplace that it's difficult to avoid running into them. However, animation software programs are challenging for developers because they require you to think creatively. These animation programs are compelling, and there is no disputing it. Although there are also open-source and accessible solutions, they are more expensive because of this. Start by considering how much time you want to spend learning how to use the animation software app before selecting it for your project. The learning curve can be simple to pick up or time-consuming. You'll need to become familiar with how the software works while igniting your imagination for a new job. The most problematic aspect for many users when learning a new program is getting started. Thus animation software apps with simple user interfaces could be worth the money.
1. Cinema 4D
Cinema 4D is a strong, well-made 3D animation program that provides users with a wealth of tools for developing a wide range of expert projects. Beginners may rapidly get up and running on this user-friendly platform. With weekly webinars and excellent customer service, consumers may learn more about the product's numerous choices. The number of capabilities in Cinema 4D is astounding, especially the integrated Adobe support. It would be best if you had a strong computer with the necessary RAM and hardware to execute this application. Motion visuals, realistic virtual reality gaming, and procedural modeling are all possible.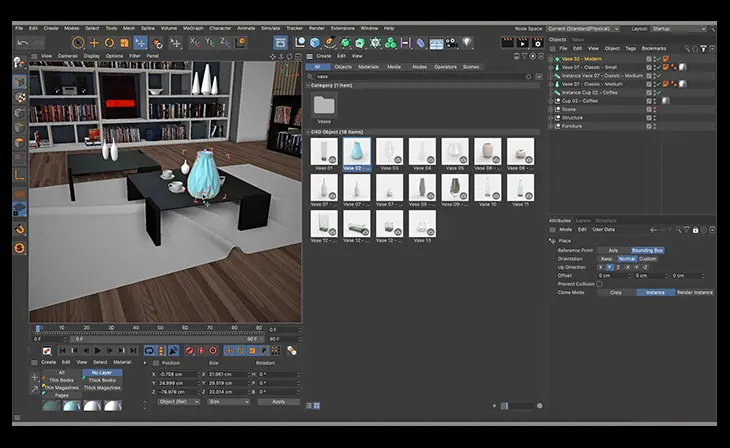 2. Adobe Animate
It is simpler to use than other software programs because Adobe Animate concentrates on the 2D side of things. The feature set is more advantageous for marketers looking to produce eye-catching infographics and advertisements. You can make frame-by-frame animations to give games or animated GIFs more life. SVG and HTML5 Canvas are only a few export possibilities that Animate provides. Additionally, it supports TV and mobile apps. Updating with or without using code is a fantastic feature that makes it user-friendly for newbies. Adobe Animate is available separately or as part of the company's Creative Cloud subscription. You can get started immediately with the free trial and determine whether the program fits you and your skill set. If business owners want to get into animation, it's a good investment.
3. Adobe After Effects
The company's 3D animation and video editing solution is Adobe After Effects. It is, without a doubt, a strong program. It is capable of basic tasks like rotating text and in-depth post-production editing. The user interface is straightforward, but mastering it requires a lot of practice to utilize all of its capabilities. Additionally, although at a cost, you can install plugins for specialized activities. Adobe After Effects works well with the company's software lineup and external applications like Cinema 4D. You have the option of subscribing to simply this product or to every Creative Cloud app. More extensive functions are available with a Creative Cloud subscription.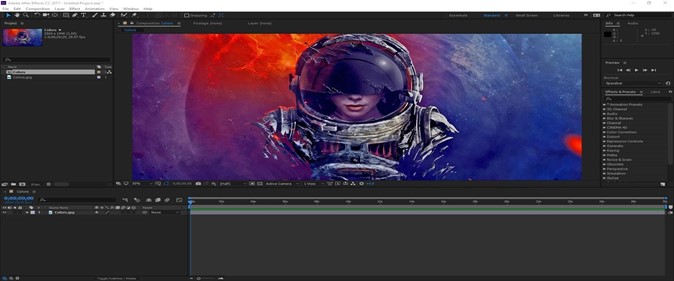 4. LottieFiles
Creating scalable animations for anything from websites to pitch decks is simple using LottieFiles. Additionally, you can choose from more than 50,000 free animations in the Designer, thanks to the Webflow Lottie connection. With the help of this program, you can make your animations and configure click, scroll, and hover triggers to activate your designs. Because lotteries are much smaller than gifs and won't slow down your website load times, they are excellent for web design. Additionally, they are infinitely scaleable, allowing you to maintain responsive designs across all screen sizes.

5. SideFX (Houdini)
For cutting-edge production, such as virtual reality, motion graphics, and even movies, SideFX (Houdini) is a great option. Trained animators in the making of the film Frozen employed it. SideFX has a severe learning curve, just like comparable animation software applications. Thankfully, several tutorials are available to assist you in getting over the hurdle. It is more user-friendly because of its various automatic features. The critical feature of Houdini is its node-based workflow, which enables you to design actions that can be reused and rearranged. It is, nevertheless, specialized software. A background in coding is advantageous but optional. You can create visual effects and render skills of film quality if you take the time to master them. The business has six subscription tiers, including a free one for hobbyists.

6. Blender
Despite being a free animation program, Blender has many useful features for 3D animation. Some of its characteristics are visual effects, digital sculpting, video editing, and motion tracking. Although tutorials are available, you might need more support for various activities. However, it has a vibrant community and regular software updates that help to enhance its functionality further. Furthermore, the documentation is done correctly. Blender is user-friendly since it supports a variety of graphic formats. It also contains a built-in 3D gaming engine if you wish to advance your talents. The film industry has also employed it, just like Houdini. Although it takes some time to become adept at the application, no financial risk is involved. Modeling, simulations, and post-production are all included, giving you all you need for creativity.
7. Pencil2D
Another free, open-source tool for 2D animation beginners is Pencil2D. Working with raster and vector workflows offers you the most significant versatility. It boasts a respectable feature set, especially when you consider the fact that it is free. Some top features are a pixel tracker, good scrubbing, and movie import. The community there is very active and supportive. The value of Pencil2D is derived from its straightforward layout and user-friendly interface. Because of this, it's a fantastic option for newbies who seek a straightforward program for the job. A devoted team of developers contributes to the software often and adds new features. The only drawback is that the operating systems' internal security protocols continue to have problems, which they should be able to resolve soon.
8. Animaker
Because Animaker is web-based and has a subscription basis, it differs from the other animation software programs we've studied. Making films and animated GIFs with an HTML5 engine is its primary purpose. If you can't or don't want to download software for your computer, that is a great alternative. The software makes it simple for beginners with templates, automatic lip-sync, and a library of facial expressions. It goes further than that. The website also offers an extensive image library, music, and sound effects for making professional-level videos. Even voiceovers can be done in the voice of your choice. A free option with five free downloads is one of Animaker's five pricing categories. Watermarks are unfortunately included in the five download restriction. However, it's a great chance to test Animaker without putting up any money or credit card information.
9. OpenToonz
Another free, open-source, computer-based 2D animation program is called OpenToonz. It features a respectable feature lineup with both more recent bells & whistles and traditional integrations. The UI, however, needs to be updated and easier to use. As a result, learning is challenging, given the need for more assistance and tutorials. Fortunately, you may ask other users on YouTube for assistance. Although you might need help locating the required tools because it's not immediately clear where they are buried, OpenToonz works well for simple tasks. Before moving your work into 3D, it's a good tool for thinking and drafting 2D animation. Due to its outdated, confusing UI, there might be better tools on the market, but you can't beat the price.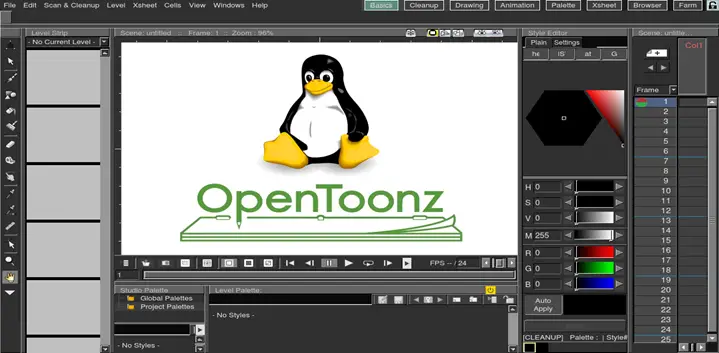 10. Autodesk 3D Animation (Maya)
Maya, a 3D animation program from Autodesk, is widely regarded as the industry standard. What else is there to say about a firm that also produced AutoCAD, after all? Disney uses it as their preferred software. With the help of scripts and plugins, Autodesk Maya may be made into a fully functional 3D production program. Autodesk Maya is being developed with the professional market in mind. It is prohibitively expensive, making it unaffordable for small firms. However, if you enjoy using this software, the company provides a three-year license, which might help you save some money. It is, without a doubt, solid and capable of producing a wide range of animations. It needs to catch up on fundamental features like a better viewport.