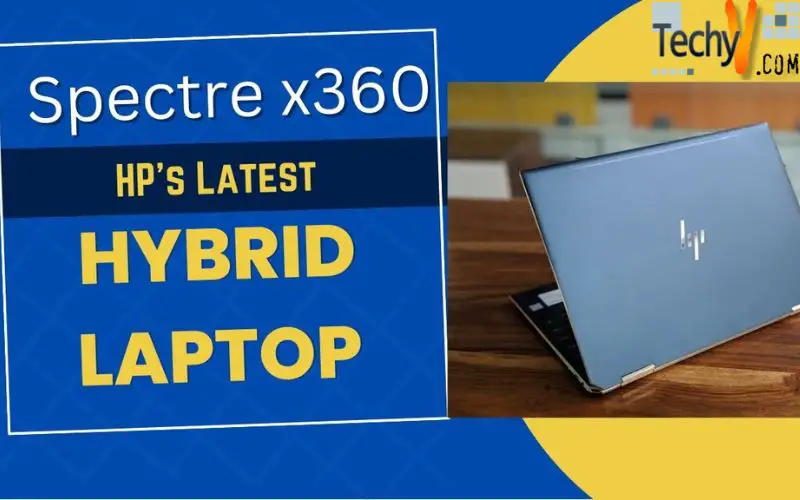 Spectre x360: HP's Latest Hybrid Laptop
When we heard about HP, we normally think about printers, inks, cartridges, business laptops, or office desktops. These are all exemplary, but dull. Recently, HP made a big jump as they released their latest laptop, the Spectre x360.
Spectre x360 comes from a range of hybrid laptops. In essence, a hybrid laptop is convertible and functions as either a tablet or laptop computer. Manufacturers need to stay on top of today's technology and trends. When it comes to purchasing, HP is aware that consumers have a variety of choices and they want to continue providing the same level of quality and performance by offering the best to the consumers.
Spectre x360 is a gorgeous and stylish device, which can take on Apple's MacBook Air. It is so far the most impressive and portable 2-in-1 that HP has ever created. The x360 is made of all-aluminum chassis that weighed only 2.8lbs and measures 12.03×8.58×0.54 inches. Though it is thinner than any other non-convertible laptop, it will give you the feeling of preciseness. However, I will say that Spectre x360 is a bit rigid; when it sits on a table in tent or laptop mode, it works just fine. But when choosing the 2-in-1 while walking around, bounces can make the screen shifts out at a slow pace.
The 13-inch Spectre x360 features full-HD with the bright and colorful display. The super thin bezels on the sides make it look more gorgeous. It can put out brightness up to 317 nits, which is more than the Lenovo Yoga 900 and Samsung Notebook 9 Spin with 284 nits and 283 nits respectively. The color range of x360 was also superb since 101.7% of the sRGB spectrum was covered by the panel. With the use of 0.74 Delta-E, the x360 denotes excellent color accuracy.
The Spectre x360 is powered by Intel's latest 7th Generation Kaby Lake CPU. You can choose between a Core i5 or i7 chip. With it, multitasking was a cinch even if you open 20 browser tabs or more. The convertible scored 7,933 of Geekbench 3, which implies a more enhanced performance from the last year's model and it also tops all its competitors. It comes with pre-installed Windows 10 Home 64.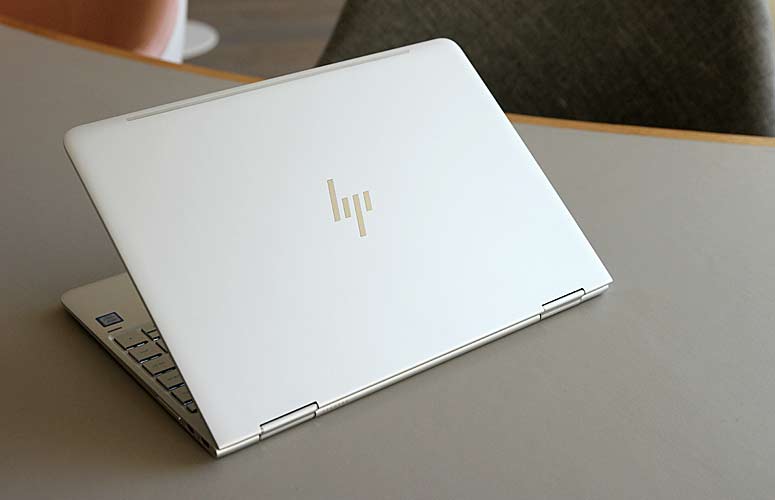 The x360 is also packed with 16GB of RAM and a super fast 512GB PCle SSD. When attempting to copy a DVD with a bunch of mixed-media files, it posted a transfer speed of 318MBps. It's on par with Microsoft's expensive hybrid, Surface Book, with the same transfer speed.  The Spectre x360 was also tested in sorting 20,000 OpenOffice names and addresses and finished it for 3 minutes 33 seconds, which is 30 seconds faster than the Samsung Spin 9. The graphics performance of x360 has also been improved. It's quite playable in 40fps at a resolution of 1920×1080.
With a smart Bang & Loosen quad-speaker, x360 provides excellent listening experience in a different mode. There are two speakers hidden underneath the grille, in between the hinge and the keyboard, while the other two were placed at the bottom of the system. This gives you brimful and immersive audio, with a powerful volume that can fill a room. You won't hear any fizzle or distortion when turning the volume on max level.
The battery of x360 has greatly increased in terms of endurance. It can last up to 8hrs and 36min of web-surfing or 12.5hrs of battery life. There are two cameras placed above the display of the x360; an IR cam, which you can use to unlock your device through Windows Hello and the other one is a 1920×1090 camera for taking photos and videos.  You can also find a pair of microphones for voice recording. Both the camera and microphones provide an outstanding video-chatting experience.
The Spectre x360 will be available from HP directly and will cost around $1,050 for the baseline model with Corei5 CPU, 256GB SSD, and 8GB of RAM. While the more-premium versions with Core i7, 256GB SSD, and 8GB of RAM will have a price tag of $1,160 and will be available from Best Buy only.
Overall, even if HP has discarded the SD card slot, x360 is still the best 2-in-1 available today and a hybrid laptop to beat.