Top 5 Free Software Uninstall Tools
In our day to day life we come across a situation when we need to uninstall or remove some programs from our personal computers and laptops. Actually, the Microsoft Windows has a built in Add/Remove utility with which one can uninstall the un-required program/application.
When you use windows built in Add/Remove utility to remove the software application, most of the times things like registry entries, folders associated with the application still remain uninstalled to some extent even after the actual application is removed. Hence, there arises a need for software uninstall program which can completely uninstall the un-required software application. Fortunately,  there are some free utilities/programs called Uninstall Tools available which can completely remove all the traces of software application/programs during un-installation process. We are going review such five freely available uninstall tools:
1. Revo Uninstaller: This is one of the best uninstaller programs for Microsoft Windows. It is quite fast, powerful and reliable utility program, a free alternative to MS Windows Add/Remove program. Revo Uninstaller can easily remove any software application that cannot be removed by MS Windows Add/Remove utility like partially installed program and unlisted program It works by scanning the hard disk and registry for files that would be left behind by normal uninstall.
      Main features of this programs are,
Eight additional cleaning tools
Free Professional Tech Support
One of the best Uninstaller software is the Revo Uninstaller Software. To download and install it, you can simply follow this tutorial:
2. My-Uninstaller: It is the better uninstall application than MS Windows Add/Remove program. My-Uninstaller doesn't require installation. Hence, it can be run from a diagnostic CD or a USB Pen Drive. My-Uninstaller provides installation information in detail and removes orphaned entries. It also deletes obsolete entries.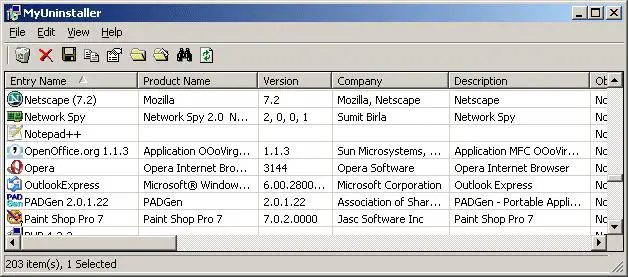 Main features of My-Uninstaller are as follows:
Works on any version of windows from Windows 98 to Windows 7
Saves/exports the list of installed application in a .txt file or .html file format
It's Free
My-Uninstaller is available here for free
3. Safarp: Safarp is uninstalling utility alternative to standard Add/Remove program of Windows2000/WindowsXp. Safarp displays list of installed applications. The installed items from this list can be uninstalled or repaired.
Main features of Safarp are:
Search function
Removal of obsolete entries
It can save/export list of installed programs to text, CSV, HTML files.
4. Argente – Uninstall Manager: Argente uninstall Manager is freeware software you can use in place of windows Add/Remove program. Argente Uninstall Manager has very simple user interface. The outstanding feature of Argente Uninstall Manager is its speed. It is far faster than the Windows Add/Remove Program when displaying the list of installed programs and also during the un-installation.

Main features of Argente – Uninstall Manager are:
Multilingual support
Works on windows2000/XP/2003/Vista
Search tool included
5. Force Uninstaller: It is a freeware uninstall tool much faster than Microsoft Windows Add/Remove utility. The force installer scans before and after un-installation of the application. For this scanning Force Uninstaller uses fast and advanced algorithm.
Main features of Force Uninstaller are:
It's free
Works on  Windows98/ME/NT/Windows2000/XP/Windows2003/Vista