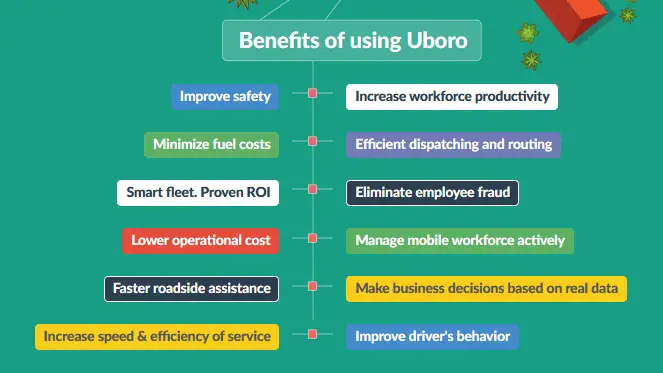 Nowadays, a lot of companies, regardless of their size, are using satellite transport monitoring systems.  However, not all tracking solutions can contend to the tasks assigned to them. Very few can boast smooth functioning, easy-to-manage processes, varied functions, and intuitive interface. Nevertheless, this doesn't prevent enterprises from searching for the most effective tool.
Good thing there is high-tech software and reliable onboard terminals called Uboro. Now, the vehicle monitoring system has already proved its effectiveness. The GPS tracking platform has helped many companies obtain the desired result by providing comprehensive information on the fleet operation. As a result, they could optimize financial costs and avoid possible risks while performing their everyday tasks. The Uboro customers are not only companies that are professionally engaged in freight and passenger transportation, but they are also enterprises dealing with road construction, oil, gas, and agriculture. For them, satellite monitoring and transport control have become the best means of saving and managing a fleet.
There is a general idea that a vehicle monitoring system is expensive and that only large enterprises can purchase the solution. In fact, a small and low-budget enterprise can afford Uboro tracking platform since the cost depends on the specifics of the company and can be relatively cheap.
The size of the lorry/car fleet does not matter – Uboro is suitable both for a large company with dozens of different vehicles and special equipment and a small enterprise with only a few units of transport. Obviously, this approach is an excellent opportunity to reduce costs and increase company revenue. A 90-days free trial period is another benefit of the solution. During this period, one can test the software and understand how it works and what information can be obtained with it. What is more, you do not have to sign a 1-year contract and proceed with the payment in order to use Uboro. The company is flexible in this respect.
Having an ordinary tracker is not a must with Uboro. A user can easily download a GPS tracker simulator and install it on any device, thus transforming it into a tracker at no extra cost. On top of that, Uboro supports any GPS equipment that the client wants to connect to the software. In other words, any device can be connected to the system, regardless of its manufacturer.
No matter what tracker you have and whether it is a simulator or not, Uboro allows you to keep track of all the movements of a car, its entrance zones, driving speed, downtimes, and routes. You can regularly receive reports and statistics on how a specific vehicle "behaves" on the road.  Having a varied set of functions, Uboro provides a fresh look at the routine tasks; thus, it is an effective tool on the market, with no application and functional limits. It took up from there – even more features for fleet management and tasks logistics are going to be introduced by the company.