The Best 10 Tips for Windows Vista Operating System
Windows Vista Operating System is one of the most highly-rated Operating Systems used in most computers. It has several features which make it a more comfortable platform to work with. Some of the isolated features of this Operating System include:
1. Use of photo gallery in viewing a managing pictures and videos
Windows Vista has a new photo gallery which arranges pictures and videos according to the keywords, tags, date of capture, and ratings. This photo gallery allows creation of folders containing data which are up to date.
Below is a representation of Windows Vista Photo Gallery which has a highlight of a dog.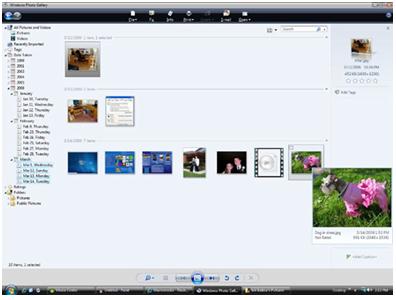 2. Improved Windows Media Player 11
This is one of the latest features that have been included in Windows Vista. Its interface looks like a website rather than an application for a computer. It has an integrated music library which stores both the online and offline music. Windows Media Player 11 makes sure that the online and the offline music are identical. Sync status tools are another feature contained in Windows Media Player 11 which are not available in other media players. This feature allows you to search a song from the library by typing any of the detail you remember about a song. The detail may be either the name of the artist, title of the song or genre. The library provides you with all the options containing details which are almost or alike to the one you provided.
3. The ease of data searches in an organization using the latest search tool.
Windows Vista contains the latest search tool which helps in retrieving any data on the computer without the need to remember where you saved them. It can also locate data in Windows Media Player, Photo Gallery, and Windows Mail.
4. Use of spotlight to access additional media
As shown above, spotlight has two contents. These are More Programs and Online Spotlight. More spotlights are used in playing games while the Online Spotlight is for accessing online media.
5. Addition of extra clock to stem tray
Windows Vista contains this feature which allows it to add an extra clock in the system tray. It allows addition of more than one clock plus their time zones.
6. Addition game saving feature
Windows Vista has the extra privilege of saving games progress played in Windows Vista and even those imported from other previous version of Windows.
7. Safe XML files
This version of Windows allows creation of secure XML files as compared to the normal Word document.
8. Updated Graphics
Windows Vista comes with graphics drivers which are up to date. This allows display clear images and videos which are of high quality. It comes with all the drivers for the computer in addition to graphics. These additional drivers include the sound drivers and the 3D surfaces, to name just a few. The driver aims to improve the performance of the machine.
9. Managing the computer with the latest control panel choices
Windows Vista contains the latest features which favors stand-alone activities. These features help in managing the activities of your computer. For example, the feature like network center helps an individual in viewing network details and setting up security settings.
10. Several Addition Applications
Windows Vista contains several applications which aim at improving the performance of the system. These applications include the VistaBootPRO and ready-boost which helps in system memory boost.
In general, Windows Vista has a lot of features which makes it the most used Operating System in the world of computers.