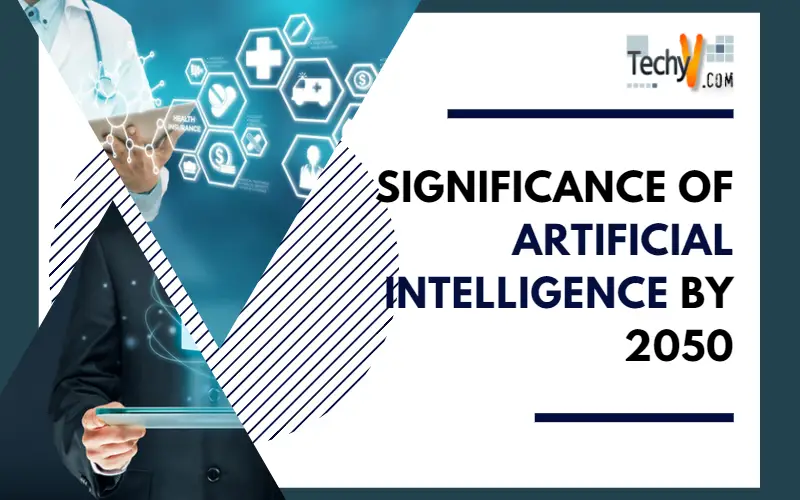 Artificial Intelligence is defined as an advanced step by which human intelligence is converted into robotics with the use of knowledge and technology. This term was developed to reflect a machine or software that can work as an artificial human. Artificial intelligence is growing day by day. By 2050 we may observe the effect of this all over around us. From grocery shops to educational institutes, we will see robots conducting multiple tasks. Today, Alexa is an excellent example of AI. It is a combination of human intelligence with technology. It is a step towards the futuristic robotic world.
1. Healthcare System
The involvement of AI will help doctors to treat patients most appropriately. The AI will store all the data in a formalized manner to group similar diseased people together. This will help the doctor to provide the best treatment. Also, AI will be able to give medicine and advice to the doctor, hence, reducing workload.

2. Sports System
Artificial intelligence will also be used in sports to provide knowledge about various sports. It will also help to check the health, fitness, strength, and weakness of a person and to learn and understand various strategies of different sports. It also allows an individual to match the criteria of a particular sport.
3. Education System
AI in the education system will rise as the most helpful teaching assistant that helps a teacher in giving homework, providing assignments and solving queries, and, most importantly, focusing on the weak student and allowing them to compete with other students. Not only this, but AI will also help in calculating the overall performance of a student. Further, it will help in keeping data of attendance of students,  organizing functions and other activities in the school, and providing medical aids in case of small injuries.

4. Company
AI work will effectively be seen in a company in the form of advanced technology managing the work. There are several works which will become easy such as scheduling meetings and other activities, approving holidays, maintaining records, evaluation of performance, and many more. It reduces the efforts and workload of human resources.

5. Cybersecurity
Security is the most important aspect for any individual, group of individuals, company, or any other body. There is always a threat of data theft or loss of privacy. But when we have AI it will keep data with more security and reduce or eliminate the theft of data.

6. Transportation
Transportation is a requirement of every person in the modern era. Most of the population requires transportation facilities. The introduction of AI in this field is likely to improve transportation by providing facilities such as self-driving assistance. This will also reduce the chances of rash driving, accidents, and drinking and drive.

7. Entertainment
It is the key element of everyday life. Entertainment not only reduces stress but also keeps a person's mood fresh. With this extremely fair technology, one can command what he wants to see and AI will show the required result, thereby reducing the time to search for a show or particular sport. Just by one command, you can watch whatever you want. You can set your choices as preferences as well.

8. Agriculture
The agriculture sector is one of the areas which requires a lot of effort and technology to give output. Many times farmers face crop failure due to inadequate knowledge and technique. With the use of AI, this field is supposed to overcome all the failures and become a productive one. AI will provide various methods of farming and also provide necessary knowledge about the reason behind crop failure.

9. Environment
AI is supposed to provide us with a better environment. An environment where there is no pollution and humans live with greater sustainability. With the introduction of AI, cities will be clean and less congested, and we can assume that they are livable.

Conclusion
By 2050 we will be living in an era of robotics and AI is supposed to be everywhere. Our day-to-day life will be incomplete without AI. It will affect and change the surrounding.