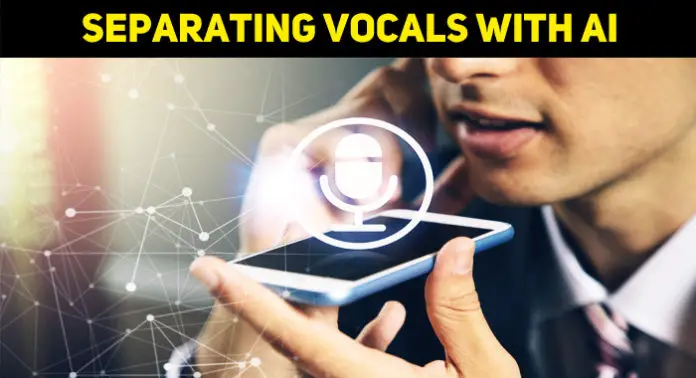 Splitting vocal accompaniment and several other instruments from any audio has always been a challenging task for DJs, Karaoke enthusiasts, musicians, singers, and producers alike. Separating the vocals or instrumentals from a song may not be ideal due to certain difficulties. But it is definitely not impossible, thanks to the deployment of advanced technologies like artificial intelligence, machine learning, and neural networks. Yes, with the advancement in technology, various solutions have been found for this age-old problem. Here is one such solution that will tackle all your vocal isolation and reduction woes with pretty good accuracy: lalal.ai. Before going through the highlights of lalal.ai, let's better understand the role of artificial intelligence in the music industry.
The remarkable impact of artificial intelligence on music   
One would be awestruck by the role of technology in inducing the development of the music industry in the past 4 decades. Earlier, we were happy with listening to the cassettes played. And then there came the CDs and MP3s. Later there emerged the period where people started separating vocals from music for different purposes. We have advanced to such a level that machine learning algorithms are used to extract vocal accompaniment and various other instruments from any audio with appreciable accuracy. For the uninitiated, music source separation is used to break a song into its accompanying contributions including the vocals, bass, drums, and pianos. And here comes the role of lalal.ai that lets you extract vocals and instrumentals with quality rapidly.
What is the USP of Lalal.ai?
The challenge for an audio-splitting service provider is in offering both superior performance and convenience to everyone using it. Think of an Ai-powered online vocal extractor that has both these functionalities and Lalal.ai is the right choice. Lalal.ai is an AI-driven music source extraction solution that facilitates hassle-free, convenient, and accurate stem extraction. There is no convoluted installation procedure and third-party software here.  There are no quality reduction problems too when you use lalal.ai. Just use this next-generation tool and even be benefited from doing complicated things like removing instrumental sounds.
Being a web-only tool, lalal.ai doesn't necessitate you to download it to your phone or computer. Lalal.ai also has a user-friendly API that you can integrate with various processes.
How does lalal.ai function?
Lalal.ai deploys a neural network and inputs it with innumerable studio-quality songs for days together to train it. The key is to give precise results. The AI algorithms are trained in such a way that the resultant sound is impressively good.
The challenge of software lies in its sync with its technical accuracy and the ease of use for users. Yes, lalal.ai may sound complicated if you delve into the technology part, but its precision is what makes it a go-to solution. Anyone with fundamental computer skills can quickly implement it.
How to extract vocal accompaniment and several instruments from any audio?
Now we come to the much-awaited question. For those who want precise vocal and instrumental tracks isolation, here's the AI way! All you have to do is to go to the lalal.ai site. Click the Vocal and Instrumental button to launch the Stem Separation Types list in the track upload section. There would be different options, including vocal and instrumental, drums, bass, electric guitar, acoustic guitar, and piano. Choose the appropriate option in the drop-down menu, and you can upload the audio or video file you wish to extract from the instruments. Then go to the Select File section. But before that, ensure to select a processing level. There are three processing levels including normal, mild, and aggressive. You can select any of these three according to your requirements. Note that aggressive is the highest processing level.
Select the specific file from your computer or use the drag-and-drop option and place the file in the location highlighted with the arrow sign. Then lalal.ai will upload your file (video or audio) and will process it. The selection can be changed even after the track is processed. After the song is completely uploaded, you can download it in the same input file format.
Before concluding this article, a small point worth shedding light on. The quality of sound of each track and mastering are vital elements in determining how the split turns out. Besides, an average song is about three minutes long, isolating its vocal and instrumental tracks calls for numerous math functions.
Take-home message
Suppose you are a music enthusiast who wants to isolate vocals or instrumentals from a song that includes the purpose of karaoke songs, remixes, or for the sheer concentration needed in singing practice. In that case, lalal.ai is the go-to solution.  Enjoy this absolutely free service!