Do you own any Samsung Galaxy Tab product? Or you are one of those who are feeling wobbly because of the wide selection of tablet ranges? Here is something that will add to your confusion…
Last Thursday, Samsung unveiled their latest tablets which are the Samsung Galaxy Tab S 8.4 and 10.5 inch. The two shared the same specs and features to be added to the Samsung's leading Galaxy S phone list. It has a 2560 x 1600 Super AMOLED display, to guarantee a brighter and more vibrant colors. It has beaten the iPad Retina display. Samsung showed the content and offers 50GB free Box cloud storage. But this is only available for a limited time including the Netflix' HD videos. The 8.4-inch will cost $400 in retail this July while the 10.5-inch will cost $500.
The latest Galaxy Tab S is packed with Android Kitkat 4.4, 8.1-Megapixel rear camera with LED flash and 2.1-Megapixel in front. It is also powered with 3GB of RAM and 16GB or 32GB of internal storage. It supports Micro SD expandable up to 128GB. It has fingerprint readers and it is just 0.26-inch thick. This thickness is remarkable since every tablet becomes thinner against its competitor. The Galaxy Tab S 10.6-inch model weighs just a pound similar to the iPad Air while the 8.4-inch weigh just 10 ounces which is slightly insubstantial with the iPad Mini Retina. Unlike the previous Galaxy tabs, the Tab S presented a metallic back, which is pretty outstanding as it curves well over the edges converging the glass front. This time, there are less buttons and slots. The Tab S has comprised with just the power and the volume buttons, audio jack, micro USB port and micro SD storage.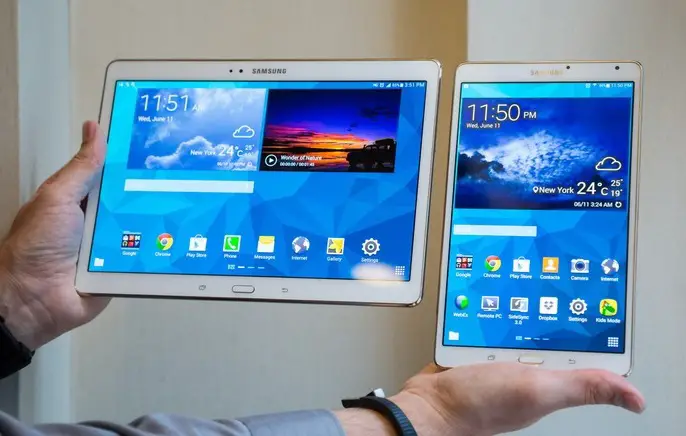 The fingerprint reader is slightly spontaneous than the Touch ID in iPhone 5S but it is completely effectual. You can put a password to your backup and unlock the Tab S with your fingers. You can also auto-adjust the color and the saturation of the display according to the lighting state.
The Tab S' UI is quite the same with the Samsung Galaxy S5, so it's simpler to use. It also supports on-screen multi tasking, wherein users can open two apps in different windows simultaneously. This newest tablet can also work with Gear 2 Smartwatch and is capable of answering calls from your Galaxy S5 through Wi-Fi Direct. And if you paired it to another Galaxy phone, the display will turn into a visual screen. When there is an incoming call, and user answered it on their Tab S, it will automatically direct you to your Tab S speakers.
Along with this, a 10.5-inch Bluetooth keyboard is also available in Samsung. This is designed specifically for Galaxy Tab S. This is useful, but mind you, it doubles the weight of your 10.5-inch Tab S. Additionally, it will feature Exynos Octa or Qualcomm Snapdragon 800 chipset. It depends on where you will buy the Tab S. The 10.5-inch Tab S will have a 7900mAh battery that gives up to 11-hours battery life while the 8.4-inch will feature 4900mAh battery. It also features standard GPS and the sensors for accelerometer, fingerprint sensor and more.
The latest Galaxy Tab S will be available in Titanium Bronze or white color. It is one of the thinnest and lightest Galaxy Tab which can also connect to Smartphones and laptops providing a prominent security. The device is available for pre-order and will be available in U.S by July.
For now, let's just wait and see if Samsung's plan of making the Galaxy Tab S as their main flagship tablet will hit the market's demands or if it will surpass Apple on becoming the world's predominant tablet vendor.