When the Covid-19 pandemic overcame the world in early 2020, the effects were widespread. Never had the entire world been exposed to such a rapid-spreading virus, and in many countries, mandatory lockdowns were imposed to try and stem the spread. Workplaces such as shops and offices were forced to close and staff – where possible – to work remotely from home.
Another area that was severely affected by the pandemic is that of education. Schools, colleges, and universities could not accept students mixing on site. They simply closed for business. However, some turned to an innovation that had already been gathering pace before the crisis: online tutoring via video software became a big thing.
Interestingly, even now, with the crisis slowly fading away, online tutoring remains popular. Why is this, and what does the future hold? Perhaps more importantly, is this a possible career option for you? We're going to answer each of those questions, starting with the following.
Why is Online Tutoring Popular?
The concept of online tutoring is not a new one. Video software like Skype and Zoom that experienced a vast increase in demand in 2020 – had been around a while, and there are benefits to online tutoring. In a one-to-one tutoring scenario, there are many advantages for both tutor and student. For example, neither has the expense and time of traveling to and from the classroom.
A second reason it is popular is the advent of virtual tutoring via pre-recorded modules. This allows the student to choose when they watch the module at their convenience. For class tutoring, this method is prevalent as it eliminates the problem of students who cannot get to class for one reason or another.
There are now many more online tutors than ever before. They operate mainly solo teaching in subjects such as English as a Second Language, other languages, and many of the subjects on the curriculum. Is this a career you could switch to? Is it lucrative, and what do you need to become an online tutor? That's our next subject.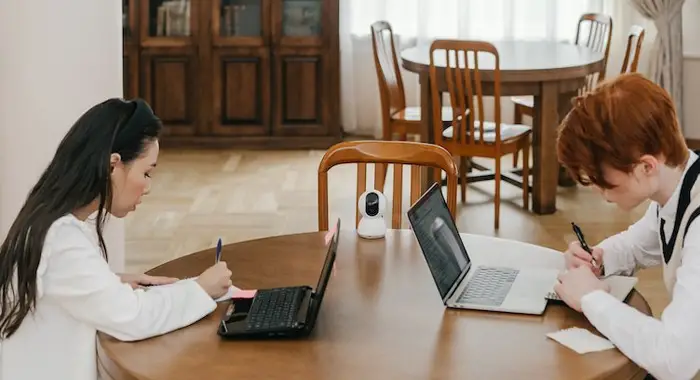 What Do I Need to Become an Online Tutor?
What equipment and qualifications do I need to become an online tutor? Let's deal with the qualifications and experience first. Put simply; anyone can set up a business as an online tutor. However, you need to be experienced in the subject you want to teach. If your first language is English and you are educated in the topic, you may teach international students English. If you have a degree or other qualification in the subject, you are more likely to appeal as a tutor.
As for equipment, you will need an office from where you can work. This can be in the home or rented space in a business park. You will also need a computer with a good broadband connection. Video software is essential so that you can hold your one-to-one sessions. One further software package you will need is a good online tutor scheduling software setup. This will enable you to manage your time efficiently. Such software allows students to book sessions via a cloud-based calendar and enables automated billing so you don't get mixed up with your invoices. Look for a package that also comes with onboarding features and reporting functions, as these will also make your life a lot easier.
Are There Real Career Opportunities in Tutoring Online? 
It was previously thought that the future of online tutoring would be a short one. However, for international students looking to learn or improve their English or for students wishing to brush up on other subjects, it is proving to be an affordable alternative to attending school or university. Some universities are now offering tutoring by this method alongside conventional classroom teaching.
The simple answer to the above is yes; there are real career opportunities in online teaching. The student does not have the expense of paying for somewhere to live near the place of learning and can be in another part of the world and still enjoy tutoring. The more students you book, the more you earn, so you must decide on your subject areas and look into teaching programs for ideas.
The Future of Online Learning
With the right equipment and software, becoming an online tutor is an appealing change of direction for many people. Whether you choose to teach English or help students improve their history, geography, or mathematics, the choice is yours. There are also tutors offering business and management classes online. However we look at it, it is clear that online tutors are more in-demand than ever, and there are no signs that this will decline shortly.