New Nanotechnology Can Capture Power From Human Motion
Have you ever imagined about the world where you won't require a power cord? The world where your phone or wearable device can be charged with your motion?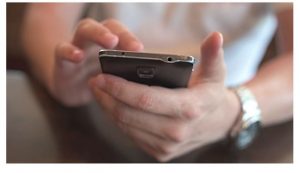 It may soon be possible to charge cell phones and Bluetooth speakers with a swipe of a finger of the user, as the new nanotechnology developed will help in harvesting energy from human motions. Engineering researchers at Michigan State University have informed that our future lies in the hands of wearable devices that won't require to be charged for weeks, since they can extract power from simple human motion like compression, swipe actions, etc.
According to a research paper that was published in the journal "Nano Energy," the scientists have come up with a foldable keyboard, named "Biocompatible Ferroelectret Nanogenerator" or FENG. The keyboard is foldable and can be powered by a simple touch and doesn't even require any power or battery for its operation.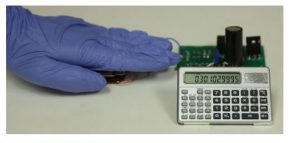 Nelson Sepulveda, who was the lead investigator of this project is an Associate Professor of Electrical & Computer Engineering Department at Michigan State University. He believes that the society is moving forward toward a future where people will be using wearable devices that will be powered by human touch or simply motion. Others who contributed to the study includes Chuan Wang, Associate Professor of Electrical & Computer Engineering, MSU, and doctoral students – Wei Li, Tongyu Wang, David Torres.
Operation:
The device, nanogenerator, has already been used to power an LCD touchscreen, 20 LED lights, and a flexible keyboard. The power was generated in the device only by touch and press motion.
The device is made from Silicon-wafer, the layers of which are separated by thin walls of eco-friendly elements like Silver, Polypropylene ferroelectret, and Polyimide. Ions are added to each layer of the device so that they can contain charged particles.
The ionized layer converts energy obtained from human motion (when it is subjected to compression) to electrical energy that can power the device. The amount of voltage that a person creates in the device due to the motions, can be exponentially increased, when the FENG or nanogenerator is folded.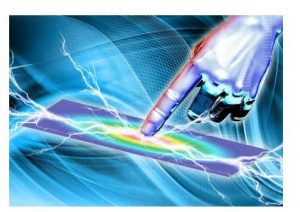 This technology is still under research, and if this can be implemented in other devices, FENG or Ferroelectret Nanogenerator can have different applications and uses in various fields.
Advantages:
The nanogenerator is light-weight, scalable, cheap, low cost, robust, biocompatible, and flexible. It will be easy to use such devices. With the required modifications and improvements, the nanogenerator can be used to power different electronic devices like wireless headsets, handsets (cell phones), and other touch screen devices. The user can go for weeks without even plugging in these devices to the power point.
Future applications:
The new technology has a promising future in nanomaterials. Carbon nanotubes, silver nanowires, graphene are few of the materials that can be used for making wearable medical or fitness electronic devices. Wearable devices are already in use (Google Glass, Apple watch, etc.), and with nanogenerators that can harness power from human motion, more devices can be designed that will not require power from direct charging from electrical plug points.