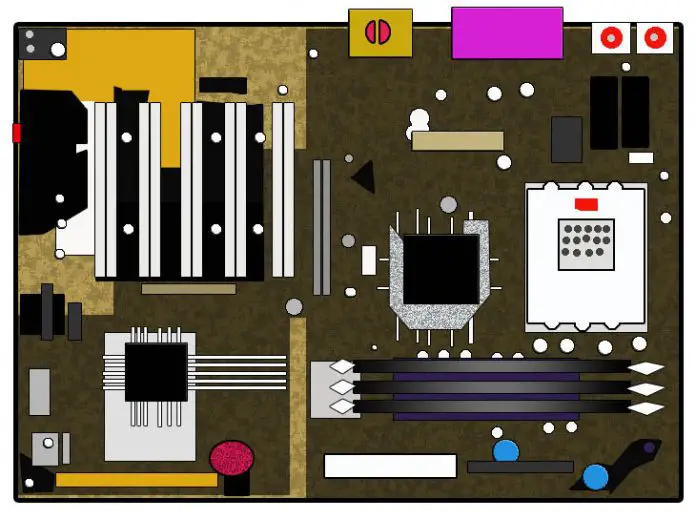 Motherboard (Central component that holds other components)
A motherboard is a central component that holds other components in a computer and also provides their related connectors as well as peripherals. The motherboard is also referred to as a system board or the mainboard. In some computers, like the Apple, it is known as logic board. Generally, a motherboard acts as a connection point for other components facilitating communication in the entire system.
The backpane also serves the same purpose, but the motherboard provides for additional features like connecting the Central Processing Units and hosting devices and other subsystems in a computer system. Common desktops contain their own microprocessors, main memory, and other important components attached to the motherboard.
However, there are other peripherals including video display and sound controllers as well as external storage which may be connected using cables or directly as plug-in cards. Recent       motherboards  are now integrated with these peripherals to reduce bulkiness and to facilitate portability. A motherboard has the most important component referred to as the microprocessor, that chipset that supports interfaces between the Central Processing Unit and buses, as well as other peripherals. The chipset, to some extent, dictates the capabilities and features of a motherboard.
There are various components contained in modern motherboards, including sockets for installing one or even more microprocessors, slots for installing system's main memory (mostly in the form of DIMM modules which contain DRAM chips), a chipset forming an interface between the CPU bus, peripheral buses, and also main memory. Other components include non-volatile chips which have system's BIOS or the firmware; a clock generator to produce clock signals which synchronizes various components, slots for fitting expansion cards, and connectors for power and for receiving electrical power for the power supply of a computer system for it to distribute to other components like the main memory, CPU, chipset as well as expansion cards. Most motherboards have logic and connectors which support frequently used peripherals like USB or PS/2 connectors for the keyboard and mouse.
Initially, some computers like   IBM PC  or Apple II that had this minimal peripheral support on the moth erboard. Often, peripherals like the video interface were integrated into the motherboard. A motherboard has an electrical component referred to as CPU socket for connecting a CPU to the printed circuit board. The socket on the motherboard serves a number of purposes like physical structure (supporting the CPU and heat sink). The socket also forms an electrical interface with the motherboard and the CPU.
The introduction of integrated motherboards has made it possible to support a variety of components on the motherboard. This has enabled it to have more functions; to be reduced in size, and also save the cost by avoiding acquiring individual components. Most motherboards, which are highly integrated, are usually small form factor and budget computers. Some of the components that are supported include disk controllers, integrated graphic controller, integrated sound card, fast Ethernet network controller, USB controller, IrDA controller for infrared communication and temperature, voltage, and also fan-speed sensors; which are responsible for allowing the software to monitor a computer component's health. Therefore, a motherboard is a key feature in any computer system.