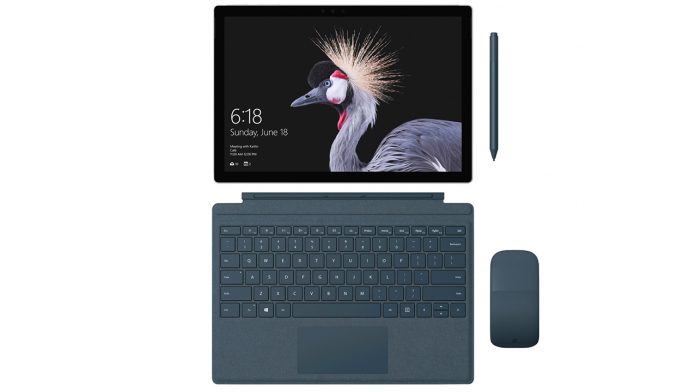 The much-awaited Surface Pro (2017) was already launched, a minor but much attractive revision of the 2015's Surface Pro 4. If you stick these two on a table side by side, you won't easily identify the new to old. You will need to open its kickstand and swipe it a bit to know which one you are holding. The youngest member of the Surface laptop has already dropped Microsoft's numbering scheme.
Weighing only 1.69 lbs and 8.5mm thick, the latest Surface Pro is a bit lighter with a fanless design that reduces the narrow vent throughout the outer edge. There is also an optional Surface Pen with a pressure level of 4,096 and an Alcantara-bound Signature Type Cover for keyboard, similar to the one used in the new Surface Laptop. But at a quick glance, these two are identical in terms of appearance.
Microsoft is not alone in this evolutionary hardware approach, Apple's latest iMacs and MacBooks have more subtle changes; upgrading some internal components while retaining their external covers precisely the same. Basically, the basic visual and well-designed ideas have remained consistent since the Surface Pro 4 and very minimal changes since the Surface Pro 3, which is where the Surface Pro line ultimately hit its stride.
Despite the similarity of Surface Pro (2017) to Surface Pro 4's exterior bodies, with the same weight and dimensions, the two are still indistinguishable. What sells the latest Surface Pro is its interior with an impressive upgrade to the graphics and processor. The latest Surface Pro was built with Iris Plus integrated graphics and Intel's 7th generation Kaby Lake processor. In terms of graphics, it doubles the performance of its predecessor and competitors like the convertible HP Spectre x360 and the Surface Book that both use a dedicated graphics card.
It comes pre-loaded with Windows 10 Pro 64-bit. The 5-Megapixel front-facing camera is capable of recording 1080p HD video and supports facial recognition log-in through Windows Hello. It also boasts an 8-Megapixel rear-facing camera with autofocus feature. Just like the old Surface Pro 4, the latest model has full-size USB 3.0 port and a Mini DisplayPort.
The Surface Pro comes with Core m3 CPU with 4GB of RAM and 128GB of SSD storage; this variant was priced at $799. The midrange model is powered by Core i5 with 256GB of SSD storage, priced at $999 and Core i7 with 16GB of RAM and a whopping 512GB SSD storage, priced at $2199. The flagship model has a huge 1TB of NVMe SSD storage. The luxurious Alcantara covered keyboard is sold separately for $129 (basic) or $169 for the colored versions. It is available in three colors: Burgundy, Cobalt Blue, and Platinum. The Surface S Pen was priced at $99. The battery life has been improved from 9-hrs to 13.5-hrs, which is 50% better than its predecessor.
Microsoft marketed the latest Surface Pro as "The Most Versatile Laptop in the World." Though this new device is designed as a 2-in-1 hybrid, the company is still selling it as a standalone tablet. It is an excellent device that comes really close to a full-fledged laptop and it even whips the iPad Pro as a replacement for your laptop. But considering that it is still not an out-and-out laptop, would you really consider buying it at its price?
Watch the Microsoft Surface Pro (2017) First Look: