Are you willing to have a real painting experience using a gadget or an app? But you are worried about not finding any app on your Windows device to satisfy such needs? Worry no more, because Microsoft has already launched "Fresh Paint" which fulfills all your painting needs. As a research work, Microsoft originated it and became one of the top 10 downloading apps in the Windows store. Microsoft aims to satisfy the needs of the users in painting through this app.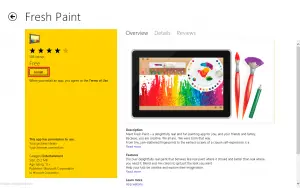 What is Fresh Paint?
Fresh Paint is the most creative application developed by Microsoft, which gives its user the digital oil painting experience. Microsoft originated it as a research project in the initial stages and named it as "Project Gustav".  Later on, over the years and after several up-gradations, it was named as Fresh Paint. The main purpose of this app is to remove the boundaries of the existing conventional painting apps in Windows such as MS Paint. However, it is not a replacement to the old MS paint, but it provides some additional features and advanced painting experience. It works only in the Metro mode in Windows.
Fresh Paint is an app designed exclusively for the Metro mode use of Windows 8 or higher versions. You can have this on your Windows tablets and mobiles too. Fresh Paint has many new creative inbuilt tools like oil, water paintings, graphite colours, etc. These tools will help the user to experience real oil-painting on your gadget. However, it is more attracting when used on touch screens, as you can feel like painting just on the paper by using this app. It has water to mix the colours, and you can even clean your brush through that water within the app.
Features of Fresh Paint:
Fresh Paint became very popular because of its appreciable features, which attracts every age group and increasing its users day by day. All the features incorporated in it are developed creatively by taking the very simple needs of the painters into account. The main features that are attracting in it are as follows: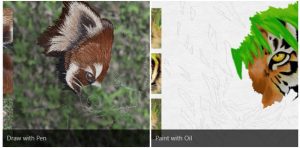 It has tools like watercolour, oil, pastel, brush and graphite pencil, which are most realistic. By these tools, you can paint whatever you want.
In this app, there is a provision to mix colours of your choice. By mixing those colours, you can obtain a different effect that fits your choice. Because of this feature, you can have some colour options, unlike from the conventional MS Paint app.
You can import images of your choice, or you can take photos from your camera also.
This app supports input from touch screen, mouse input or stylus.
You can arrange the brush or pastel size according to your choice and remove the mistakes simply with the eraser tool. Also, it has undone and redid options.
The new version of it is in lieu with the CanvasPop so that you can arrange the pixels to your paintings. You can convert your pictures as well.
Another funny and attracting feature is it has a fan option, which can be used to dry the water colour painting, which will give you a real-life painting experience.
You can share your arts with your buddies with the help of the drive available for Your work will be automatically saved, and you can find them in the drive.
How to download and use the Fresh Paint:
With all the whooping features of this app, it has become one of the top 10 apps in Windows 8 and Windows 10 versions. Follow the simple steps below to download the app:
The minimum required OS for this app to work on your PC is Windows 8.1 and to work on gadgets is Windows 8. It also has support for Windows 10.
Click the search bar in Windows Store and type Fresh Paint and press the Enter key. In the search results, select it.
Click the free option available and start downloading by clicking on the download option. The downloading Window will open as shown below:
After completely downloading, open the app and start to experience the real oil paint on the digital platform.
Click on red coloured plus icon on the top left corner of the screen to open a canvas screen by selecting fresh canvas in it. Then click on the custom canvas to resize it and click on fun packs to download the styles required.
Then use the tools available to create your painting. You can also change pictures into paintings in this.
However, to use this canvas feature, you have to pay, but the use of normal Fresh Paint app is free of charge. Try this funny and fascinating app to have a realistic oil painting experience on your gadget and enhance your painting skills with this app without using real paints and papers to try different shades.