Genetically modified foods or also known as the bioengineered food is the food that is being changed or engineered with proper organisms and changes in the DNA of the species causes changes in the product. GM foods are useful in mutation and selective breeding types. These foods are also capable of more changes that can be advantageous for growth and storage. Since every crop growing is being prone to use of pesticides and fertilizers, this has been reducing in a genetically modified food. Few countries like the USA produce GM food in major and add it in more than half of their staple diet. These foods equally have their pros and cons.
FOODS THAT ARE COMMONLY GENETICALLY MODIFIED: 
Soybeans
Canola oil
Corn
Milk
Sugar
Zucchini and other green veggies.
Tomatoes
Corn syrup (HFCS)
Potatoes
Wheat
Sugar beets
Apples
NECESSITY FOR GENETICALLY MODIFIED FOODS:
 The ability to manipulate and engineer a gene is useful in ways and that too for a crop it has several needs. Some foods like fruits and vegetables stay hydrated for longer times when they are genetically modified. Resistance gets increased from these types of foods. The process of genetic food change takes time and money, but the foods we get from it remain as a routine product of eatable. For example, the rice in America is genetically improved with the adding of vitamin-A reducing the deficiencies.
THE ADVANTAGES OF GENETICALLY MODIFIED FOODS: 
The resisting capacity of genetically modified crops from insects is a positive viewpoint when considering its advantages.
The use of chemicals like pesticides during the crop's growth gets reduced majorly in genetically modified crops.
The crops and foods produced by genetic change remain stronger, in a sense, it can withstand the extreme conditions of weather.
The nutrition in the food products cultivated is increased through this genetic technology.
Farmers with this science get benefited with higher income funds.
One significant feature of GMO foods is that new varieties of food patterns are allowed for discovery at any point in time.
The side effects or the other allergy-related reactions from consuming GMO foods are not yet fully studied by professionals.
These GMO foods are not pure or considered environment-friendly since these are engineering made by humans.
Since few organisms are observed killing in the making of genetically modified foods, the biodiversity of natural species gets lowered with every species affected.
The substances added to GMO food makes the taste of the fruit or vegetable unusual to many.
Since the background behind these foods is unknown fully, they may even cause death in risky cases.
New disorders and diseases have a chance of being inflicted on the society due to genetically modified foods.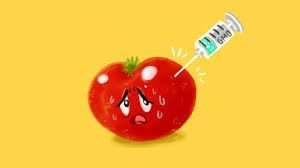 Henceforth, knowing thoroughly the effects of the genetically modified crops and foods is vital for every human who consumes these. Being healthy is the goal of human nature and hence start being aware of your surrounding and the food you eat daily!