Have you ever experienced an unexpected computer shutdown or crash when you lost all of your documents? This annoying data loss can be brought on by malware or virus attacks on your computer, corrupted or destroyed files, power failures, or other unplanned system shutdowns.
In the event that your computer crashes or your hard drive fail, iTop Data Recovery is one solution to save you from the problem.  Here are the details about iTop Data Recovery, including reviews and the results of real tests.
 Pricing Plans
There are three options if you upgrade to the "Pro" version. All purchase plans allow you to cancel at any time and are renewed automatically.
The monthly plan, which costs $26.99 for Windows users, is by far the least economical.  You receive a single license good for a single machine, one month of free upgrades, and cost-free remote support.
The annual plan, which costs only $29.99 for Windows users, is a far better deal. Or you pay a one-time cost of $39.99 for Windows users if you wish to always have access to the recovery software. You receive a single license good for a single machine, unlimited free upgrades, and unrestricted remote assistance.
 Features
To use the iTop Data Recovery, you don't need to be particularly tech- or computer-savvy. With only one click, the software will begin scanning your computer after only a little period of downloading. Depending on how many GB are being used, a quick scan of your C drive typically takes around 5 minutes, and most home computers can have all of their data properly scanned in under 2 hours. A scan report showing the number of files discovered and file information is displayed. Additionally, the software comes with instructions in a number of different languages.
You may recover a wide variety of files using iTop Data Recovery, including practically all document types and formats, photos, audio, video, and emails.
When your system doesn't recognize a file structure and you can't access stored data, it can also restore mistakenly deleted files and RAW disks.
A quick scan and a deep scan are the two data recovery modes offered by this software. We ran the fast scan, which lets you detect and recover any recently deleted data and determine whether a virus has affected your file system. It took only a few minutes to complete. The deep scan, which can retrieve long-lost data took only a few hours to complete. Even files from a hard drive that has undergone a re-format can be recovered using iTop Data Recovery. This applies to data on hard drives, solid-state drives, USB flash drives, SD cards, and pen drives. You can decide whether to purchase the software to recover the files after seeing the free preview to see which files can be retrieved and which cannot.
Data can be recovered with the iTop software from a laptop, desktop computer, external storage device, or internal storage device. Windows 11/10/8/7 is totally compatible with it.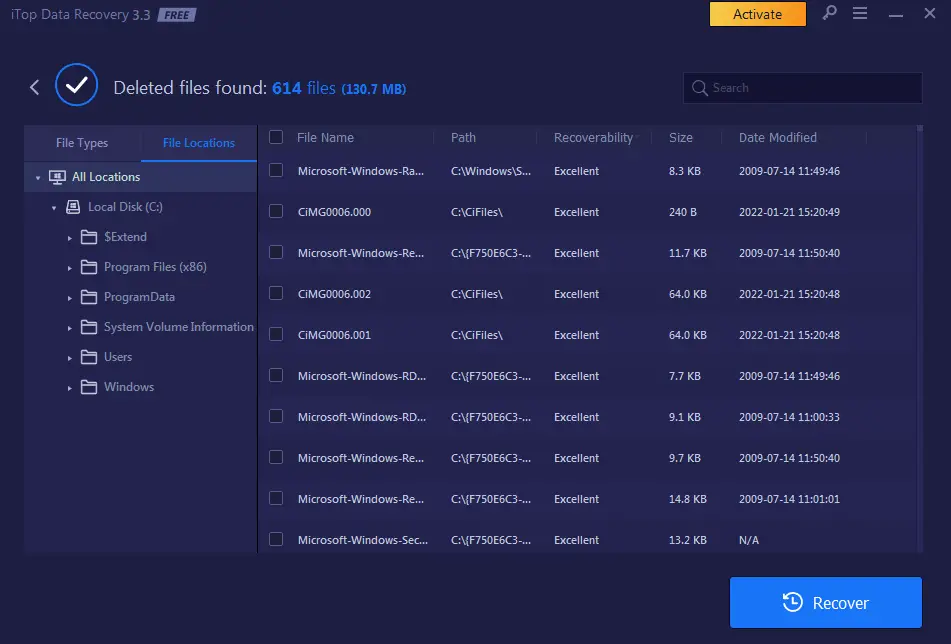 Pros:
Quick to fully restore all deleted files from an external HDD.
File recovery from a variety of devices is simple.
Complete data restoration after a laptop crash.
Recover text files and photos from deleted hard drive files.
The user interface is straightforward and simple.
Flexible data recovery to find specific files
Cons:
There is no available free trial.
Large files might be difficult to retrieve and take a long time.
Certain files are corrupted and cannot be inspected.
Process of Recovery
We were able to do a thorough scan of our computer's C drive during our testing of this program. It uses 115 GB of space, and the scan takes just 20 minutes to finish.  For any particular file that you want to recover, you can also search by name.
Simply download and use the software, choose a device to scan, then wait for the results to see if the iTop Data Recovery was successful. Simply click the "Recover" button to bring back your important files after the scan is finished. As indicated before, there are two different scan types: a quick scan for recovering deleted files and a deep scan for finding lost files. We recovered 982 files in less than 2 minutes using the quick scan after finishing the deep scan, which was speedy and efficient. Unfortunately, you cannot recover any data for free with the program.
Conclusion
The iTop Data Recovery can scan and restore lost data in a respectably quick time, and it is secure for your Windows machine. The software can recover corrupted files from a broken drive or external storage device. Additionally, it has highly appealing pricing that makes it stand out on the market.
However, there is no free trial available for this program, and not all file types can be recovered.