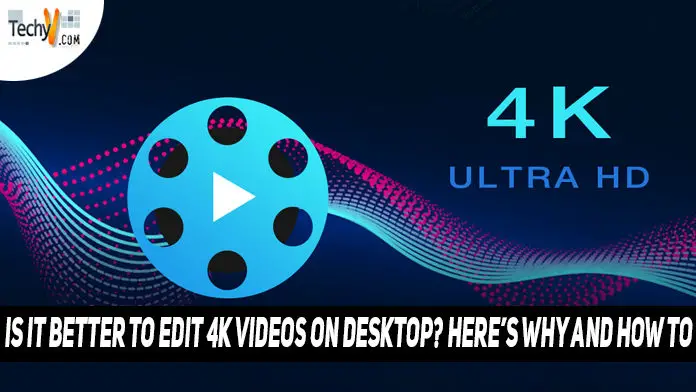 If you watch videos on YouTube every day, you might notice that more videos have the quality option of 4K 2160p. According to YouTube yearly statistics, over half of UGC is uploaded in 4K. Since more viewers tend to share videos online with well-developed cameras on smartphones, 4K-capable video editing software becomes one of the most discussed issues in post-editing. People edit videos using either mobile apps or desktop programs. But which one is better? Let's take a close look at these two kinds of video editors.
Pros and Cons of Mobile Apps to Edit Large 4K Videos
We rely on smartphones deeply in daily life because they have made video recording near-at-hand. Although we are not professional photographers or cameramen, we can shoot, edit and share short videos or vlogs online easily with the assistance of video editing apps.
If we dive deeply into mobile apps, we'll find they bear both advantages and disadvantages as bellows.
Pros
– Shoot, edit and share short videos in one stop. Thus you don't have to transfer large 4K files between mobiles and PCs.
– Mobile apps are easy to learn with a simple workflow and loads of templates.
– You can edit and share videos at anytime and anywhere as long as your phone accesses the Internet.
Cons
– 4K large video editing is power-consuming and space-taking, and mobile apps lag and crash frequently.
– Limited compatible formats and codecs for 4K videos.
– Cannot edit videos accurately, e.g. cannot trim frame by frame.
– Most mobile apps lack advanced editing features like green screen, overlay, etc.
You can tell from the list above that the major shortcomings of mobile video editors lie in large 4K video editing. It differs from short video editing in larger file sizes and more complicated data processing. So once you get large long videos to edit, you should ask help from a powerful 4K video editor on your PC, like say VideoProc, which distinguishes itself from others by fast and smooth 4K processing.
Why Edit Large 4K Videos with Desktop Software?
Compared with mobile video editing apps, Desktop video editing software goes one better and benefits users from smoother 4K video processing and better quality guarantee. 3 main reasons are concluded here:
1. Computers are equipped with better hardware.
As you know, 4K video editing involves encoding, decoding and processing much data back and forth. Better CPUs, graphic cards, and extra SSDs speed up the editing process to a large extent. Large and high-res monitors display more details in each 4K frame. Even a PC too old to have the latest hardware can be re-built by upgrading the hardware. And this is why modern smartphones are left behind by major computers in 4K editing.
2. Desktop software comes with abundant 4K editing features.
Video editors on smartphones are primarily designed for video editing beginners as they have preset almost every editing step. To edit 4K videos on mobile is to follow the workflow of an editing app. While desktop video editors provide more features, like professional rendering, color grading, special effects, 4K video conversion, etc. And they also give users the right to customize their workflow, and every value of video parameter.
3. Desktop Software performs better with hardware acceleration.
Another advantage of desktop video editors worth mentioning is hardware acceleration. At present, most video editors on desktops can activate GPU acceleration to relieve CPUs from heavy work to speed up either 4K video encoding or decoding. VideoProc is the minority that utilizes full GPU acceleration tech which enables hardware acceleration throughout encoding, processing, and decoding.
If you try to edit large 4K videos with video editors on your PC, you will find that 4K editing is much easier than on smartphones. Recently, VideoProc works on a comprehensive desktop free video editor reviewand launches a giveaway and survey-taking sweepstakes. It is a good chance to get a free video editor license and learn more about desktop video editing software.
How to Edit Large 4K Videos on Desktop?
Grappling with random crashes, freezing or lagging disappoints many mobile app users. The best way out is to switch 4K editing to PCs. Next, we'll show you how to edit large 4K videos without fuss on desktop, taking VideoProc as an example, which boosts large 4K video editing speed up to 47x real-time faster by its special GPU acceleration.
1. Load a 4K video into VideoProc, and choose an output format.
Launch this software, and click +Video to import a 4K video or videos. Then select the desired output format. VideoProc supports more than 400 video formats and codecs, so you can take it as a robust 4K video converter as well. Double click the format, you'll get to customize frame rate, bitrate, resolution of your 4K video.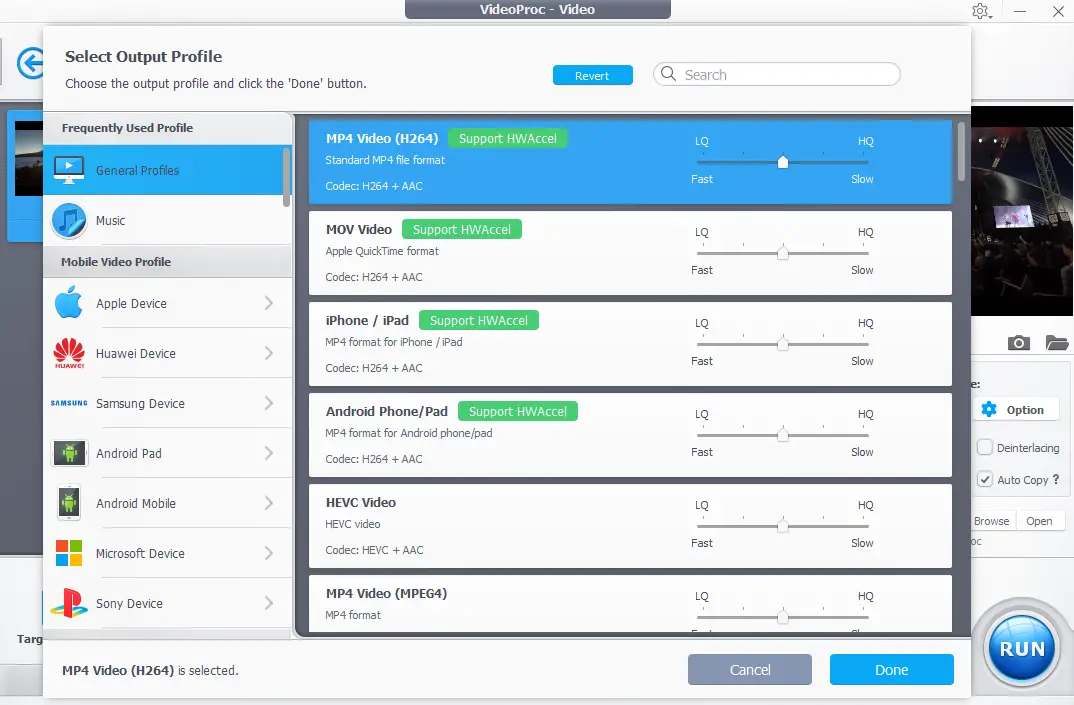 2. Cut and merge large 4K video clips.
Go to the editing bar or the Toolbox on the lower side, and you can find its full editing features, cutting, merging, splitting, rotating, flipping, watermarking, etc. You just need to drag and drop the slides or boxes to complete these operations.
3. Fix low-quality 4K footages.
If you shoot 4K footages with a GoPro outdoors and get annoying background noise of wind or people' s chattering, click Denoise to remove it. And shaky 4K clips can be stabilized by deshaking, a feature next to Denoise. To keep 4K video from quality degrading, you'd better go to the Codec Option to check whether the resolution or frame rate has been lowered down.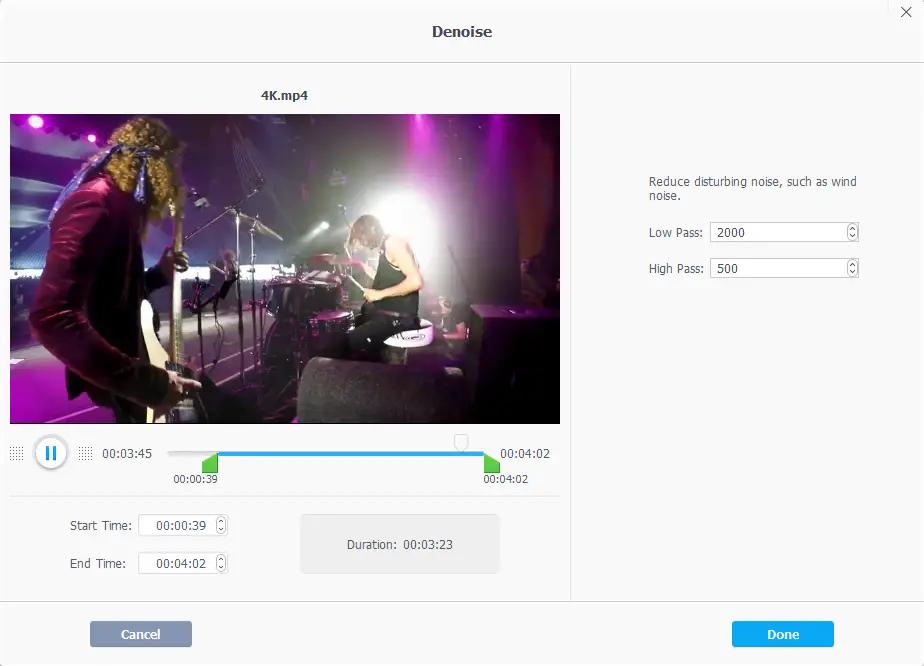 4. Enable hardware acceleration and export.
Tick the box before Hardware Acceleration, and hit RUN to export the edited 4K video. Then VideoProc will auto-detect and initiate GPU acceleration for 4K video processing.
Conclusion
Although there are constant comparisons between mobile video editors and desktop editors, they are not absolutely conflicting, and users go to different utility according to different needs, mobile apps for instant editing and sharing, while desktop video editors for advanced editing and video conversion. As for large 4K video editing, desktop video editing software still takes the lead yet.