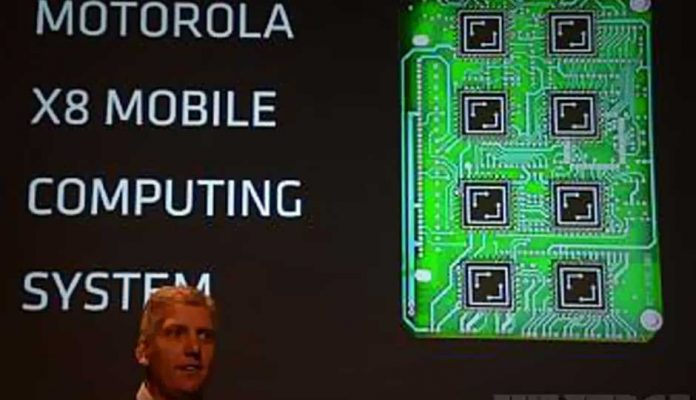 Mobile Computing. Quite an easy term to understand but yet a very complex area of mobile technology. It involves mobile communication, mobile hardware, and mobile software.
A more detailed technical definition of Mobile Computing is the ability to use the technology to connect (wirelessly) to and use centrally located information and application software with the help of application of tiny, portable, and wireless computing and communication devices voice, data and multimedia communication standards.
X8 is a particular SOC (System-On-Chip) Mobile Computing System for the Moto X (1st Generation) by Motorola (Now Moto). It is different from the usual SOC's and has a 'Krait' CPU from Qualcomm Snapdragon. S4 Pro CPU having a dual core 1.7 GHz frequency was the name given to the Moto X internal working. It has a total of 8 cores, and it uses a Divide-and-Conquer strategy to make the new system entirely useful. It has four graphics processor which hosts the Quad-Core Adreno 320 GPU for a mind blowing clarity, two application cores for all the regular processing of apps and two low power cores which mark for the icing on the cake. Within those two little power bases comes the Natural Language Processing and Contextual Computing. Natural Language Processing is the human voice recognition which uses such less power and gives out the incredible performance.
So what was the need for developing a whole new System-On-Chip when we already had all these facilities in the conventional SOC's? Well, there has always been an important issue in battery life. On a regular day's use, the phone's juice would run out too quickly for all the necessary applications running on your phone. By using this Krait CPU, it resulted in an overall reduction of battery usage. Not only did the battery power increase but the CPU and GPU utilization percentage went very well up. A 24% faster CPU and a whopping 100% faster GPU were the results of using the Motorola's new CPU!
A superb example set by Motorola and team on developing this new Mobile Computing System. All the battery hungry applications run by providing individual cores for specific tasks. The Moto X(1st Generation) was a huge success and till date a significant share of people use this phone and are satisfied. It has received many updates over the past couple of years and had marched on with every single one victoriously. Kudos to the Moto Team!