The OST or the Offline Storage Table is the offline Outlook data file that MS Outlook is generating when syncing with Exchange Server. PST or the Personal Storage Table is used to store copies of calendar events, messages, etc. in Microsoft Outlook, Microsoft Exchange Client, and Windows Messaging. There are many excellent tools available in the market that can provide OST to PST conversion and one of the most tested and easy-to-use is the Stellar OST to PST Converter.
The Stellar OST to PST converter is a reliable and powerful software for converting Outlook's offline storage file to its equivalent personal storage file. You have an option to choose between Corporate and Technician edition, of which Technician renders better functionalities. A basic advantage of Technician edition is that it offers a complete solution in splitting the PST files prior to saving. Similarly, you can compact large PST files to reduce their size before saving. Once the conversion is complete, the newly converted data will be stored in a new working PST file, which you can import directly to MS Outlook to retrieve access to the mail items.
With higher edition, you have a top rated facility of directly saving the converted file in Cloud Office 365, a feature unique to this software.
The Stellar OST to PST Converter offers an interactive and easy-to-use interface. It can save the converted files in MSG, EML, RTF, HTML, and PDF format.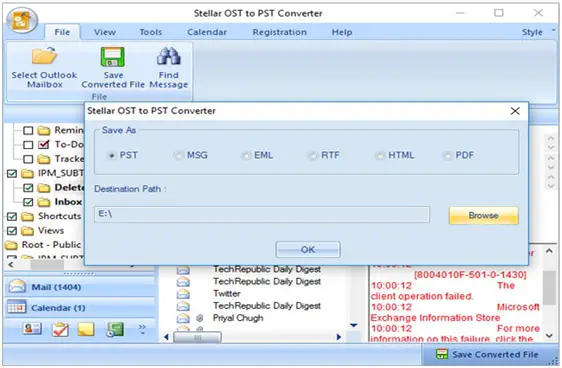 Note: The best part of Technician (higher) edition is that it promotes saving in additional DBX and MBOX file formats.
Further, the Technician exports your contacts to CSV file format and support almost all MS Outlook versions. Stellar OST to PST Converter enables Compaction and Splitting of your PST files that are already converted. After scanning your selected OST, the Stellar OST to PST Converter will allow the user to view all the mails and other components like the Calendar, Notes, Contacts, Tasks, etc. in the left pane. You can also view the data under the preview pane, exactly the way you are viewing it in Microsoft Outlook.
In Stellar OST to PST Converter, users can also arrange their scanned mails based on Date, Subject, From, To, Type, Attachment, and Importance. The downloading and installation process will only take a few seconds. The scanning process is also fast and once you start converting, you also have the option to stop the process by clicking the Stop button and then continue further conversion at a later time.  It supports MS Outlook 2016, 2013 (32 bit and 64-bit versions), 2010, 2007, 2003, 2002, 2000 and it is capable of converting encrypted OST to PST file. You can even preview your mails before you save it into PST file.
The Stellar OST to PST Converter can convert ALL OST components. Software's uncluttered, easy-to-use, the standard interface enables users with any levels of expertise to navigate and work upon this software with ease. The software enables splitting of large PSTs and enables us to save small files at preferred location thus the repeated corruption option is completely eradicated. What's best about this tool is you can directly export data to Cloud.
Additional Benefits:
The lengthy task of first saving all PST at a defined location followed by importing these files to Office 365 is reduced by 50% due to this added advantage. Exchange Administrators are stuck at several steps when it comes to migration to Office 365.
Final Verdict:
This tool earns 10 on 10 on this point as it makes the migration task much easier and less time taking. After judging the functionalities and features of this software, I will strongly recommend it as it offers accurate and reliable conversion features.