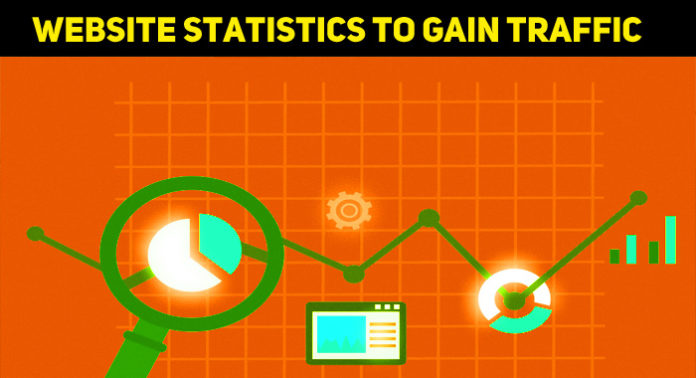 To newcomers, trying to understand website statistics can be a bit of a challenge. There is a large amount of data you can potentially glean from site visitors, but it's harder to know what to do with it.
For that reason, today, we hope to help readers better understand how to utilize valuable statistics and data points about your site to help improve traffic!
The Basics of Website Statistics
First, let's address the basics. A website statistic (or website stat) is a piece of numerical data gathered from activities being performed on your site. While that may sound complicated, the hard work is often done for you.
These statistics can do several important things for you. The two most common ways they're used are seeing how many people are visiting one's site and how often visitors make purchases.
Website stats can do all sorts of amazing things, but today, the focus will be on driving traffic. If you learn how to use website stats, there are often ways to see where subtle changes can make big differences.
The Stats to Pay Attention to:
If your current goal is to increase traffic to your site, there are a few data points that will be useful to you.
First, figure out how well your current web traffic is. How this is done will depend on how you're hosting your website, but every major hosting platform makes it fairly easy.
Even better will be if you can get more specific. What browsers are people using? How many users are on mobile?
One critical piece of information to pay attention to is where people are visiting. It's good if your blog is getting traffic but won't mean much if people never visit your store/service pages.
Furthermore, you may be able to see where users tend to be visiting from. It is often possible to find out which visitors are clicking on advertisements, which have come from links, and who has organically found your site via a web search.
What Content Do Visitors Find Interesting?
With this information in mind, it becomes much easier to see where you need to improve. For example, if you are devoting resources to certain kinds of blog content that aren't getting traffic, it may be time to switch approaches.
The thing to remember with website curation is that a shotgun approach only gets you so far. Every piece of content, every minor change, takes at least some time. The more time something takes you (or an employee), the more you should watch whether it is helping drive traffic.
The secret of how to increase website traffic is knowing where to focus one's efforts. Successful content can be looked at and copied, or improved upon. Failing content can be abandoned or fixed.
It also bears mentioning that a statistical approach still requires you to use other available tools too.
For example, search engine optimization (SEO) can be an excellent way to drive traffic. Marketing can make too. By using these tools to drive visitors to pages you already know do well and often convince people to explore further, you can improve your odds quite a bit.
Getting Better Data Gathering Tools
If you're looking for useful tools for website stats and other forms of information gathering, remember not to laser focus only on what you get by default.
While server hosting services or your own IT department may be able to glean useful data from your site, you can go further. Take, for instance, Decibel, a powerful third-party analytics platform.
Decibel's tool takes what was discussed in the section above to the extreme. It goes well beyond being able to show what the flow of traffic is on your website. Their program allows for heatmaps of where visitors are looking on a given page.
These heatmaps are the result of some powerful data gathering. By "watching" what a visitor on your site is doing, you can get a visual representation of what parts of your site they are interacting with.
For instance, you can see what menus visitors are (or are not) clicking on. You can see what images are drawing their attention. There are even several different maps to choose from depending on what metrics you're trying to observe.
Putting It All Together
Once you've gathered the relevant data, the question only becomes how you can best put what you have to use. The trick is not falling too far down a rabbit hole looking for the perfect way to improve web traffic.
Is content attracting a lot of eyes? Estimate why. Do some experimentation with similar content and see if you can replicate or improve upon the success.
Is something being ignored? It's more or less the same process; figure out why it might not be working, make some adjustments, and watch for improvements.
This evolving process is often how to best use data. There will always be unknowns, but data helps us make educated, reasonable guesses at what can attract more visitors to our sites.
Knowledge Is Power
The core of why website statistics are so useful to lay in the adage "knowledge is power." The better you understand your website, the easier it is to improve it. Statistics can make for an objective, powerful way to start gathering that knowledge.
If you found this content helpful, we've got plenty more like it. We'd love to explore our site for tips, videos, and more for you.