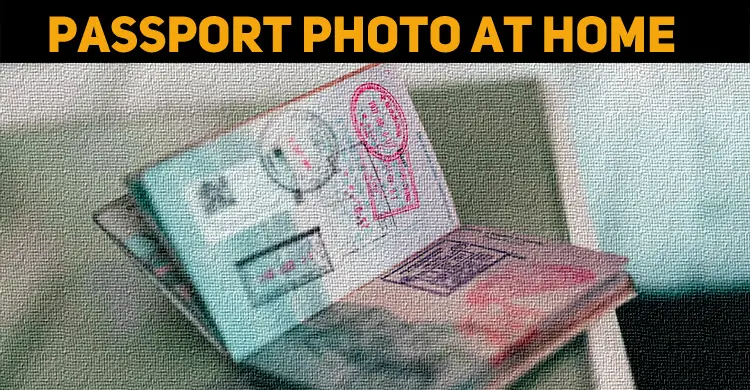 There are cases when there is not a single decent photo salon in the district or a salon that meets the requirements for speed, quality, or format, but you still need to get a photo for a passport or any other document.
Today, you can take a passport photo with your smartphone only. All you need to do is follow simple rules.
How to take a passport photo at home?
You can order photos from FedEx if you want the process to be completely stress-free for you, they deliver these passport photos to the required address with your passport application enclosed. You can also try it here instead of FedEx, but still, you need to take a decent photo for processing first.
Make it at home! By following the tips below, you can avoid common mistakes, as well as be sure that the new photo in the document meets the official requirements.
#1. Camera placement and settings
The optimal distance from the camera to the object is two meters. A mandatory requirement for all official documents photos is the presence of the entire face taken from the front (often also required that the upper part of the shoulders be visible). Use the zoom function in the camera so that the entire face is included in the frame – from the chin to the top of the head; while leaving some space above and below. Position the camera at the subject's eye level. Speaking about camera resolution settings, you should choose the 640×480 option, which is available on the majority of smartphones, to obtain a decent image appropriate for a passport.
#2. Background and lighting
It is customary to take a photo on a document against a simple plain background. So it will be easier to replace it with the one necessary for documents. Lighting should be such that the skin tone in the photo looks natural. It is best to take passport photos in daylight. If this is not possible, adjust the lighting in such a way as to prevent shadows from appearing on or under the face. Artificial light should come from several spots. If flash is not available, be close to the background to avoid underexposure.
#3. Makeup and hair
Practice doing your makeup and hair, taking close-up shots of yourself with your camera or phone in between. This will help to identify possible mistakes in makeup. And remember that using makeup or clothes with sparkles is not worth it, just like bright shadows.
One of the most noticeable elements in a passport photo is the hair. Take care of them, voluminous hairstyles look better in photographs. If the styling didn't work out, you will have to rely on retouching.
#4. Clothing and headwear
Clothing should contrast with the background. If you didn't take care of the right choice of clothes in advance, you can "replace" them directly in the picture, in the process of editing it.
Choose classic business attire. Avoid too fashionable eye-catching things. Fashion passes, but the passport will be with you for at least 10 years.
Also, when choosing clothes, make sure that it doesn't spoil the figure. For example, sweaters and sweaters with straight horizontal lines can shorten your look, making your figure more flattened. Monochromatic, not white things look most advantageous.
A couple of more powerful tips
Don't leave your photo shoot until the last minute! In a hurry, something good rarely comes out.
Get enough sleep before the photo session, extra wrinkles and bags from a sleepless night in the photo are useless.
Don't drink a lot of fluids at night, don't eat salty foods, this will help to avoid puffiness on the face.
Practice in front of the mirror to track the facial expressions of your face, at the time of the passport photo session it is important: don't pinch your lips, don't twist your mouth, don't close your eyes, don't frown and don't make unnatural expressions.
Don't raise your head too high, it looks unnatural, and don't pull your head in – a double chin may appear.
Take pictures in a good mood! A smile enhances any photo.