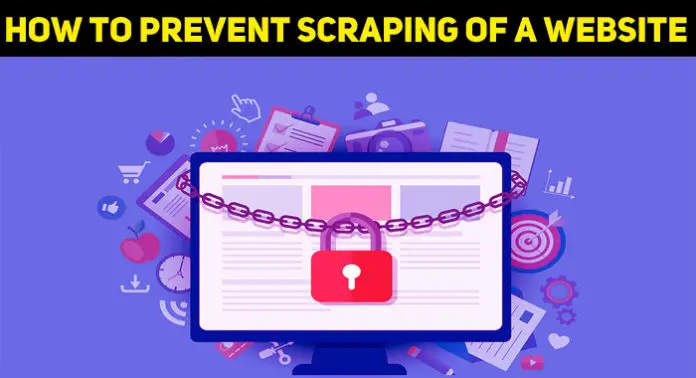 Web scraping is accomplished with tools such as Scrappy, ScrapeHero Cloud, ParseHub, and Import.io. It can also be accomplished via a web scraping extension. These tools copy information such as product prices, news content, betting odds from websites and store the information on local storage or cloud.
They can then sell this information, although the intention could be for other malicious data or non-data use. For instance, price scraping involves the scraper stealing pricing information and data and then undercutting the rivals. This copying is automated and accomplished by bots. Scrapers can be used to inform competitor deals and packages, for instance, on travel sites. The person who is doing the scrapping will then use this information to provide more competitive packages.
Web scraping is difficult to control and block because you need to make it difficult for scripts to access your website, yet you need these to make your website easy to use for customers. In most cases, it involves making trade-offs between degrading a website's accessibility and preventing scraping.
Luckily, it is possible to completely block these tools and prevent them from scraping your website.
Detecting web scraping
Web scraping is difficult to detect and deter but not hard to guess. It is hard to detect because bots keep on evolving and different bots use different strategies. The first step is to detect these scrapers using IP monitoring tools. Thus, it is possible to make informed guesses on particular trends. For instance, if an IP is making requests frequently, it is likely to scrape content.
Today, machine learning techniques and engines are used to detect and protect from web scraping and crawling activities. They can analyze all bots, including what type of information they are collecting, the collection methods, and patterns. Special tools and strategies for web scraping detection rely on a wide range of industry sources to detect malicious bots and identify those carrying out scrapping.
For purposes of detecting malicious activity, you can flag high volumes of product views, track suspect competitors and their activities, including their product catalog, and monitor user accounts.
Understanding How Web Scraping Works
The first step in protecting yourself from scraping software is to understand how they work. Most bots like spiders work by visiting your website and following one link after getting data. They then can also employ an HTML parser to extract data from the visited and linked pages. Some tools will also download entire pages and extract text from the desired pages. These mainly use a shell script. These types are easy to deal with. Like the HTML scrapers and parsers, others work by extracting data from pages depending on your HTML patterns. These work by, for instance, submitting a request to search for information where there is a search feature. They submit hundreds of searches to get several links in the titles to access the pages and thus the data.
Some scrapers also rely on JavaScript and AJAX, so these can open the website on real browsers. They will then get desired texts from the opened pages by collecting the HTML version from the browser and then extracting data or text using HTML parsers. They can also take text from the pages by first taking a screenshot from the pages and extracting the text from the screenshots using other tools.
When dealing with scrapers, those that collect text from the browser are harder to deal with as they can behave like normal humans browsing the website.
Other methods include using web scraping services that rely on a large network of proxies and changing IPs. This means they can prevent blocks. These professional scrapping services are hard to detect and deter. Scrapers can also embed your websites into other pages of other websites using frames. They can also embed your website and pages in mobile applications. Once this happens, the apps can then change the appearance of the content completely by injecting custom CSS and JavaScript. They can then change the content and display only the hidden content.
Scrapers also include humans copying your content and pasting it to their own or other browsers. These are the hardest to deal with. Most of the above scraping techniques use overlapping and similar technologies.
Strategies of Preventing Scraping
Limiting access for unusual activity presents one of the best chances for preventing scraping. Therefore, monitor all logs and activity from all IPs using special software. You can easily get automated software to block and limit access depending on the number of access from an IP address.
Monitoring of IP addresses allows you to detect unusual activity from IP addresses. Limiting the rate of usage places a limit on the number of times an IP can perform certain actions. For instance, you can allow only a few searches per second from IP addresses. This renders scrapers ineffective and slow. Strategies such as implementing captchas prevent too fast actions that usually come from bots.
The most effective scraper detection and limiting methods use several indicators. They do not just limit an IP address. There are many methods for detecting unusual activity and which use different techniques. Make sure to use those that can show you the speed with which forms are filled and places clicked, gather screen sizes and resolutions, gather time zone information, gather information on installed fonts, and use HTTP header indicators.
These tools can help to identify IP addresses making frequent and too many requests on your webpage using the same User agents, same screen sizes, and clicking at regular intervals and in the same way. These will highly likely be scrapers. Too frequent and many identical requests coming from different IPs might also be scrapers. You can then implement strategies and tools to block them automatically once detected and flagged by your indicators. Limiting or blocking IP addresses from web hosting and cloud hosting services also helps. Scrapers also regularly use proxy or VPN providers to prevent detection.
You can also require the registration and login of users to do certain things. Email signups and activations will keep off automated bot signups. You can require users to solve a captcha during registration.
After a scraper has been blocked, do not tell it why it was blocked because the person using it can then know how to attack. Make sure to deter HTML parsers and scrapers and to change your HTML based on user location frequently. Finally, avoid exposing your APIs, endpoints, and datasets.