About 58% of global corporate leaders consider lead generation a critical challenge faced by most businesses today. This concern comes in the backdrop of the reality that about 40% of global firms consider their sales and marketing efforts outdated.
While techniques such as cold-calling worked previously, your business must adopt new methods to survive the modern competitive market. Inbound leads generation is among the vital advanced techniques that firms yearning for success must embrace.
Lead generation is incomplete without conversion. Are you yearning to change your digital marketing approach? With this guide, you can now generate inbound leads and increase your company's conversion rates.
Read on for the ultimate guide to a successful lead generation campaign.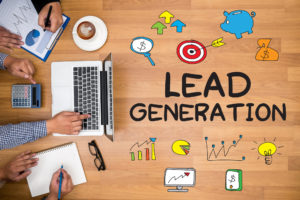 What Are Inbound Leads?
Marketers use the term "lead" to refer to any contact with a potential client. In predictive marketing, leads relate to the initial interactions with prospective customers. As a digital marketer, it's possible to use leads to predict such customer's probable future actions.
Lead generation describes the process marketers use to stimulate or capture a client's interest in a given product or service. The actual objective is to ensure that the marketers can convert such leads into sales. As a marketer, you can utilize both inbound and outbound lead generation techniques to convert prospective clients.
Inbound lead generation refers to prospects who come directly to you or your business. While you can use the traditional interruptive ads and marketer-centric techniques with outbound leads, inbound lead generation often calls for a more comprehensive approach.
The process of turning strangers to visitors and finally to customers is never easy. You need to attract, convert, and close the deal without losing such prospects along the way.
Here's how to ensure you convert inbound leads into reliable return clients.
1. Start By Optimizing Your Landing Page
It takes more than just an attraction to convert a stranger to a visitor in your digital marketing campaign. As such, your first task in generating more inbound leads should be to grab the attention of anyone visiting your page.
Finding leads requires that you impressively optimize your landing page through intuitive designs. Simple factors such as clear and catchy headlines can make or break your attempt to generate inbound leads.
Your best bet would be to experiment with different options. This way you can adjust and optimize your landing page until you understand what your clients want. Always aim to reduce distractions and minimize ambiguity.
2. Aim to Create Value
As an inbound marketer, your main aim is to educate. The modern customer reads as many as ten online reviews on a product or service before making a purchase. With such informed prospects, you must focus on putting out valuable resources.
You might want to begin by creating lead magnets. This is where you offer a tone of value in exchange for a prospect's email. Such strategies help to capture a lead's personal information by first providing value.
Your inbound leads will often come to your landing page to search for more information about specific topics of interest. Using webinars that cover specific issues or a free e-book on a hot topic can be your ticket to converting more leads.
Successful digital marketers affirm the use of other techniques such as blog content and social media marketing as tried and tested strategies in creating inbound traffic. These two options have the potential to drive substantial leads into your sales funnel.
3. Create a High-Performance Lead Generation Website
There's a general confusion marketers have when it comes to landing pages and websites. A website is the entire online domain for your business. On the other hand, the landing page is just one specific page on the site that serves a particular lead generation campaign.
Optimizing your website is a different concept all-together but equally as important. The failure to actualize sound conversation optimization for your website can easily stifle your inbound lead generation attempts.
Converting inbound leads in professions such as the legal field where prospects depend on your website to learn about your services requires expert input.
Improving usability should be at the top of your website design strategy. It would help to ensure that the site is accessible for visitors to search and interact with information. You may also factor in on-site elements that improve your overall organic search engine visibility.
You should further focus on making the website mobile design-friendly. Converting inbound leads in the modern context depends substantially on the incorporation of friendly features to mobile users. Remember that nearly three-quarters of the world's population will depend on just their mobile phones to access the internet in the next five years.
4. Time Is of the Essence in Your Speed to Lead
Timing is the defining factor in your lead generation process. Marketers define the speed to lead as the amount of time it takes from the moment a lead first provides personal information or an expression of interest to the time you first make contact. It's a no brainer that the sooner you contact a prospect, the higher the potential for success.
If you can fix your speed to lead, then you are bound to succeed. You can do this by enhancing your earliest interaction with a client when they show interest. Conversion usually depends on how fast you swim into action as soon as you have leeway with a client.
With the advancements in tech, you can use options such as automated email responses to help you confer back to your prospects. You may also offer instant demos to qualified leads about your products in real-time. You may even succeed in finding leads faster by using chatbots, which provide immediate answers to prospects on urgent queries.
5. Work on Your CTAs
A call to action, otherwise known as a CTA, is a marketing term that's intended to elicit an immediate response or a direct sale. In lead generation, a CTA prompts a conversion. Your use of the CTA should be to push your clients to act in a specific direction.
Your ability to design a call-to-action can make or break an otherwise successful inbound leads generation campaign. Your call-to-action should be visible and straightforward but also sensible enough to ensure transparency.
Ensure that you fine-tune your CTA in a way that eliminates the apparent generic copy that's often jaded. You should consider using more action words in your CTA. This helps to emphasize the value of what's on offer.
Your inbound leads conversion rates depend on a catchy and actionable CTA. It would help to move away from the generic "click here" humdrum to a more experimental approach that makes your prospects just want to go on and on.
6. Automate Your Digital Marketing
You won't succeed in your inbound lead generation and conversion unless you automate processes. You are better off focusing on aspects of your marketing campaign that are hard to automate.
Are you hoping to generate more inbound leads for your business? Then it's time to focus on automating most of your digital marketing processes. You could start by automating your marketing analytics.
With automated marketing analytics, it's possible to measure all your marketing goals. All you need are the right marketing automation tools to ensure that your data is always accurate and reliable. You can utilize critical information such as social statistics, email campaign statistics, and other automatic generated stats to make crucial decisions.
You may also utilize automated marketing tools to improve content marketing. Automated digital marketing tools can moreover help your business improve your customer engagement and customer acquisition paths.
7. Channel Leads to the Right Sales Reps
The sole purpose of generating inbound leads is to improve the overall conversion rates. Your last step in the lead generation process is to ensure that you direct high–quality leads to the right sales representatives. The worst mistake companies make is to flop at this last but rather vital stage.
Remember that it won't help to enhance your speed to lead if you can't have a seamless transition of such vital information to the right sales representatives. Sales reps should be able to schedule further engagements with the prospects to ensure a speedy conversion.
Finding leads is essential, but ensuring that these prospects become returning customers takes efforts. Part of improving your inbound lead generation should, therefore, entail enhancing the process of channeling the leads to the individual sales reps.
Enhance Your Lead Generation Strategy Now
Your entity's success in the future will depend on your focus on enhancing your digital marketing approach. At the center of your digital marketing strategy is the evolving concept of lead generation. Modern businesses are now cognizant of the fact that the process of turning a stranger to a lead and finally to a constant customer is complex.
After reading this guide, generating inbound leads in now tenable. As long as you work with qualified experts to design your website, your lead generation and conversion rates will soar within no time.
Did you find this article resourceful? At Techyv, we endeavor to provide a wide range of tech-related solutions, tips, and resources on everything in the tech world. Keep reading our blogs for anything and everything related to computers and information technology.