Most of us usually store varieties of files on our Mac and other devices. It may range from documents, photos and images, to videos and music files both for personal and work-related usage. However, these files are often forgotten right after its use was fully rendered. Most of us also overtook and miss the fact that these files also occupy a substantial amount on our Mac storage devices.
Since the storage space of our Mac computers and other devices are limited, we are left with no other choice. In order to extend the storage, some purchase external memory while others subscribe for larger cloud space. Furthermore, for those who wish to have an organized file for their Mac, this is not an easy task.
One of the latest innovation and product of technology advancement is the all-new iMyMac Similar Image Finder. This app is explicitly designed to help you find similar images on your Mac and eliminate duplicate copies to save space.
In this review, we are going to learn more about the key features and functions of this iMyMac Similar Image Finder. In addition, we are also going to altogether scrutinize how efficient it works and the benefits it renders. With all such information, we aim to figure if this app is the right one we are seeking for.
Part 1. All About iMyMac Similar Image Finder
Reverse image search is the latest technology and approach which aims primarily to find similar images in your gallery. Sometimes, because we take too many photos than we usually need, we tend to have similar photos. By doing so, we are wasting precious space on our Mac and we are not even aware of that. For some who do, we often disregard or overlook the idea. With this Similar Image Finder app, it is now easier for us to locate similar photos and get rid of them.
Part 2. iMyMac Similar Image Finder Key Features
Manual checkup and maintenance for your Mac is a tremendous task. The hassles and troubles on our way are beyond measurable and sometimes, we are even too lazy to think about it. With such an issue, this app is created. Such innovation is a great help to give more convenience to our living. In using this app, I found some important features that I also consider important and essentially convenient in my way.
Here are more of its key features and useful functions:
1. Powerful Search
iMyMac Similar Image Finder is a powerful tool which helps you find your desired photos and images as easy as A-B-C. It has the capacity to efficiently scans out your device and find your files and similar images quickly. Similar photos take so much space on your Mac device thus it should always be regulated and maintained. But doing it manually is not an easy task especially if you have bulk files.
2. Efficient
There is no such perfect word to describe this app. It is so far the most efficient app I have ever encountered. Its efficacy is beyond remarkable and thus I am genuinely impressed by its performance. You can easily locate your photos by searching it just like how you use google image search.
3. Easy Selection
As soon as it finds the images you are looking for, it always asks for your permission before proceeding. Those who take a lot of photos will later recognize that their Mac is already crowded with photos. With this, it is so hard and full of hassles to delete or scan everything manually. But with this iMyMac Similar Image Finder, I find the task easier and more convenient. Plus, everything is under your control because all it only suggests a file and you still hold the final decision.
4. Free Trial
If you are unsure whether or not this app fit for your preference and taste, you don't have to worry about the subscription. It offers a free trial for interested customers. You may try to clean up to 500 MB and see if its functions works wonder for you.
Part 3. The Benefits of Using iMyMac Similar Image Finder
This app is a powerful tool which is explicitly designed to find and delete similar images on your Mac. It also scans folders and shows you similar images located on each file. What I find more amazing about this app is that it does not automatically delete everything. It always asks for your permission whether or not such an image should be deleted or not. Thus, you are still in control of everything.
Here are some more benefits of using this app:
· It helps you find similar images on your gallery
· It allows you to delete similar photos
· It provides suggestions and recommends unneeded photos on your gallery
· Waiting time is short; it quickly scans folder
· It is easy to navigate and use even for novice users
· You can regulate your gallery effortlessly than manual labor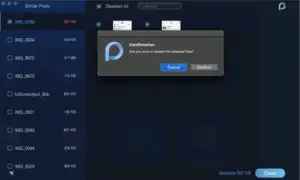 How It Works
Compared to manually deleting and eliminating your files and photos, this app provides a more convenient way of dealing with all your duplicate images. You can now easily and quickly find them in just a click and immediately eliminate to space up your storage. Understanding how it works and how to use it is also important. Thus, here is a friendly guide for you to learn more about it.
1. Download and Launch
Download iMyMac and open it on your device. You will see the system status tab and the 'Similar Image Finder' tab.
2. Scan Photos
After clicking the Similar Image Finder tab, it will direct you on the main screen where you will find the word 'Scan'. If you click on it, the program will immediately scan and look for similar images on your device. This may take several seconds or minutes depending on how many photos are in your gallery.
3. Clean and Remove Similar Images
After the scanning, the program will show you the list of duplicate and similar images found in your device. By clicking the 'view' button, the results will be immediately presented on you. There is a preview on each photo for you to see whether you should eliminate it or not.
4. Select and Confirm
You may select as many as you desire or click the 'Select All' button at the top left corner of the page. It will then automatically select all the similar photos found. Then, click the 'Clean' button which can be found on the bottom and confirm in order for it to proceed. It will take a moment before it will inform you about the successful completion of your request.
Part 4. Conclusion
For its overall performance, this app is beyond ordinary. If you are seeking for ways and quick solutions for your Mac such as duplicate images, this tool is highly recommended. The process is very simple and hassle-free. It is easier to match up with the laggards and novice users who are experiencing such issues. It is very comprehensible and user-friendly interface is also one of the things to look forward on this app.
Furthermore, in using this app, you don't have to be a tech-savvy or computer genius. With just some click in your mouse, you can quickly complete the process from its installation to successfully clearing duplicate images. Aside from providing you more brand-new spaces for your device, it also helps boosts your Mac's performance and enhance your browsing experience.