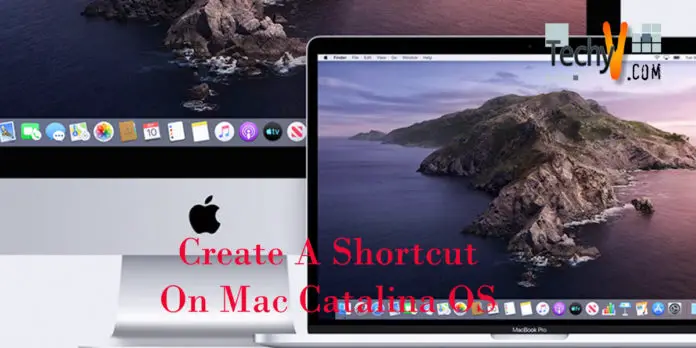 Keyboard shortcuts on Mac are great because they allow you to quickly and seamlessly execute tasks by just pressing a key.
Macs already come with "global" keyboard shortcuts. These are shortcuts that pretty much work the same way in the majority of applications. Mac users have the ability to change or disable these shortcuts if they so choose to.
But what if you need your own custom shortcut? Continue reading and we'll show you how to create a shortcut on Mac operating system Catalina.
How to Change an Existing Shortcut
First, let's go over to change an already existing "global" shortcut.
To start, on your Mac, go to the menu bar at the top of the screen. Click on the Apple icon on the top left. From there, click System Preferences and then Keyboard.
Finally, click on Shortcuts.
In the left pane, select an item. Then, in the right pane, click the checkbox that is next to the shortcut you'd like to change.
You will then want to double-click the current key combination. After, press the new key combo that you would like to change to.
It's important to note here that you can't use each type of key (such as a letter key) in a key combination more than one time.
When you're done, restart or quit any of the apps that you're currently using. When you start the app again, your new keyboard shortcut will take effect.
We'd also like to point out here that if the keyboard shortcut you create already exists as a command for a different application, then your new keyboard shortcut won't work.
To fix this problem, you're going to want to find the menu command that's using it and then simply reassign this keyboard shortcut for that new item.
How to Create a Keyboard Shortcut on macOS Catalina
On a Mac, you can make your own keyboard shortcuts when it comes to menu commands in any macOS Catalina app, including the Finder app.
This can be especially helpful if an already established global shortcut conflicts with a specific shortcut for an app. You can solve this problem by making a new key combo.
In order to create your own keyboard shortcut, go to the Apple menu at the top menu bar. Then click on System Preferences, then Keyboard, then click on Shortcuts.
On the left, choose App Shortcuts. Click on the Add button and then click on the Application pop-up menu. Then you're going to want to choose either All Applications or pick a specific app.
For example, if you want to make a shortcut for a Safari command, then click Safari. And if the app you want isn't on the list, go ahead and select Other. You can then find the app by using the Open dialog.
There are some apps, however, where you won't be allowed to set your own keyboard shortcuts. And if you want to make a shortcut for a menu command that will take place in a variety of apps, it would probably be best to select All Applications.
Either way, once you choose which apps you're making the new keyboard shortcut for, go ahead and type the menu command in the Main Title field. Type this exactly as the command would appear in the app.
For an ellipse, type three periods without any spaces. For the > character, type ->.
Once you do this, click in the field for Keyboard Shortcut. Press in the key combo that you're planning on using for the keyboard shortcut and then click Add.
How to Create an Alias
In macOS Catalina, an alias is a pointer file. When you click on this file, you'll be able to quickly open the folders, files, apps, or servers that you use most often.
When you double-click on an alias, the Mac will find the file that the alias is referencing and open it for you.
You can tell when something is an alias based on its icon, which has an arrow in the left bottom corner. Even if the original item is renamed or deleted, an alias will still be able to find it so long as the original item hasn't been deleted.
Being able to make an alias is one of the many cool macOS Catalina features.
There are a couple of ways to make an alias. The first is the drag and drop method.
In this method, you would click the item that you intend to make into an alias and hold down the mouse button. At the same time, hold down the Option and Command keys and drag the item to wherever you'd like the alias to be.
By doing this, you won't actually move the original item but, instead, create an alias at the new location.
In the contextual menus method, you would hold down the Control key and then click the item that you want to turn into an alias. You can also right-click for this.
From the contextual menu that appears, click on Make Alias. Your new alias will then appear right next to the original item.
The Importance of Knowing How to Create a Shortcut on Mac Operating System Catalina
By knowing how to create a shortcut on Mac Operating System Catalina, you will be able to more quickly access files and commands. This will help make you more productive and let you get the most out of your new operating system.
And by mastering the shortcuts, you will feel more comfortable and confident overall with your handling of your Mac.
Interested in reading more helpful articles? Check out the rest of our blog today!