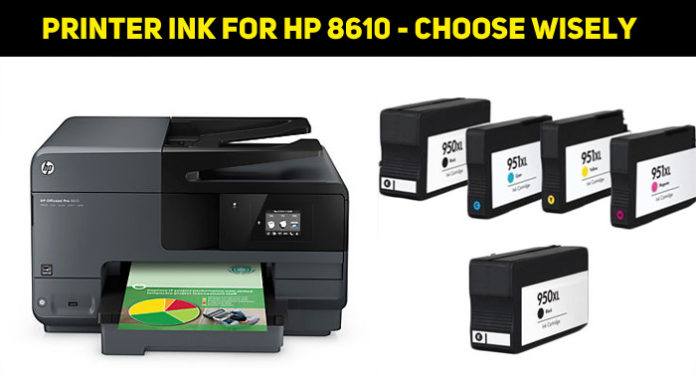 The HP OfficeJet 8610 is a great printer that produces high-quality print in black and white, greyscale and color. When it comes to buying ink for your HP 8610, it can be beneficial to shop around and see what offers you can find before parting with your money.
Save Money by Buying in Bulk or Finding Offers
You will often find that if you buy multiple ink cartridges then you will save money. Shops that sell printer ink will usually have offers on and so it is worth having a look at different websites, or supermarkets when you are doing your weekly shop.
If you are looking to buy in bulk, you should consider the fact that this money-saving technique only works if you use large amounts of ink. Many people are unaware that printer ink cartridges have a use-by date and that if they are used after that date, the quality of the ink is likely to be reduced.
If you want to get genuine ink, then you can try searching around for multi-buy offers or store discounts. You will have to check out the websites of your local stores or heading into a few stores to find out where the best offer is available.
Interestingly, choosing the bulk buy or multibuy offer route will only save you around 5-10% off the RRP. To get that saving, you have to put in some effort and it won't make you feel as it is worth it.
Try Specialist Ink Instead
When you need ink for HP 8610, it is easy to use genuine cartridges, especially when a printer is new. Humans are creatures of comfort and we all naturally gravitate to the things that we are used to and that we trust.
Sadly, some printer brands are abusing that trust by charging you far more than needed for a half-full cartridge of ink. They do this to pay their expenses and maximize their profit rather than providing you with the best service.
Specialist ink companies have grown in popularity over the years because they are no longer poor quality options, as long as you find the right supplier. In fact, many of these companies now only sell ink and nothing more because they have grown a dedicated following of customers who love the quality and the price of the ink they sell.
Companies like Smart Ink are going from strength to strength and in doing so, they are able to offer even better value than ever before with savings up to 75% against genuine ink competitors. Plus, they offer full cartridges so that you can enjoy printing for much longer without needing to spend more.
Try Something New Today
If you are ready for a change and want the best possible deal then today is the day to invest in replacement ink from a specialist supplier – get out there and go for it!