Building a PC on a low budget can be tough. You cannot lose the quality and the effectiveness of your PC. You just need to pick the best out of the lot and also compromise on some parts. But what if you could assemble the bests that suit your budget! There are some variables to build a PC on a low budget. Let's take a look at how to build a cheap and effective PC.
Processor:
First, you need to pick a fast and cheap processor. Intel Core i3-7100 is a very good option to start with. There is also a substitution for that. Intel Pentium G4560 is another processor which will definitely fit your low range budget and both of them work just fine for the price. The newest entry of AMD Ryzen 3 1300X is loved across the globe. People who don't want to spend much but are expecting a good performance from their processor, Ryzen can be their first choice.
Graphics Card:
If you want to build a PC where you can experience some good games, then Graphics Card must be the thing of concern. A good Graphics Card costs a lot. But there are some cards which not only will allow you to have some good times with the games but they will not cost you much. The GeForce GTX 1080 Ti is lauded for its powerful 11 GB GDDR5X memory and it promises Ultra HD 4K gaming experience. Gigabyte's GeForce GT 1030 is also a reasonable option as per the price is concerned.
Computer Case: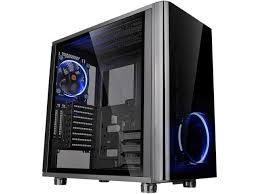 A good case is needed for a good computer even if your budget is low. The air-ventilation system in a case is a very important component for the CPU so that it doesn't overheat. The Deepcool Tesseract cases work very well and it won't cost you much.
Hard Drive:
A good, long-lasting hard disk is again a very important part of a computer. The most popular ones in the market are Western Digital, Samsung, and Seagate. The size will always depend on how much you need. A 1TB hard disk is good enough to start with. Always go for a hard disk that has a speed of 7200RPM. When you are on a very low budget you can go for the cheap SSD from Kingston which performs pretty well on a decent computer.
Mother Board:
A motherboard is the most important thing of a computer. The life of your computer is depending on your motherboard and its power to adapt circumstances. Gigabyte, Asus, EVGA – these are the top motherboards that will cost you a little and will provide you some good performance over the year. ATI video cards which goe for CrossFireX-ready motherboards prevent bottle-necking. On the other hand, Nvidia video card users should go for SLI-ready motherboards.
RAM:
4GB DDR3 RAM is the best one to go with when you are on a low budget. If you want to play games then you have to go with anything above 4GB as it is the minimum requirement of any game these days. The price doesn't vary much for the RAM.
Sound-System:
A good sound system is always a must need component of a computer. A 2.1 satellite speakers with one woofer will serve you enough for your home computer. Creative, Phillips is very good choices when you are on a low budget.
Monitor:
A nice widescreen monitor will not only give you a good experience of watching movies but also you will love playing games on it. Samsung monitors are good for a low budget PC. If you can add some more money then you must go for a DELL monitor with a resolution scale of 1600×900.
Mouse and Keyboard:
Keep a decent budget for these two components. Mouse and Keyboards are most likely to break down. So always settle for a good pair of Microsoft's mouse and keyboard.
Power-supply: Last but not the least; you require a good power supply. A good power supply is the heart of a computer. You must provide some electric output to maintain the good performance of your computer. 400W power-supply is enough for a good computer. It won't cost you much but it will definitely give you some quality performances out of your computer.