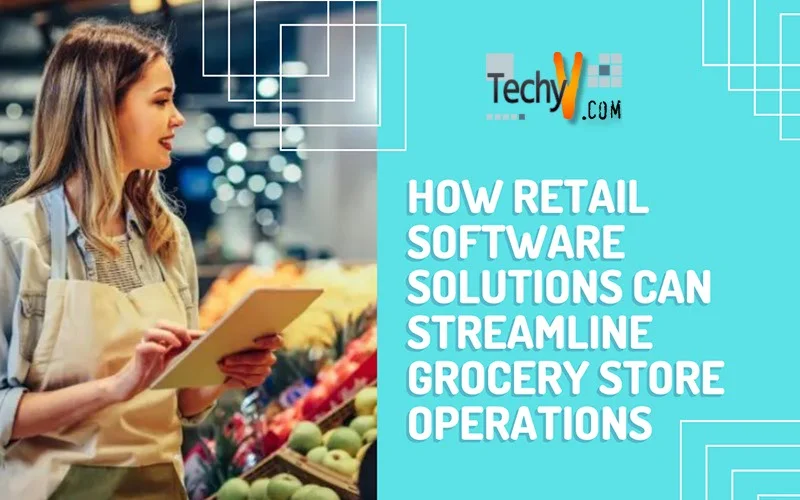 Retail software solutions are essential for managing your grocery store, whether it's a neighborhood shop or a family-run business from home.
These solutions streamline operations, helping you manage everything from inventory to shipping and order processing with modern software development for Retail. This ensures that your customers receive their products faster and more reliably than ever, improving their experience and satisfaction with your store. By leveraging retail software, you can also reduce errors and improve efficiency in your operations.
Simplify Grocery Store Ordering To Boost Sales
Ordering products for your grocery store can be a complicated process. You need an inventory system with tracking capabilities to track everything sold in real-time. Fortunately, implementing software designed for grocery stores can help simplify this process.
With the right system, you can easily change individual orders without adding extra work for yourself or your team. This is especially important given the complexity of chain management, which can be overwhelming for most organizations, especially those already busy with daily operations.
Adopting a basic business solution like an ERP system designed specifically for grocery stores simplifies your process and reduces unnecessary complexity. You'll have access to accurate data and complete transparency into your operations, benefiting you and your entire organization.
Fun Fact: According to NetSuite, 50% of enterprises plan to adopt or upgrade their ERP systems.
Improving Inventory Management With Grocery Software Solutions
Managing inventory manually can be a time-consuming and inefficient process. However, a grocery store software solution can significantly improve your workflow, increase efficiency, save on labor costs, and ultimately increase profits through increased sales.
Streamlining your inventory management allows you to experiment with new promotions, reduce markdowns for out-of-stock items, and focus your marketing efforts on actual sales opportunities rather than low-probability sales. Automation will enable you to work more effectively and use your time more wisely, ultimately helping you to grow sales.
An automated system can also provide customers a tailored shopping experience, resulting in repeat business and larger basket sizes. With better basket values, you can enjoy more profit, and managing operations becomes more accessible without spreadsheets lying everywhere.
Retail software solutions are designed to be user-friendly and easy to learn. You can reduce stress and increase efficiency with an easy-to-use system requiring minimal training.
Automate To Reduce Costs
Cost reduction is crucial for any business; retail store owners can achieve it through automation. With the help of software solutions, you can increase the efficiency of your business by automating many of your processes, resulting in significant cost savings over time.
For instance, if your business processes large orders, an online ordering solution can help reduce costs by eliminating human error. This leads to increased accuracy and productivity, resulting in substantial cost savings.
With good automation, many businesses can operate under-optimized systems, costing them significant amounts of money over the years. However, with the advent of accessible software solutions, automation has become more affordable than ever before.
Investing in automation can benefit your business in several ways. By eliminating repetitive manual tasks, you can free up your employees' time to focus on higher-value activities, such as customer service and business growth. Additionally, automated systems are less prone to errors, reducing the need for costly corrections. Moreover, automation can help you gain a competitive edge in the market. Streamlining your operations can offer your customers faster and more reliable services, increasing customer satisfaction and loyalty.
It's worth noting that automation can also help you reduce your environmental impact by minimizing waste and improving energy efficiency. Using technology to optimize your operations can reduce your business's carbon footprint while saving money on resources.
In conclusion, automation is an excellent way to reduce costs while improving efficiency, accuracy, and customer satisfaction. By investing in accessible software solutions, you can take advantage of the benefits of automation without breaking the bank.
Improving Employee Morale With Less Paperwork
As a retail store owner, you want your employees to feel motivated and engaged. But if they're bogged down with endless paperwork, it can demotivate and reduce their overall job satisfaction. While a paycheck is substantial, it's not the only factor contributing to employee happiness.
By reducing paperwork and streamlining processes, you can make your employees feel valued and appreciated as part of your team. This can lead to increased loyalty and productivity, ultimately benefiting your business. After all, retaining happy employees is much more cost-effective than constantly seeking new ones.
Investing in technology and software solutions can be a game-changer for reducing paperwork and increasing efficiency. By automating tasks like inventory management, scheduling, and payroll, you can free up your employees' time to focus on more critical tasks that require human attention. Not only will this help your employees feel more fulfilled in their work, but it can also benefit your bottom line by reducing costs and increasing productivity. So, consider reducing paperwork and investing in technology to help employees feel more engaged and motivated.
Simplify Your Workload And Save Time
Running a grocery store is no easy task; backend processes can take up much of your time. However, there's no need to stress when you have a reliable software solution to help you streamline these processes. With just a few clicks, you can reorder products and optimize the positioning of your products on the shelves, freeing up valuable time to focus on other essential aspects of your business.
By implementing an efficient solution, you'll be able to avoid the stress of running out of products and have peace of mind knowing that you always have the right amount of inventory. Automation has been shown to save employees 50% of their time, significantly reducing overall operating costs. This means more money in your pocket, which is always a great thing for any business owner.
Improving Customer Loyalty With CRM
If you're running a loyalty program, you know it's essential to communicate regularly with your customers to keep them engaged and coming back for more. But that can be time-consuming, between printing coupons, managing rewards cards, and training employees to interact with customers who use them.
Thankfully, with software solutions, these tasks can be streamlined. You can quickly integrate your loyalty program into your point-of-sale system or customer service calls, making managing more effortless than ever.
With a more efficient loyalty program, you'll have more time to build relationships with new customers and keep loyal ones engaged. And the best part? It can all be done seamlessly without taking up too much of your valuable time.
Real-Time Reports Rock
Real-time reports are an essential feature of grocery store management software to help you keep your business running smoothly. With access to real-time reports, you can monitor your store's performance and make informed decisions about improving it.
By analyzing these reports, you can identify which areas of your business are performing well and which need improvement. For example, you can see which products are selling quickly and which are not, allowing you to adjust your inventory accordingly.
The best part about grocery store software is that it provides complete reporting capabilities for your entire operation. You can view revenue and sales totals for each department daily or weekly, helping you stay on top of your store's performance.
Investing in grocery store software is essential for keeping up with current and future trends. Working with a grocery app development company allows you to create advanced software that meets your business objectives and appeals to your target audience. With the right software, you'll have the tools to succeed in the competitive grocery industry.
Conclusion
In conclusion, implementing retail software solutions in grocery store operations can provide significant benefits such as increased efficiency, accuracy, customer satisfaction, and cost savings. These software solutions can streamline inventory management, simplify ordering, reduce paperwork, and improve employee morale. With automation, grocery store owners can invest in software solutions and gain a competitive edge in the market while reducing their environmental impact. Moreover, customer loyalty can be improved by implementing a Customer Relationship Management system. By leveraging retail software solutions, grocery store owners can simplify their workload and free up valuable time to focus on other aspects of their business. Overall, an ERM system can bring numerous benefits to retail businesses, from improved inventory management to streamlined sales processes. And for those seeking a customized solution tailored to their unique needs, companies like COAX Software (coaxsoft.com) specialize in custom software development for retail. They can create a custom ERM system that fits your specific requirements.