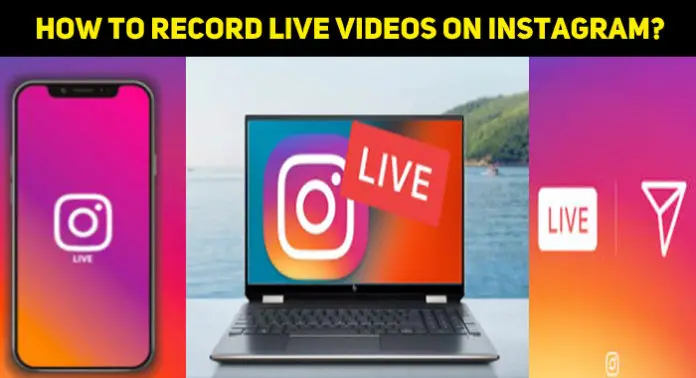 Instagram is one of the most-used social media platforms. Although there are many interesting features on Instagram, the live videos disappear as soon as the live ends. We always want to record our favorite people's shows and if they come to live occasionally, we don't want to miss them and love to capture those interesting moments. In this article, we are going to see how to record a live video on Instagram.
How to record Live Instagram Videos on Windows
If you use to watch the Live video on Instagram through your PC / Windows gadget, here is a way to record the video using ToolRocket Capture Screen Recorder. It is easy to use this app. Just download the app from the internet and it is exciting to know that this screen recorder app is available for free. There is no time limit to use this app and you can use it for hours, get your videos recorded and watch it any time. One of the biggest advantages of this app is that you can record the video on full screen or any selected part, which you could customize. You could sync the sounds with the videos perfectly while recording. There are various modes available for different users depending upon their needs. Similarly, this tool rocket capture screen recorder provides various output formats, which is useful for people using different gadgets.
How to record Live Instagram Videos on an Android phone
To record live Instagram videos on your android phone, you can try RecorderPro, which is available on Android Play Store. Recorder Pro records videos with high quality and with the right sound sync. You can record the videos with a single tap. Interestingly, this app provides the editing feature after recording your favorite video. You would feel that capturing live videos was never easy before this.
How to record Live Instagram Videos on iPhone
Are you an Apple phone user? Do you want to record your favorite videos, live videos on Instagram? Then here is a suggestion for you! RecorderPro is available to record the videos which you want and save them in high definition video resolution with excellent sound quality. You can install this app on your iPhone or iPad and start recording videos seamlessly. It not only captures your screen but provides an editing feature too. Besides this, you can compress the videos without minimizing the video clarity. It is a user-friendly app that would definitely make your day.