Lately, businesses worldwide are actively looking for solutions to accommodate a more flexible way of working. As a result, organizations of every size have had to shift their approaches to promote productivity at the workplace. After recognizing digital channels as the central place for engaging customers, businesses enthusiastically adopt new and updated ways in this technological era.
With that being said, process automation and automated document generation in businesses have come across as a great way of optimizing the day-to-day processes at a workplace. Its convenient approach has allowed businesses to make a seamless transition to adopt a new system.
In this article, we will discuss in detail what is automated document generation and how it can help you improve efficiency at the workplace.
What is Automated Document Generation?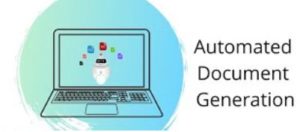 Document generation is a way of automatically creating important documents such as sales proposals, contracts, invoices, work orders, etc. Generating these critical documents automatically, they help us to accelerate and improve any organizations' day-to-day tasks.
How Document Automation Can Help You Improve Efficiency and Productivity at Workplace
Eliminate Human Error
Manual Document Generation or documents that a human creates has a chance for errors. When creating several documents daily, it can be easy for a human error to creep in. However, you can eliminate this risk by using an automated process that can effectively remove the risk and allow team members to transfer accurate information into bigger volumes with a few easy steps.
It can be crucial for some critical documents such as an invoice to ensure accuracy because even a single out-of-place number can make you land big trouble. With document automation,  you can improve accuracy and ensure the consistent appearance and delivery of your documents in time. It also helps you look professional by avoiding errors and improving customer experience.
Improve Efficiency

One of the main reasons to have an automated document generation application for your business is increased efficiency. And what business couldn't perform better if they can increase their efficiency?
You can effectively save hours of manual labor with the power of automation and the tedious process of entering data into each document repeatedly and wasting a huge chunk of your productive hours can be saved with just a click of a button.
By integrating automatic document generation into your system, you can let your team members focus on more important tasks while leaving this painstaking cumbersome activity to document automation.
Consistent Branding
Automatic document generation uses documents that are templates which helps organizations to implement consistency to all their document. This small step can significantly help brands appear more professional in front of other businesses with who they are dealing with and their customers.
Improved Data Compliance
Data compliance is another major reason why businesses are actively leaning toward automated document generation. It allows businesses to pull and merge the data used to generate these documents directly from the ERP or CRM systems. In this way, it ensures that your data is up to date and accurate.
Automatically generate your documents
With automated document generation, you can apply automation to a range of documents. Some of the most common documents that organizations generate regularly are:
Sales contracts
Proposals
R&D reports
Expense sheets
Invoices
Employee performance reviews
Vacation requests
And these are to name a few; as per your individual needs, you can generate any document automatically that you may need regularly or more often.
Take the First Step Towards Improved Efficiency and Productivity with PDF Butler
PDF Butler salesforce document generation has been helping numerous organizations promote efficiency and productivity at the workplace with its practical solutions. And by streamlining the process of integrating the system with your organization, it has proved to be the one-stop solution for an improved working experience.