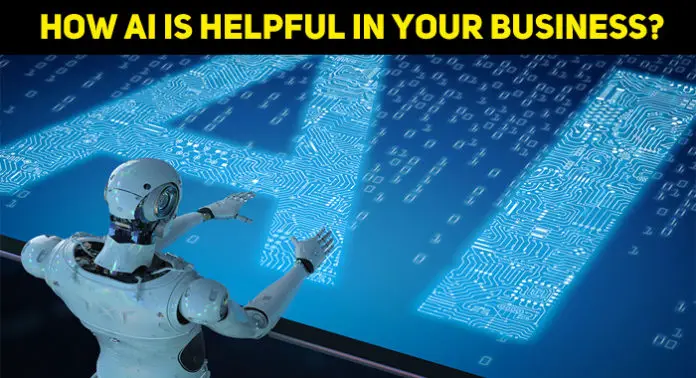 Almost 64 years from now, Artificial Intelligence took its start and began to grow. And since then, it has been adding multiple values to the lives of us, humans. When we think about what AI has done for us, it becomes quite difficult to count on fingers because AI has brought a new purpose to our lives.
Just for a minute, stop everything you are doing right now and take a deep panorama look at your surroundings. Now imagine that if there had been no Artificial intelligence existed, would everything had been the same as it is now.
Obviously not, because there are uncountable things in our atmosphere that either directly or indirectly result from Artificial intelligence. So it won't be wrong to say that for all these years, AI has been quite helpful for us.
It not only impacts our personal life but has also influenced our professional lives. Talking about that, AI has great benefits for our business; let's have a look:
Automate the Majority Business Work
The very moment AI emerged into our lives, it brought automation with it. The first AI program, known as the "Logic Theorist," was designed to perform automated reasoning. After that, AI begins to work more and more on automating humans' tasks and hence made businesses easier.
If you are thinking about how it relates to the businesses, well let me give you some examples: the booking of hotels nowadays to the transferring of files, robots working in the factories and data entries for registration, all of these processes are examples of automation in businesses.
Gives the insight of Data in Cloud Database
We all know that information present in the cloud database is of no use until it has been extracted and processed. But this is not something that a human can do himself that efficiently. So for this purpose, AI steps in. AI helps dig that precious treasure hidden deep inside the database and help the business gather the major benefits. For this purpose, you can approach the companies and teams providing their services regarding data analytics consultancy.
Provides Enhanced Consumer Services via Chatbots
No doubt, humans stand first to provide solutions to other people; therefore, the business hires professionals to manage and answer customer support.
However, humans can never work as fast as the computer does; hence the process of dealing with hundreds of clients at the same time becomes almost impossible.
Therefore, most business uses AI to handle their customer service and answer thousands of their customers simultaneously, for example, chatbots. Thus leading to customer satisfaction and gratification.
Reduces the Overall time Spent on Tasks
For businesses, the most important thing of all is to get their target done in the given criteria of the time. However, this can't be done when human employees handle some of the vital processes as they are not that speedy. However, when the same task is given to the AI, it completes it in the minimum time, thus saving precious hours. In this way, the staff can focus on more important things and hand over side tasks to the computers.
Provides You with Cost-efficient Solutions
With having AI by your side, the need to use human staff reduces to a minimum as computers handle most of the work. The businesses don't have to hire extra staff, thus saving a lot of money in their accounts.
Minimizes Human Errors
One of the major benefits of AI in businesses is that it reduces the risks of errors and mistakes to a minimum. While most of the tasks were handled manually by humans before, hundreds of errors were found after the completion; hence, the whole process had to be carried out from the start. But when using computers and robots to perform these tasks, the chances of bugs and errors were completely diminished.
Increased Productivity
With almost no chances of mistakes and increased work speed, AI efficiently increases and enhances productivity, thus giving the businesses a real boost in their revenue.
Whereas, when you lay eye on their human counterparts, such productivity can never be achieved because, after all, we are humans and are prone to make mistakes; moreover, we need constant energy and rest to perform to the greatest extend, whereas computers don't need rest and sleep, all they need is a good connection and that's all.
Keeps Tabs on Your Competitors
The best thing about inviting AI into the business is to efficiently spot out your competitors and analyze every bit of information about them. Certain competitor analysis tools and devices have been invented to help you with the process, thus helping you stay ahead of your rival all the time.