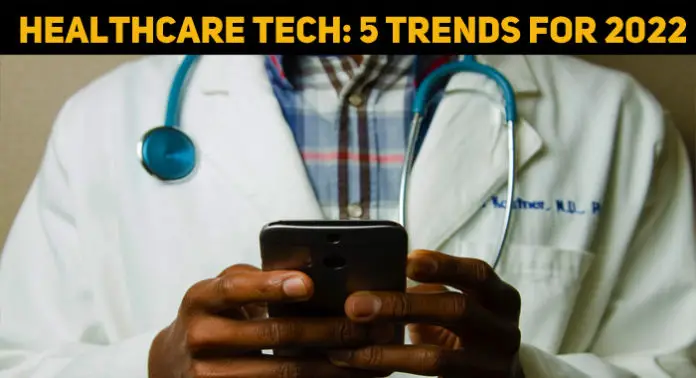 Technology is increasingly driving the future of healthcare. Already under heavy pressure to cut spiraling costs while offering ever more personalized medicine, the sector was pivoting towards adopting tech solutions to improve care and save money. With its social distancing and lockdown measures, the pandemic has turbo-charged the process. Technology, be it in the form of systems, procedures or devices, will define the development of healthcare. Here are 5 trends to watch out for in 2022.
Telemedicine
It's difficult to imagine how healthcare would have coped during COVID-19 without virtual communication. Telemedicine solutions, where healthcare services are delivered remotely via various software platforms, have allowed health systems worldwide to keep functioning. Patients and physicians have been able to communicate in real-time. Providers have easily shared key information with other providers while the old (and costly) issue of patient no-shows has been dramatically reduced. The huge benefits to healthcare models mean telemedicine will become a key cog in the healthcare ecosystem. Next year will see increased adoption of these systems. At the same time, providers will use telemedicine software development services to ensure their institutions operate at maximum efficiency and flexibility while improving patient outcomes.
Artificial Intelligence
AI is going to revolutionize healthcare provision completely. AI algorithms can already handle a wide range of tasks, which will grow rapidly through 2022 and beyond. Algorithms can analyze and act upon data far more quickly than even the smartest doctors and administrators. Medical records can be mined, and test results can be collated and interpreted, leading to quicker and more accurate diagnoses.  AI chatbots can be used to safely collect and store patient data, schedule appointments and deliver timely medical help. This saves countless man-hours and enormously boosts workflow processes. Errors are eliminated, and drugs can be developed more quickly, a major asset as we push towards a post-Covid world. AI-powered robotic surgery will become widely used during complex operations too.  The global AI market in healthcare is already valued at $6.9 billion – by 2027, it will be worth $67 billion.
Big Data
Big data is going to be enormous data in healthcare! As health systems become increasingly digitized, incredibly large amounts of information (just think of the size of all the patient medical records) will be generated. This data, securely held on digital devices and easily accessed and shared by medical professionals, has a wide variety of uses. Patient records can be quickly tracked and accurately maintained. The information will be cross-referenced so new potential treatments can be identified and created. Diseases (such as pandemics) can be spotted and tackled earlier and more effectively. Analytics can find organizational pressure points and issues while highlighting areas ripe for cost-saving measures. The information can also be used to improve patient outcomes by allowing for highly personalized treatments directly. Expect to hear more and more about big data as we go through 2022.
Mobile Apps
Mobile apps are one of the most noticeable trends in healthcare tech. They allow providers and patients to communicate via their smartphones. As consumers, we're increasingly used to living our lives via our smartphones. As well as being the device we talk to each other on, it's also the place where we look for information, do our research, and choose (and purchase) products and services. Healthcare will be provided via apps more and more in the near future. It's totally convenient for both patients and providers – patients don't need to take time off work to access services. In contrast, providers benefit from an app's ability to handle a wide variety of patient-related queries and processes. Mobile apps offer incredible benefits for patients and providers alike through video calling diagnostics, remote health monitoring, and appointment-making. 2022 will see healthcare organizations lock in mobile apps as a key part of their structure.
Virtual Reality
VR is already beginning to be adopted by the healthcare industry, and the tech will play a vital role in the way patients are cared for and how organizations manage their operations. VR headsets will become the norm in the training and ongoing teaching of surgeons. The tech will allow them to practice on 3D models and experiment with new techniques before trying them out for real! This has the potential to decrease errors and improve outcomes hugely. It will also fuel a new level of collaboration between surgeons, as they will be able to train and practice together, wherever they are in the world. The healthcare sector is currently under unprecedented pressure, but the tech solutions out there mean the industry's future is very exciting, with benefits for all.