What is hashtag marketing?
I hope that you, my dear reader, are familiar with the processes of targeting: creating a portrait of the target audience, its search, and attraction. From now on, take the hashtag as a keyword by which an active interested user in your content can find you.
Hashtag marketing is a new trend in 2020 for promotion on Instagram. Everyone is talking about it, but few people know how to work with hashtags correctly. And today, I will tell you how to deal with a smart hashtags strategy. It will make it easy, fast, and very entertaining.
The main principle of promotion through hashtags is to find the essence of the account and saturate it with relevant and always new hashtags. Growth services like InstaMacro use hashtags to promote your business.
What is the use of hashtags for your business?
Firstly, increasing the coverage of publications.
Secondly, a natural audience increase.
Thirdly, the increase in activity on the page.
Fourthly, increased sales for the business.
Fifthly, a solid audience attracts solid advertisers.
                                      Hot! Hashtag strategy of 2020!
How can you be found by hashtags?
1. Get into the recommendations. If a user likes publications with similar hashtags,  you can get to his recommendations.
2. Get into the followed hashtags. There's no secret that users can follow not only other accounts but also to the hashtags that are interesting to them.
3. Eventually, you get into the search for hashtags. In this case you can get the most targeted traffic.
What hashtags to use?
All hashtags are divided by frequency/popularity.
Users most often use high-frequency hashtags. Since the competition is high, post flies out of the "recent" list very quickly. Plus, no one has the data of search requests for these hashtags, and the reasonability of their use is in doubt. The only thing we can get from high-frequency hashtags is the instant organic growth of the account.
#love #lovequotes #lovenails #lovethis #loveislove #lovemyself #lover #lovepuppies #lovewins #lovecat #lovedogs #lovecats #lovers #lovestory #lovelife #loveforever #lovetravel #loveyou #lovethem #lovenature #lovefood #loveme #loveyourbody #loveyourself #loveu #lovehim
Mid-frequency hashtags are very popular among users. They are not used so often, and as a rule, they have a narrower focus. Mid-frequency hashtags also have serious competition, but with relevant and high-quality content, you significantly increase your chances of maximum and long-term organic growth of your account.
#lovegod #lovely_flowergarden #ilovemypug #prelovedjogja #goldenlove #crochetlover #iloveitaly #iloveanimals #chihuahualovers #onlylove #moonlovers #love4love #lovetoeat #godslove #oslove #gardenlove #pullover #lovemyhusband #cloudlovers #feetlovers #vinyllove #chocolovers #lovemyhair #kidsbabylove #lovethislook #frenchbulldoglove #paperlove #lovesofmylife #lovephoto #sushilover
Low-frequency hashtags are niche hashtags, brand hashtags, or mid-frequency hashtags supplemented by location or a clear indication of the service/product. Competition is low, and coverage is small but maximally targeted. Using low-frequency hashtags will not bring fast and significant account growth, but will provide the maximum long-lasting effect.
#fabriclovers #starbuckslove #true_love #iloveenglishbulldogs #mushlove #biggestlove #mxlove #loves_sevilla #yorkshire_lovers #loves_portraits #lovetropic #someoneilove #vinylove #tortoiselove #lovethisplace❤️ #loveisrael #bgmlovers #akitalover #bebelove #iloveskydiving #loveyoutothe?and? #welovebranding #loadsoflove #larrylove #loveturkey #iloveyouquotes #sothisislove #harrypotterlove #hometownlove #applelove
From personal experience, the following hashtag sorting scheme for publications works best:
1-2 high-frequency hashtags
10-12 mid-frequency hashtags
10-12 low-frequency hashtags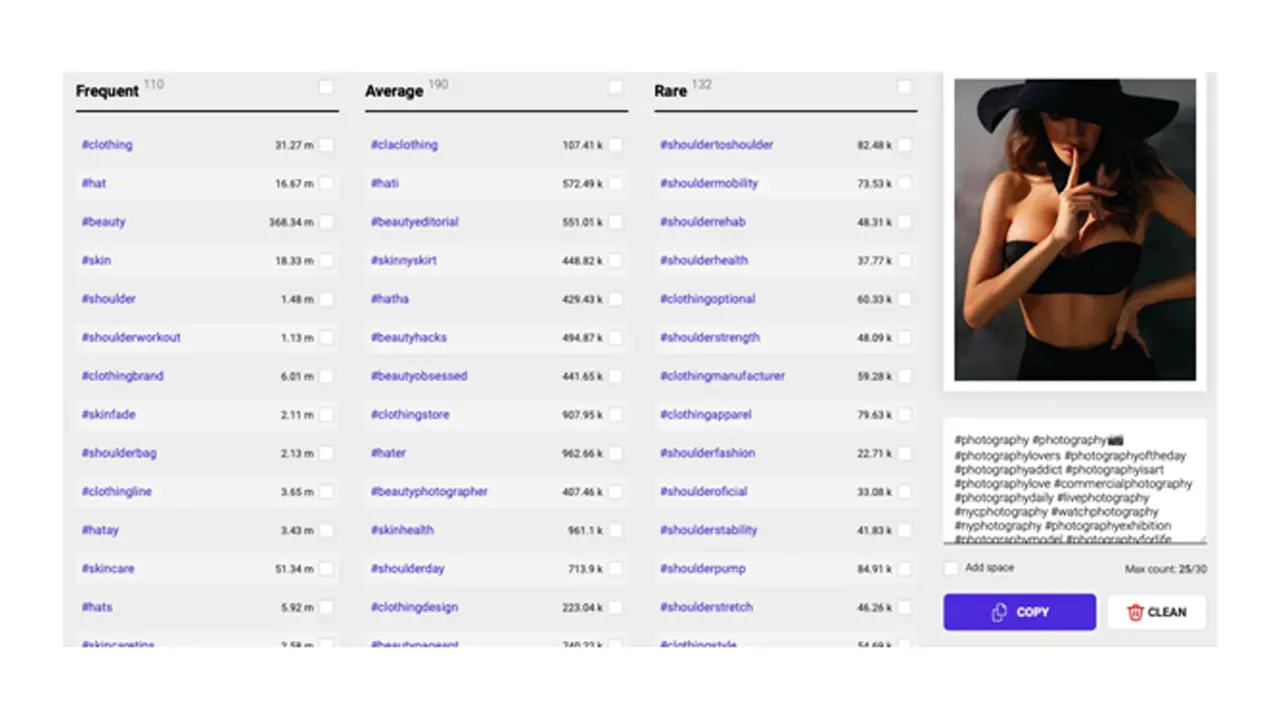 Important rules for a competent hashtag strategy:
Choose relevant hashtags for each post.
Let's say a user searches for hashtags of the most beautiful cats. When searching for a hashtag, he will absolutely choose only the relevant photo, and when by visiting profiles, only the relevant account.
Try to keep the last 9 posts on your profile relevant to your hashtags. In this case, the user will understand that your account is useful and will be happy to follow.
Try to change hashtags as often as possible.
I do not recommend making permanent hashtag sets and using them for months. Why? Because sooner or later, the flow of the audience over the same hashtags will run out.
Not enough fantasy for 30 new hashtags for every day?
Use the Instagram hashtag generator to quickly and easily find relevant hashtags.
Do not copy other people's mistakes
I agree with you that you can see what competitors are doing, but I definitely do not recommend copying other people's mistakes.
Each account is unique, and only by analysis and personal experience can you find your way to a successful hashtag strategy on Instagram.
So what we've learned today:
Hashtag marketing is a very popular and promising tool for promotion on Instagram. Using it for your own benefit is not so difficult, right? All you need to do is select the relevant hashtags using the hashtag finder and correctly combine them.
I hope you enjoy my guide on how to promote your account using hashtag marketing. I wish you great success in promotion. I kiss you. Bye!
Keywords: hashtag finder, hashtag marketing, instagram hashtag generator