Google Chrome Installation
Chrome is a web browser from Google.  It has already become quite popular, in spite of being latest entrant. The main features of Google chrome are as follows,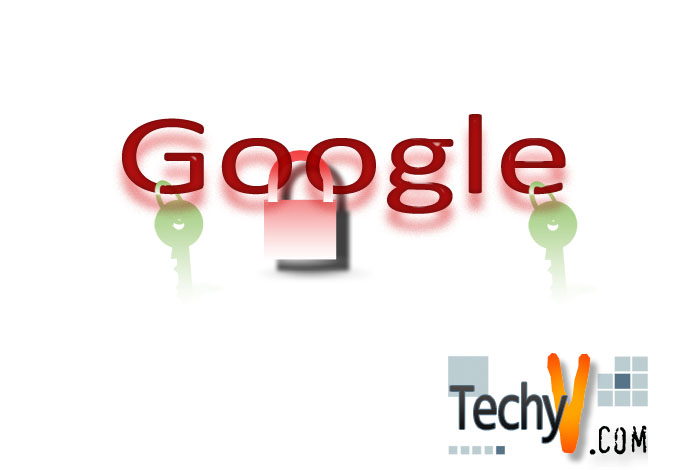 1. Simplicity: Google Chrome's user interface is very streamlined, simple and user friendly.
2. Tabbed User Interface: Tabbed user Interface allows opening of multiple websites in the different tabs at the same time.
3. No toolbars: There are no toolbars in Google Chrome.
4. No separate Search Box: There is no separate box fox for searching the web in Google Chrome. You can enter the search key words in the Navigation window. In fact in Google Chrome the navigation box is called Search & Navigation Box. This Search and Navigation box is also known as Omnibox.
5. It is faster: It starts very quickly. Also during surfing it loads the web pages much faster,
6. Security: Google Chrome has built-in Anti-phishing and malware Protection.
7. Incognito mode: Private browsing is possible in Incognito Mode.
8. Tabs Stability: If one of the tab is crashed or frozen, it does not affect the other tabs.
9. Extensions: In addition to the basic features additional extensions are also available.
As Google Chrome is full of so many features, we highly recommend you to install and use Google Chrome Browser on your computer. In this article we will show you how to install the Google chrome on your computer.
Step I: Navigate to the website at https://www.google.com/intl/en/chrome/browser/
Figure 1: Google Chrome Download Site
Click on the Download Google Chrome button on the webpage. This button is highlighted by a red rectangle in the above screen shot.
Next you will be asked to accept the terms of service agreement. On the same page you can choose the option to make Google Chrome as your default browser and another option to make Google Chrome better by sending the statistics and crash reports to Google. The default settings are as shown in the following screen shot of the webpage.
Next, to Install Google Chrome click on Accept and Install button.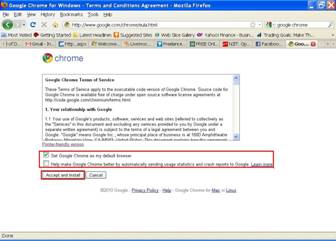 Figure 2: Google Chrome Terms of Service Agreement
Now the downloading of Google Chrome will begin and you will see a box like the one in the following screen shot.
Figure 3: Downloading Google Chrome
After downloading is complete you will see following web page in the browser
Figure 4 Google Chrome Thank You Page
In the next box on the screen you will be asked to select one of the search engines from the three choices as shown in the screen shot below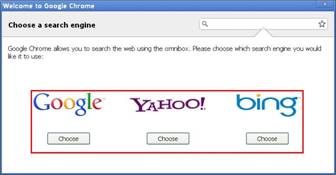 Figure 5 Search Engine Selection
This completes the installation of the Google Chrome browser. Now the Google chrome Browser window will open as shown in the following screen shot.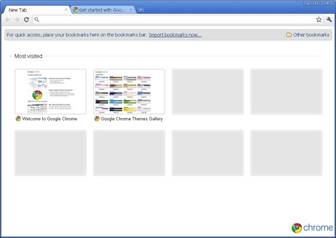 Figure 6 Chrome default web page
If you click on the second tab in the newly opened Google Chrome browser, the Google Chrome browser window will open a web page like the one shown in the following screen shot,
Figure 7 Chrome Second Tab