Get the Best with the Samsung RF510-S01
If you are searching for an affordable laptop that can handle productivity and multimedia work just as well, consider the Samsung RF510-S01.  For under $900, you will have access to pretty fast processing power, fast connectivity and decent graphics. However, the RF510 is not that good-looking and the black glossy lid is prone to smudges and fingerprints. Of course, the RF510 is not that ugly and it is not shameful to carry it around.
The aluminum keyboard is accented silver and brown. The keyboard is pretty decent and even has a num pad located at the right part of the keyboard. The touch pad is pretty smooth and very functional; and is excellent at controlling the cursor.
The machine has a decent amount of ports on it. These include two USB ports, HDMI and VGA outputs, audio jacks and Ethernet ports. These are located on the left, while on the right are two ports for USB and a DVD burner. The card reader is available on the front.  A webcam is also present.
The processor is pretty impressive along with the RAM. In fact, the system's performance is pretty good.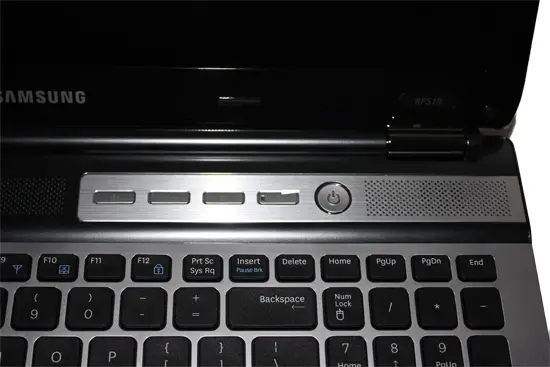 The graphics of the RF510 may not be that awesome, but it is pretty decent and it can handle DirectX 10 games quite well. However, if gaming is your aim, then there are better alternatives that the RF510.
Samsung's feature of Easy Content Share makes it very convenient to stream videos and music.
The battery life of the machine is a bit poor. Continuously playing movies make it last for only around 2 hours.
The built-in software on the RF510 is pretty decent.
All in all, the RF510 is great if you are not really aiming for hardcore 3D gaming. It can handle many tasks quite well, even gaming. However, if gaming is your main concern there are other alternatives out there that are very impressive. Also, video and audio streaming is no problem for this machine.
The downside of the RF510, however, is its relatively low battery life, but aside from that, the RF510 has limited flaws. You will surely get the feeling that your money is spent well when you purchase the RF510. It is not that expensive and is very decent as compared to other laptops of its caliber.