Fotor is the latest all-in-one online photo editor and designer. It is an easy and very powerful tool that will cater to all your photographic needs. You can add frames, filters, stickers, text, and put effects on your photos. Creating a photo collage is also easy and the user can even retouch the portrait, card, and apply design graphics. Fotor's latest feature offers 19 preset graphic design templates such as Facebook cover, Google+ cover, Twitter cover, YouTube Channel Art, different Instagram posters, postcards, and a lot more.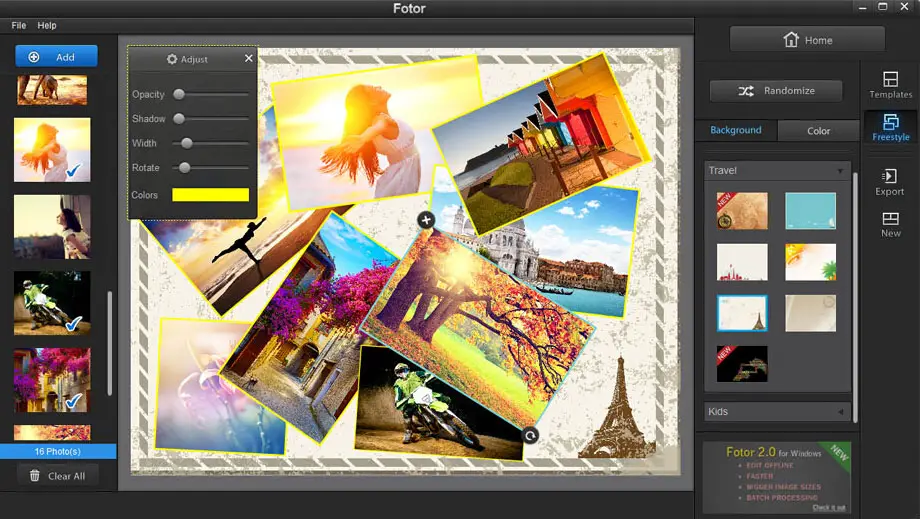 Being one of the overarching graphic design trends for 2019, Fotor was dubbed as the lite Photoshop by BBC. It is very simple to use and will allow you to edit a picture, without needing to become a Photoshop expert! It processes photos very quickly and accurately, allowing you to adjust the brightness, contrast, exposure, saturation, sharpen, white balance, etc.  Fotor has a "Scenes" effect that provides 13 distinct One-Tap Enhance Tools that will improve the quality of your photo taken in a bad light or needs retouching.  You have many options for Effects & Borders that were specifically designed by professional designers and photographers. There is also an option of 60 effects such as Black & White, Classic, Art & Vignettes, and a variety of styles for frames. This online photo editor also includes a stunning Tilt-Shift effect, which adds a depth-of-field feature that is commonly seen on professional-grade Digital Single-Lens Reflex (DSLR) cameras.
Even though Fotor has different complicated features, it is still very easy to use. Most of the enhancements and effects can be implemented through a slider and you can easily integrate it with your social media networks. There are thousands of exquisite and professionally-designed graphic design templates that will meet your design needs and you can effortlessly create designs in just a few clicks!
Fotor offers a free Basic plan for online and Windows users, which includes basic designing, editing, photo effects, and portrait touch-up tools. Users will also have access to collages, templates, etc. The online version gives access to the users to HDR Tech tools and will allow them to sync their photos in Fotor Cloud while the Windows version lets the users edit different image formats and larger size pictures.  If you wish to use the complete features, you can upgrade to Fotor Pro and will cost you $3.33 or $8.99 monthly fee. Both offer premium content without any restrictions and watermarks. You can also enjoy an all-advanced feature and an ad-free design and editing experience.