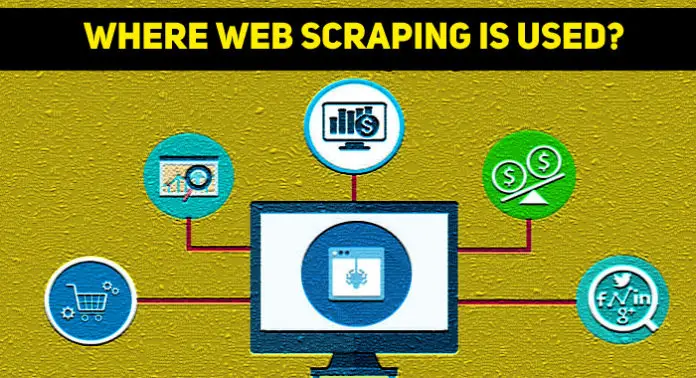 Where is scraping used?
Web scraping has become one of the most efficient ways of acquiring information from various sites. There are many places where such information can play a positive role. You may find it useful while doing research or when planning to expand your business. What makes this process more convenient is that you gather all the data in one place without a need to go and browse different platforms.
Simply put, web scraping is extracting all the needed information from the targeted sites and converting this information into spreadsheets or Excel files. It can be done manually, which can be challenging the protection tools employed by the sites nowadays. Thus, there has been an increase in the services providing web scraping.
Where to use the services of web scraping?
Before you start searching for the best web scraping tool, you must know where it's used. There are many spheres where information plays the most important role. There is a list of places where web scraping can be employed:
Price monitoring: It is one of the most known uses for web scraping. Since it's hard to inject your business, given the number of competitors, why not benefit from a scraping tool for price intelligence or monitoring prices. There are some pros to doing so. First of all, it is about your competitor's real-time monitoring and getting insights into how you should plan your price strategy. Moreover, it's great for optimizing revenues, testing price strategies, monitoring product trends, and so on. Since one of the first factors attracting the possible clients is about the price and its affordability, it's vital you can develop an efficient strategy to promote your own business.
Researching the market and its sentiments: investment and trading are affected by the trends in the market. Such dynamics affect the prices of assets and it's important to keep up with what is going around. Any simple political or economic situation may open new opportunities for making optimal deals. Thus, research to be done may impact your trading and investment in a more positive way. With the research with scraping, you'll access the data like market trends and sentiments, prices in the current market, optimization of entries and exits of valuable assets, etc.
Lead generation: any potential client interested in what you're promoting can be regarded as a lead. It's a targeted audience so that you can attract relevant people to your business. Lead generation is a technique that is employed to find such audiences. There are many ways how lead generation might be employed. With web scraping, your lead generation might become easier and more efficient, giving you an impressive number of accounts that you can turn into potential clients in the future. Web scraping software allows you to get access to the list of potential clients within a short time.
Brand monitoring: another interesting place where you can benefit from scraping. But what is that? Simply put, it is monitoring the places where your brand has been mentioned or reviewed to see the details. This can help you improve your brands. Another important benefit is to react to these mentions. For example, if someone indicates some problem, it's important to solve the issue. It's like managing a possible crisis. With scraping, your brand monitoring gets easier, faster, and more convenient.
Minimum Advertised Price: monitoring MAP is another place where web scraping software can be useful. But what is MAP monitoring? It's about monitoring the standard brands to make sure they comply with the regulated pricing policy. With such practice, there are some benefits like maintaining stabler margins for the prices. Moreover, it prevents lower prices that can destabilize the competition in the market. What's more, MAP monitoring helps smaller and medium businesses to compete with larger ones online.
Real estate: one of the spheres that couldn't escape from digitalization is the business of the real estate. Buying homes will never cease to be a good business opportunity. However, to keep up with competitors in this field, it's important to attract clients. The creation of more flexible and accessible data has become inevitable where potential clients can choose their products. Moreover, scraping helps to appraise existing properties to come up with prices to compete with others. It's worth mentioning, scraping tools may help gather information to understand the market inclination and tendency in this field.
eCommerce scraping: another quite popular sphere for scraping is a commercial platform offering various products for sale. One of the most known examples can be Amazon, eBay, Shopify, etc. With a scraping tool, you can get information about the product itself, prices, reviews, and so on. Such kind of scraping helps you promote and expand your business across other platforms. Moreover, such scraping also gives a chance for price monitoring as well. Such practice provides more insights into how competitors proceed with their products and thus gives you more opportunity to develop your own business strategies.
Media monitoring: this is another field for scraping. Media monitoring is about tracking the recent news available online and in printed versions. Here, the process of scanning through the media content, like in brand monitoring, where a particular topic or brand has been mentioned. With web scraping software, such monitoring is complete more thoroughly, convenient, and faster.
Conclusion
Since the advent of scraping tools and software, much has become more accessible. Information plays an important role in many spheres, and thus, this scraping has made it possible for people to gather and extract information from different sites. To do this more efficiently and hassle-free, MyData Provider is ready to offer web scraping professional services.