Filmora X, also known as Filmora Ten, is the latest video editing software from Wondershare. It is an upgrade from Filmora9, which launched in 2018. Let's look at some of the amazing updates and innovations in the latest generation of the Filmora editing software. We'll discuss how the software has changed since the last release and how this benefits the end-user.
Usability
Filmora X is easier to use than FilmoraPro. For example, it is based on a simple drag-and-drop interface. The Filmora interface is intended to be straightforward for users so that you don't have to go through half a dozen menus to do what you want to do. Filmora X is aimed at beginner and intermediate users, whereas Filmora Pro is, as the name implies, intended for experienced professionals.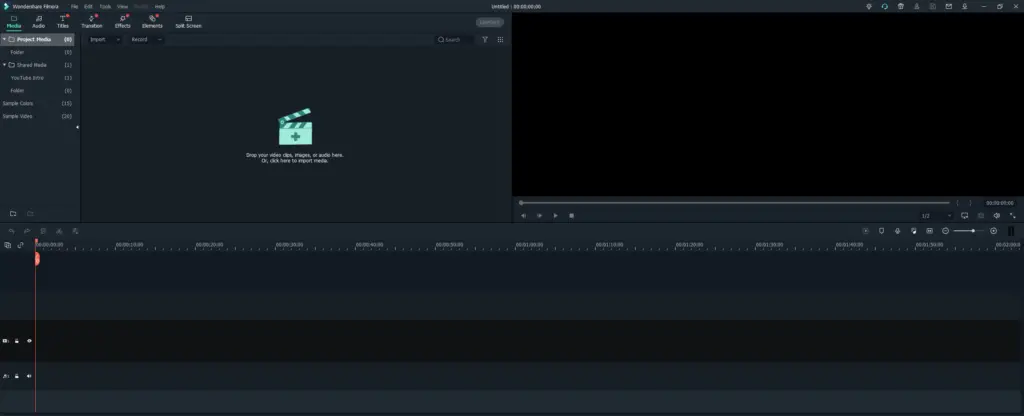 Filmora X allows you to flip and trim, crop and merge videos with a few clicks. You'll need Filmora Pro to be able to slide edit and ripple edit, though even Filmora Pro is easier to use than the competing video editing software applications.
Many of Filmora X features let you quickly add animation or special effects to your video clips. For example, the motion tracking feature allows you to attach an element to a moving object in your video, identifying text or clipart.
You can even use speed control to speed up or slow down important moments. This could be the moment a water balloon hits the target or literally fast-forwarding through children roughhousing. Add sound effects or video effects to make it funny, whether you add fully animated clips.
Motion Tracking
Motion tracking refers to the process of recording the movement of an object. This feature is used to track the way the components of a larger whole move together. This is essential to recreating the motion in animation.
Filmora X will do motion tracking to create a "track" for the item's trajectory automatically. Then you can add additional objects to follow the movement of that trajectory like text or a mask.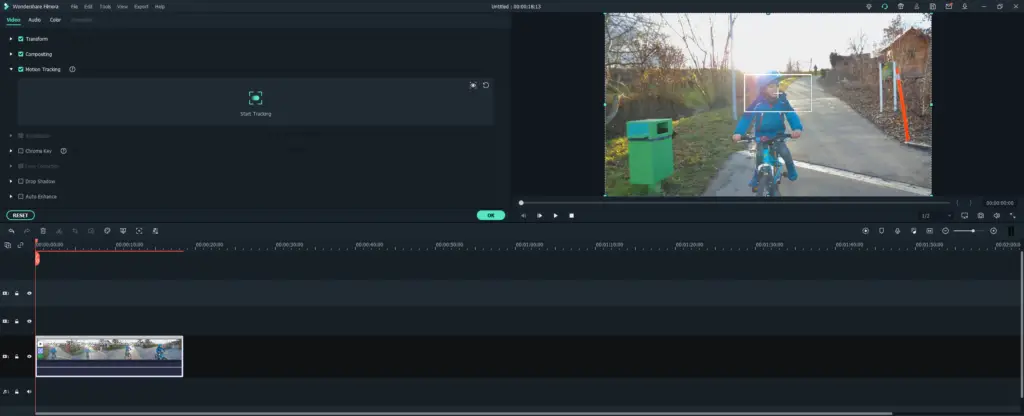 For example, you could capture the literal trajectory hit out of the infield and replace it with a cartoon head or business logo. You can add almost any clip art in place of the "tracked" item.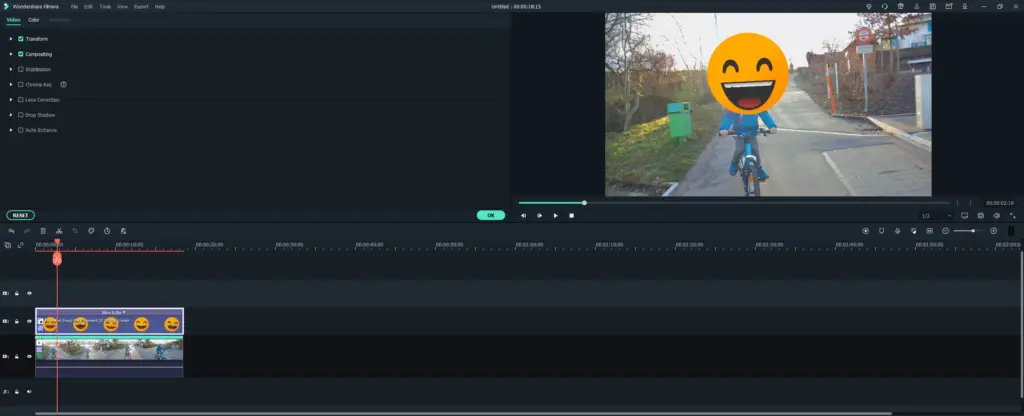 Or you could use motion tracking to identify the person or object moving on-screen automatically. Then pull it out of the background, add a green screen, and add the background you want your audience to see. Record someone running on a racetrack, track their motion, add a green screen, and have them chased by dinosaurs or a cartoonish mob.
Keyframing
A keyframe in animation is the drawing or shot that defines the start or end of any transition. Keyframing allows you to customize the animation. Adding keyframes lets you change the position, scale, position, or opacity of a single video clip.
The Wondershare Filmora X video editor allows you to apply one-click pre-sets. This makes it easier to create keyframes, though you can also use it to animate your video freely. The pre-sets are editable. This makes Filmora X one of the best video editors for those who want to create simple animations.
Effects
Filmora X has several built-in video effects. Filmora X has 14 new built-in filters not available in Filmora 9 in addition to the already massive video effects library.
This video effects library includes filters, titles, overlays, transitions and motions you can add to your videos. If you already have an earlier version of Filmora, Filmora X adds 30+ new elements and 9 new callout titles. It also gives you greater flexibility when editing the existing titles.
The advanced title editing feature lets you change the position, scale and rotation of a title as a whole within the video player. Note that this feature is only available when you use Filmora Ten on a Windows computer. Yet everyone can edit their slides and video using plain text within Filmora X. Version 9.5 added the option of typing vertically when adding text and titles to your videos, and that carries over to version 10.
One of the points in favor of Filmora X is that they provide a massive library of royalty-free music and sound effects that you can use in your videos. You will need a working internet connection to access these royalty-free files. If you have an older version of Filmora, you may appreciate learning that upgrading to version 10 lets you automatically add beat markers to audio clips. That feature was added to version 9.3.
Color Matching
Filmora X allows you to apply a color correction to all of your clips at once. You can even take color settings from one clip and apply them to the rest of the clips in a batch. This is similar to the Format Painter feature in Microsoft Office. Advanced coloring tools like color correction allow you to fine-tune the color palette in video clips, so they look right. Filmora Pro takes it to the next level with professional color wheels and color balance controls.

Audio Ducking
Audio ducking lets you fade music quickly so that the speaker can be heard. And you can do it with a single click, whether you want to let dialogue stand out or switch to a different soundtrack.
Dark/Light Skin UI Switch
Sometimes the background affects how we see things in the foreground, including the video we're editing. The dark/light skin UI switch lets you flip between light or dark mode so that it is easier to see what you're working on.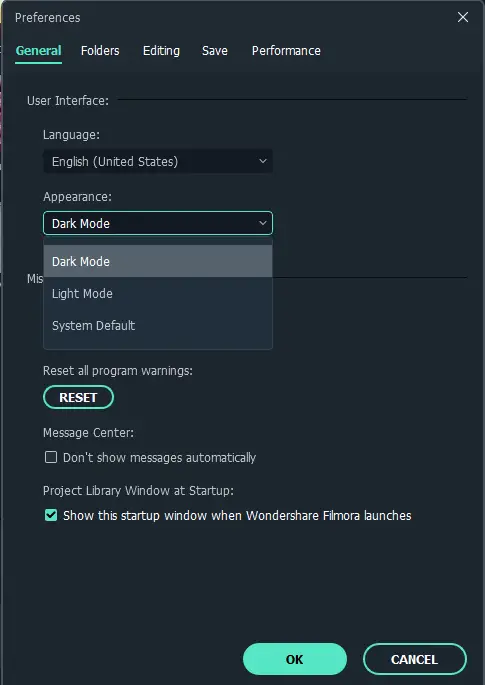 Keyboard Shortcut Customization
Every tool has keyboard shortcuts, but many of us have our own processes we'd like to automate. This is why FilmoraX lets you create custom shortcuts. This allows you to work that much faster using your chosen hotkey commands.
Mac Touch-Bar Support
The Wondershare Filmora X video editor works on both Windows and macOS devices. However, the touch bar feature only works on Apple devices. This feature allows you to scrub the timeline using the Mac touch bar. This feature also lets Mac computer users preview their timeline faster. However, the timeline feature is available to all Filmora X users, and the rendering has been sped up in this latest generation of the Filmora video editing software. However, timeline rendering will always be faster when you reduce the preview quality.
Works on Almost Any Device
Filmora X by Wondershare workings on 64-bit Windows 7 OS, Windows 8 and Windows 10 devices. It is also compatible with the last few generations of Apple iOS.
Wondershare recommends using a computer with at least 4 GB of VRAM. That increases to 8 GB if you're working with high definition or 4K videos. Wondershare recommends a high-end graphics card, especially if you're editing high-definition videos.
User Support
Filmora X offers assistance in getting the most out of your software. For example, it can suggest solutions if the software is lagging. However, that won't be of much use if your computer cannot handle the load. Wondershare recommends using an Intel HD Graphics 5000 or later video card, AMD Radio R5 (or later) video card, or NVIDIA GeForce GTX 700 (or later) graphics card. Fortunately, Filmora X has optimized GPU detection. This means it can tell what type of graphics hardware you have in your computer and optimizes the software's performance within the system's specification. You may need to update your graphics driver to work with the Wondershare Filmora X video editor.
Wondershare already had several how-to videos available online for users. Filmora X takes it one step further with an entire set of tutorial "missions" that make learning fun while teaching you how to use the video editing software.
Filmora X supports a wide range of input formats. The list includes but is not limited to MPG, MP4, Quicktime (if .mov and encode with MJPEG or MPEG4), .dv, .mod, flash video file formats, .wmv, .avi and HTML5 video files. It can work with non-encrypted DVD titles and the Matroska video file format, too. Furthermore, Filmora X works with a variety of audio file formats. It can work with .mp3 files, Windows audio file formats, .ogg and half a dozen others. It can work with nearly every standard photo format. This list includes jpg, gif, bmp, png, tif and tiff.
Outputs Perfect for Every Content Creator
Filmora knows how many of its users are posting their videos online. This is why you can export the files into a container format or SNS profile ready for uploading to social media sites. For example, you can almost seamlessly upload the video to Vimeo or YouTube. You can create videos ready to be played on smartphones or gaming consoles. You can create standard videos and audio files that will work on iPhones and Apple TV. Or create files ready to be burned to DVDs. We've already mentioned how Filmora X can be used to edit and create a 4K video. You can export the final compilation to three different 4K video formats, too.
Summary
Filmora X provides you everything you need to create a wide range of audiovisual content. It gets points for ease of use and lets you use a mix of your own and royalty-free content. It will work on almost any device, and you can create the final product you'll be able to upload to your website or YouTube channel in moments.