We daily use different types of gadgets especially PCs of different brands, various features, versions, software, functionality, etc. For the features such as extreme performance and the ultra-mobility, we have got the Razer Blade Stealth Ultrabook. It is made of aluminum chassis encases and is incredibly thin of 0.52 inches. It uses the Intel® Core™ i7 processor. The display of it makes it look much beautiful with the length of 12.5 inches and high resolution of 4K for a touch display. It is unique from others in the following ways.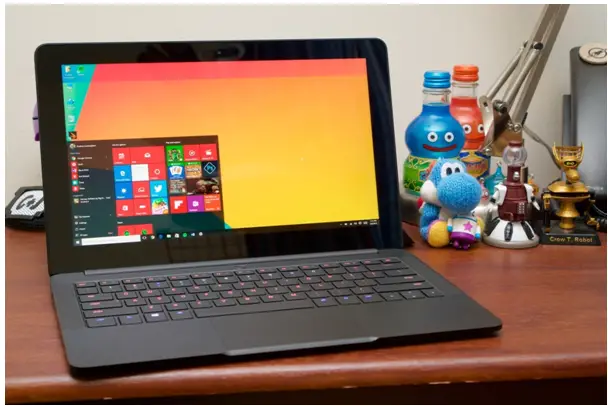 RAZER CORE
Blade Stealth via Thunderbolt 3, has an optional Razer Core used for extreme performances. It is used for delivering expanded connectivity and graphics of external desktop.
YOU GET MORE FROM LESS
With the thin Razer Blade Stealth; you can insanely slice through your daily tasks. It is named Ultrabook because of its portable nature as it is of only 0.52 inches wider and of less weight which makes it easy to carry and use anywhere.
POWER THROUGH YOUR DAY
The chassis of the Razer Blade Stealth is highly durable as it is made of aircraft grade aluminum. It is adapted to any situation easily because of its thin factor and ultra-sleek finish. It has a good battery life which lasts up to 8 hours, and you can play games, have your daily tasks on it throughout the day.
The processor used by it is highly fast which is Intel Core i7 of the 6th Gen. It can store up to 512 GB of data. It uses 8GB Dual channel memory.
You can have this Razer Blade Stealth's screen of 12.5 inches which is available in two high resolutions which are 2560 x 1440 pixels of Quad HD and 3840 x 2160 pixels of 4K. To provide a better quality of the image and the unmatched color, the display of Indium Gallium Zinc Oxide supports high-color saturation and wide viewing angles that are touch-enabled.
CREATIVE PERFECTION
With the RGB color space of 100% Adobe coverage, with the 4K display, amazing color saturation can be experienced. Up to 170 degrees you can view the images clearly with wide degree angles. The main motto to design the Razer Blade Stealth is to provide ultimate visual clarity though it may be used for sharing a presentation or editing content.
INTEL CORE i7 PROCESSOR OF 6TH GEN
The way it looks very thin and delicate; you can't expect that it would hold such a power. Razer Blade Stealth has got the processing power of 2.5GHz because of the capacity if the 6th Gen Intel Core i7 processor. And to 3.1GHz Turbo Boost speeds up. For smooth visuals, you can use even more pixels with the HD Graphics 520 of Intel.
All of these features allow you to launch applications faster and to boot the system quickly than ever before. Unnecessary bloatware is not loaded by the Razer which will be found on the computer commonly when optimized from the start